This is Hibiki Sakai, a fifth-grader from Osaka, Japan. He's a big fan of the Nintendo game series "Rhythm Heaven," which challenges players to keep up with complicated beats.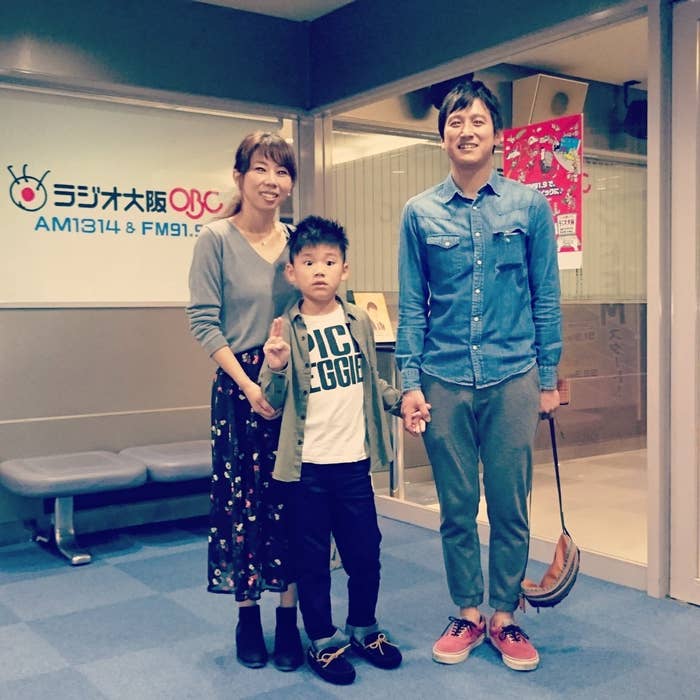 "Rhythm Heaven" is particularly special for Hibiki because it's the only video game he's been able to play since losing his eyesight as a toddler.
Hibiki's dad, Kentaro, told BuzzFeed News that his oldest son started having problems with his eyes when he was a year and a half old. Doctors diagnosed Hibiki with a form of childhood cancer called retinoblastoma in both of his eyes. After several unsuccessful treatments, a doctor asked Hibiki's parents to "choose his life or eyes."
After a family discussion, they decided to save his life, and opted for surgery that removed both of the little boy's eyes. Immediately after turning two, Hibiki became completely blind.
Afterwards, "we spent days crying," Kentaro said. "But Hibiki's positive will to live gave our family a ray of light. After starting to play the drums at age four, he has taught me so many things."
After becoming blind, Hibiki developed a love for rhythm. When he finished Nintendo's "Rhythm Heaven" series, he sent a letter to the company to thank them for making a game he could play.
"When he became blind, he couldn't even play with toys," Hibiki's dad Kentaro said. "So he had to have fun with sounds by hitting the walls and floors at home."
"Then, we remembered that a friend in the neighborhood owns a drum set. When Hibiki was 3, we had him try it, and he was really excited by its powerful sound. Since then, he started telling us that he wants to play the drums."
When he turned four, he started taking drumming lessons.
Here's the letter Hibiki sent to Nintendo, asking them to make more games that visually impaired people can enjoy.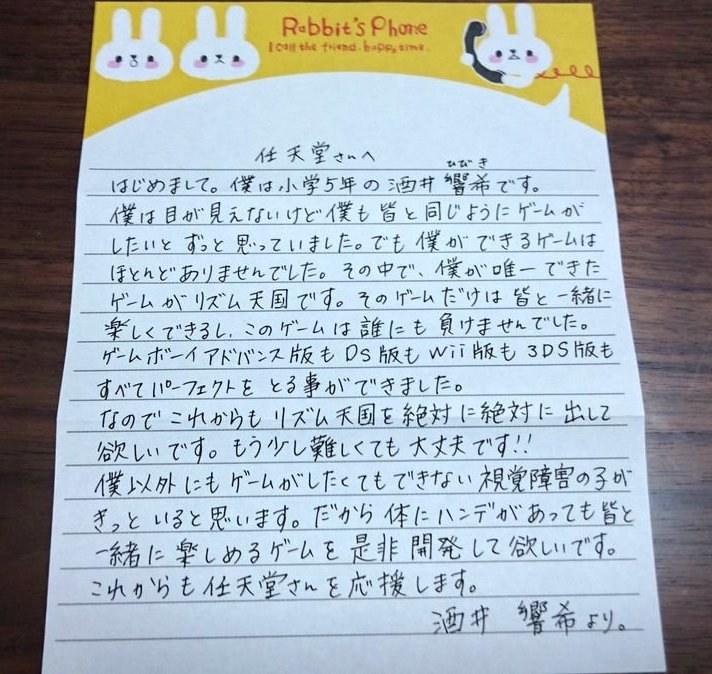 Dear Nintendo,

How do you do. My name is Hibiki Sakai, and I am in 5th grade.

I cannot see with my eyes, but I have always wanted to play games, just like everybody else. There were hardly any games I could play.

The only game I could actually play was "Rhythm Heaven." I was able to enjoy only this game with others, and no one could beat me in this game.

I have perfected the game on Game Boy Advance, Game Boy DS, Wii, and 3DS.

Therefore, I strongly hope you keep making "Rhythm Heaven" going forward. I can handle it, even if you made it a little bit harder!!

I am sure that there are many visually impaired kids besides me who want to but cannot play games.

That is why I hope you develop games that people with physical disabilities can enjoy with other people. I will continue to support Nintendo.

From: Hibiki Sakai
Hibiki got a reply from Nintendo, in Braille...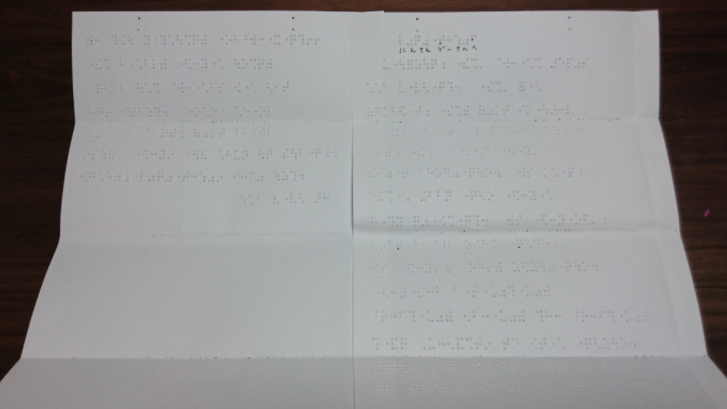 ...and in Japanese text.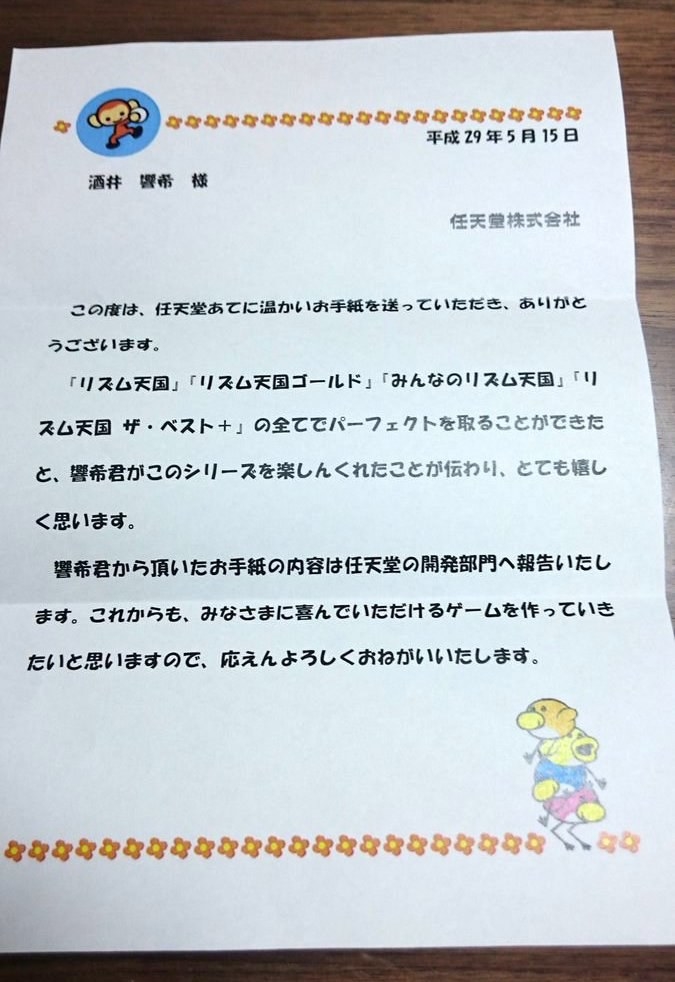 Dear Hibiki,


Thank you for writing to us.


We are extremely happy to hear that you enjoyed and perfected all the games in our "Rhythm Heaven" series.


Hibiki, your letter will be shared with our game developing team. We will keep doing our best to create games that everyone can have fun with. We hope you will keep supporting us.
Hibiki's correspondence with Nintendo has gotten more than 22,000 likes and a lot of positive responses on Twitter.

"Hibiki was very surprised and happy about it," his father said. "He also says that now, he has something to look forward to, because he can see the possibility of a new 'Rhythm Heaven' coming out, though no such plans have been released yet."

"As parents, we were truly surprised to get a prompt and sincere response to a letter written by a child. Regardless of whether a new version is released or not, we were very happy that the letter brought hope to Hibiki."
"Hibiki taught us that people are not unfortunate because of their disabilities, rather, the heart that is weakened by the disabilities is unfortunate. By changing his blindness from a fate to a mission, he fights on everyday toward a big goal of becoming a drummer who can bring courage and hope to the world."
Rock on, Hibiki!