The (long) weekend box office numbers are in, and Proud Mary, starring Taraji P. Henson, opened at No. 8, earning $12 million in the four days following its release. The low box office numbers confirm concerns over the last week that the studio, Screen Gems, wasn't doing enough promotion to set the film up for a successful opening weekend.
The action-thriller is the first film of its kind led by a black woman since Pam Grier's series of blaxploitation movies in the 1970s. Black audiences in particular have been waiting decades for something like this, and having finally attained it, starring one of the most critically acclaimed black actors of our time, was monumental. This made it all the more frustrating that Hollywood, or at least Screen Gems, appears to have poorly handled the promotion leading up to the film's release.
The Daily Beast, Vulture, and the Hollywood Reporter are among those who have criticized Screen Gems, a genre division of Sony, for not screening the film anywhere before its release, limiting the number of critics that would give moviegoers a better idea of what the film was about. Not even the press that attended the film's junket on Jan. 8 were able to see it before interviewing the cast.
A source close to the studio told BuzzFeed News that they wanted to "let audiences be the ones to judge the film for themselves," so they removed screenings from their strategy so that "certain critics couldn't sway opinions before its release," noting that Proud Mary isn't a critic-friendly film. But the strategy, or lack thereof, has led to audiences, reporters, and critics alike speculating over why the studio buried it: Is it because it's led by a black woman? Or is it because it's just bad? The January release date and post-release reviews suggest the latter. However, one could also argue that bad movies get great promotion all the time.
Proud Mary isn't the first movie Screen Gems hasn't held screenings for, but it's certainly not a rule for all of their films. And no matter the suggested intentions, the weekend box office numbers imply that shutting critics out from the film was not the only problem with its marketing. Henson's last film with the studio, the thriller No Good Deed, also didn't have press screenings, but still did twice as well as Proud Mary on opening weekend, earning $24.2 million. Since then, Henson's critical success has only shot up. Hidden Figures, the actor's last film before Proud Mary, earned $22.8 million on its wide-theater release weekend. It also received the Oscar nomination for best picture and won the Screen Actors Guild Award for that same category.
Perhaps Screen Gems' other missteps included not relying on Henson's star power enough, which is likely the only thing that has carried the film at all, and grossly underestimating the power of social media. As Ira Madison said in his critique of the film's promotion for the Daily Beast, "fans are excited to see the movie and want to support it and help studios realize that black films — and films starring women — have a hungry audience that craves more than a few tweets and TV commercials."
Henson has been frank during interviews about the industry's underestimation of her star power and that of other black actors, especially on an international scope. "I kept being told by the industry I wouldn't sell overseas," said the actor to an intimate crowd of media influencers in New York City the Monday before Proud Mary's release. "I wanted to sell overseas because that's where the money is, that's how Will Smith got to start making the big bucks. Every movie wouldn't take me. They kept saying black movies don't do well over there. And then Twitter hit and I was getting all these tweets from all these different continents and I was like, 'Wait a minute here, you mean to tell me you know my movies in China? Somebody's lying.'"

Henson credited social media for helping her realize the actual reach of her celebrity and was more determined than ever to get an international promotion tour for any of her movies. But it took years before she was finally taken overseas to promote a project. "Years kept going and going and then Empire hit. That's what took me overseas. Not Karate Kid, not Benjamin Button — the movie in which I was nominated for an Oscar — but Empire," the actor said.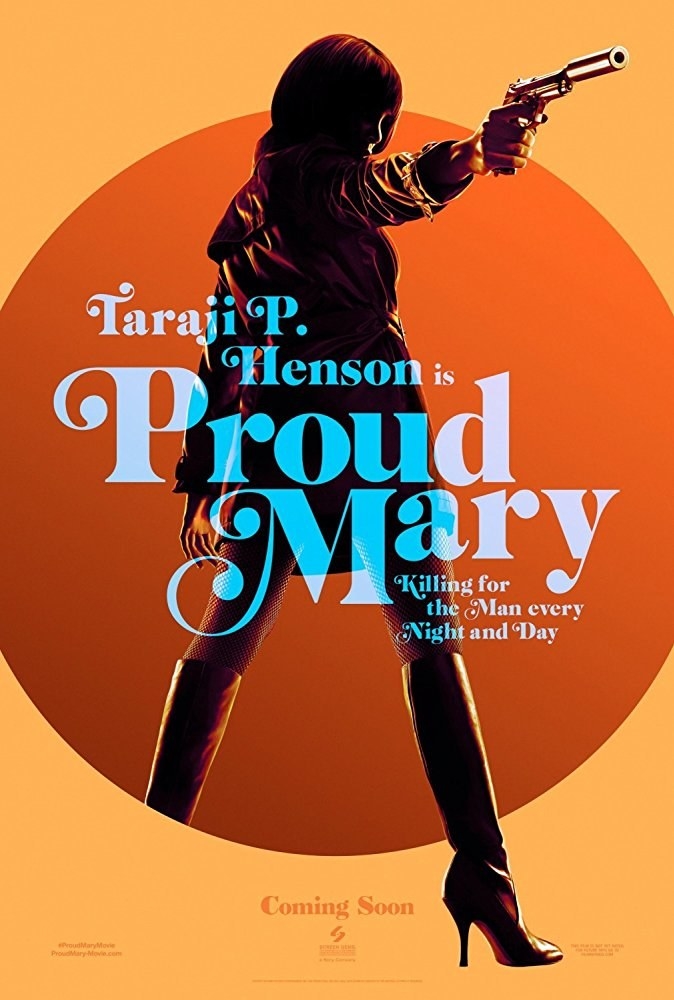 Social media, and Black Twitter especially, has demonstrated how much influence people of color have, and it might have benefited the film if Screen Gems had leaned into it more. Sure, having Henson do the traditional Good Morning America and Late Night interviews with any given white man is important, but Henson's core audience is on Twitter. All you have to do is look at the #ProudMary hashtag to see how hard they're campaigning for the movie to do well. It's where fellow celebrities like Ava DuVernay and Octavia Spencer have also chosen to share their endorsement of the film. The @ProudMaryMovie Twitter page only has 3,476 followers and is only following 7 people. Its only engagement with fans was a Twitter Q&A, which Henson hosted on Sony Picture's Twitter page. Everything else is just promo of the same trailer that was released last year and the handful of interviews Henson has done since. The movie's Instagram has similar content with only 6,380 followers.
The lack of social media imprint might be the greatest disconnect between Screen Gems and the audience for the film. A source close to the situation told BuzzFeed News that "Awareness is at a high 92%," and noted that "Henson did eight talk shows in two days," but couldn't cite a noteworthy social media marketing strategy.
In the year of our Lord 2018, audiences probably read tweet reviews just as much as, if not more than, film critics' reviews. Becoming a trending Twitter topic all weekend for the right reason should be just as powerful as a good Rotten Tomatoes score. (The movie currently has a 24% Tomatometer score, but not enough critic reviews to have reached a consensus yet. The audience score on the site is currently at 61%.)
The film doesn't have a strong overall score on the popular rating site, which could be indicative of the long-standing assertion that black audiences at large do not necessarily rely on traditional platforms to tell them how they should feel about black things, including — and especially — art. This is, in part, because of the usual lack of black representation, which has caused the community to create their own spaces. It's why filmmakers like Will Packer and Ava DuVernay prioritize Essence Festival as the place to screen their projects and spend their promotion budgets. It's why Hillary Clinton made the Breakfast Club a stop on her campaign trail. It's why even Oprah will get online to live-tweet an OWN show with Black Twitter. Proud Mary failed to assert itself in these spaces, and its weak box office numbers are proof.