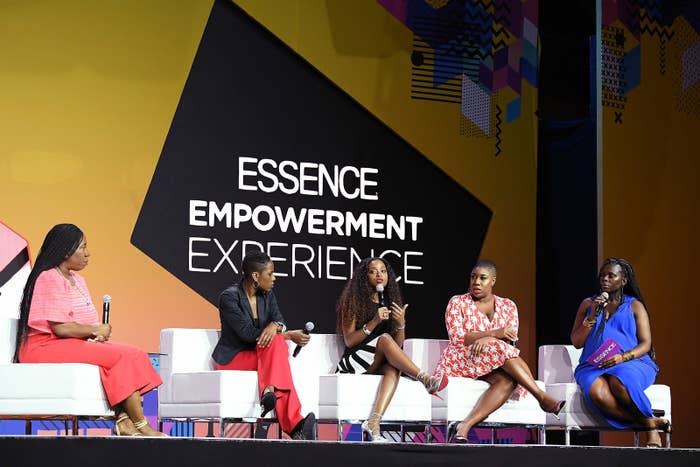 For many who attend, Essence Fest is a magical, safe space for black women around the world. The three-day festival has a host of empowering panels by day and electrifying music performances by night, and since 1995, has evolved from a destination to an annual tradition. There's even a little film about it that you may have heard of called Girls Trip. But like most, if not all, black collective spaces that exist, the festival hasn't managed to provide the same sense of security and representation to transgender black women.

"Spaces that are affirming of black identity aren't always going to be affirming of every black identity," trans activist Raquel Willis told BuzzFeed News. "There's this kind of, this assumption around any space celebrating blackness that it's going to be celebrating a cisgender, heterosexual kind of blackness. So as a trans woman, I don't know how I'd feel about being in that space."
Willis isn't alone. In an interview with BuzzFeed News, trans actor Angelica Ross explained, "It's almost like white people who are having a party on the 4th of July and have no black people around, but they all claim they have a black friend. We're all partying at the black Essence Festival and everyone is claiming to be an ally to the LGBT community, but where are the trans people?"
Neither Willis nor Ross has ever been invited to the festival to participate as speakers or stage guests like many other actors and activists have. Both cite the lack of trans black women participants on the festival stages as one of the first and easiest changes to be made. "I know that Essence is aware of me, and every so often they do little things to highlight stuff I've done, but to really make a commitment, they need to seek me out and people like me," said Ross, who currently stars on the FX drama Pose. She added that the show's producer, Janet Mock, should also have been on one of the Essence Fest Empowerment stages — even before her move into Hollywood this year — because she's in the media and hosts interviews regularly.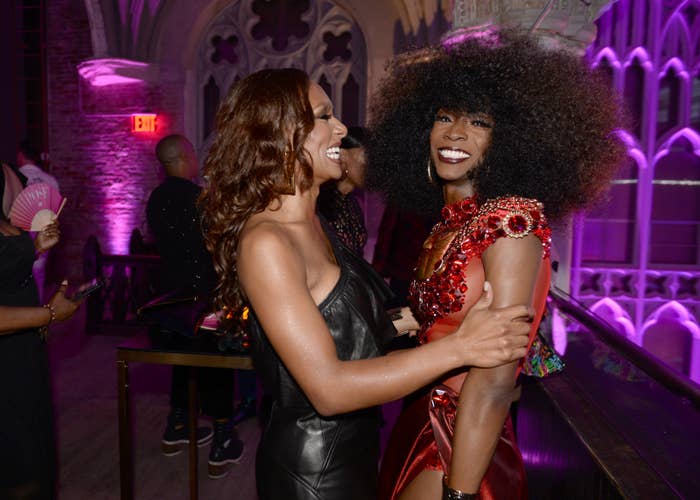 Essence magazine has made an effort to cover more trans news and feature trans black women like Ross, Willis, Mock, and Laverne Cox. However the inclusion of more trans black women at these events is bigger than just helping their projects succeed. As Willis put it, part of being a better ally involves elevating the marginalized, when possible, by sharing all platforms. As cisgender, heterosexual black women, we often see ourselves as the bottom of the totem poll, the most oppressed group in the world, but black trans and queer women are still fighting to get some of the basic rights and dignities that we've managed to get for ourselves.
"As a black community we can be clear that white people are our oppressor," said Willis. "But when black women say that about black men, it's an issue. Similarly, when black trans and queer women say that about straight black people…we can't have that conversation. It gets us locked out of the room."
Ross experienced some of the mistreatment trans women commonly face from cis black women during last year's Essence Fest. She was in New Orleans shooting TNT's Claws — where she played Relevance — at the same time as the festival. "I can't tell you enough how unsafe I felt. How unwelcomed I felt. And that's without people saying a word to me," she said. "As a trans black woman who for the most part passes, I'm so unexpected that I end up in situations where people don't know that they are saying problematic things. So when I come out [as trans] they say even more problematic things like, 'Oh, you had me fooled,' and think that they're being nice."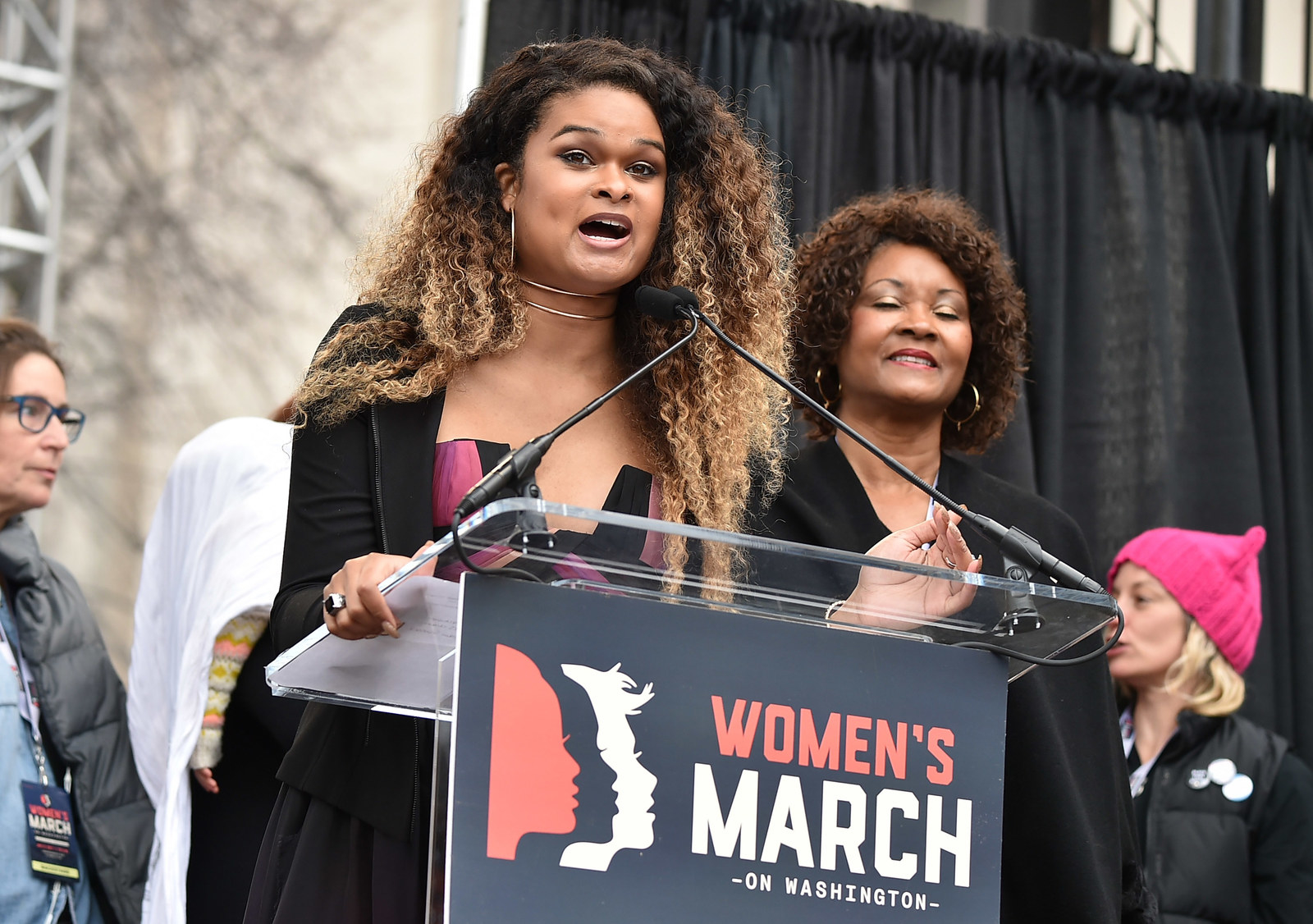 Willis believes acknowledgement of privilege is the first step, before any collective space can be made into a safe one for its most marginalized group. "We all have that capability. I try to be clear that I know that I'm an oppressor in some way to some person," she said. "For example, as an able-bodied person, or in a classist way because I grew up middle class, I had to do the work of knowing that."
The second step, according to Willis, is for cis black women to dismantle the ways in which we move through the world as oppressors. In other words, checking inappropriate behavior, respecting desired pronouns, and understanding how telling a trans woman you're shocked at how much she looks like a woman is like a man saying, "You're pretty for a dark skinned girl."
This is another reason why including trans black women on panels and calling on them to lead conversations is vital – learning in a safe environment can provide teachable moments for those who want to be better allies but don't know how to start. At Essence Fest in particular, this could materialize into things like making sure trans women have representation in organized conversations about issues like toxic misogyny or voting rights. Then, furthering these conversations could include specific talks about how cis heterosexual black women consciously or unconsciously oppress queer and trans black women. And what better space to hold ourselves (and each other) accountable than a place where we're already coming together to tackle the main issues black women are facing?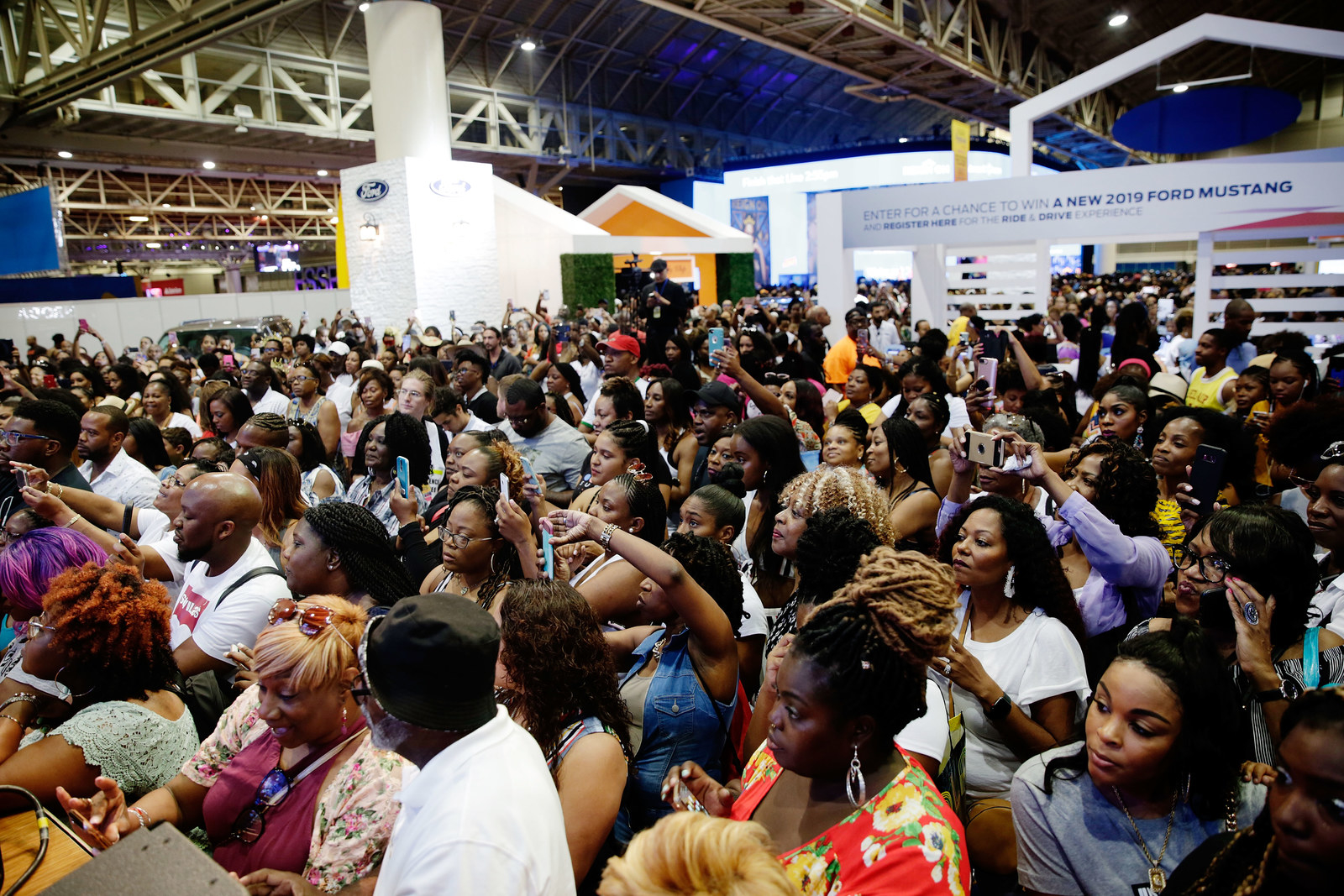 "If you claim to support black trans women, every instance of you talking about black womanhood should be expansive. There should not be a question that you are talking about black transgender women too. And be clear when you're not," said Willis.
Increasing the visibility of the black LGBT community also signals to all attendees that queer folks are present at the festival.. This is especially vital when it comes to keeping trans women safe, because as Ross noted, a lot of cis, straight, black men come to the festival hoping to get "boo'd up," and trans women are at heightened risk of violence from their partners. The need for a safe space is literal for trans women. "I know it can be problematic to single out a group or whatever, but something has to be done for us as a collective black community to know that we are all welcomed here," added Ross.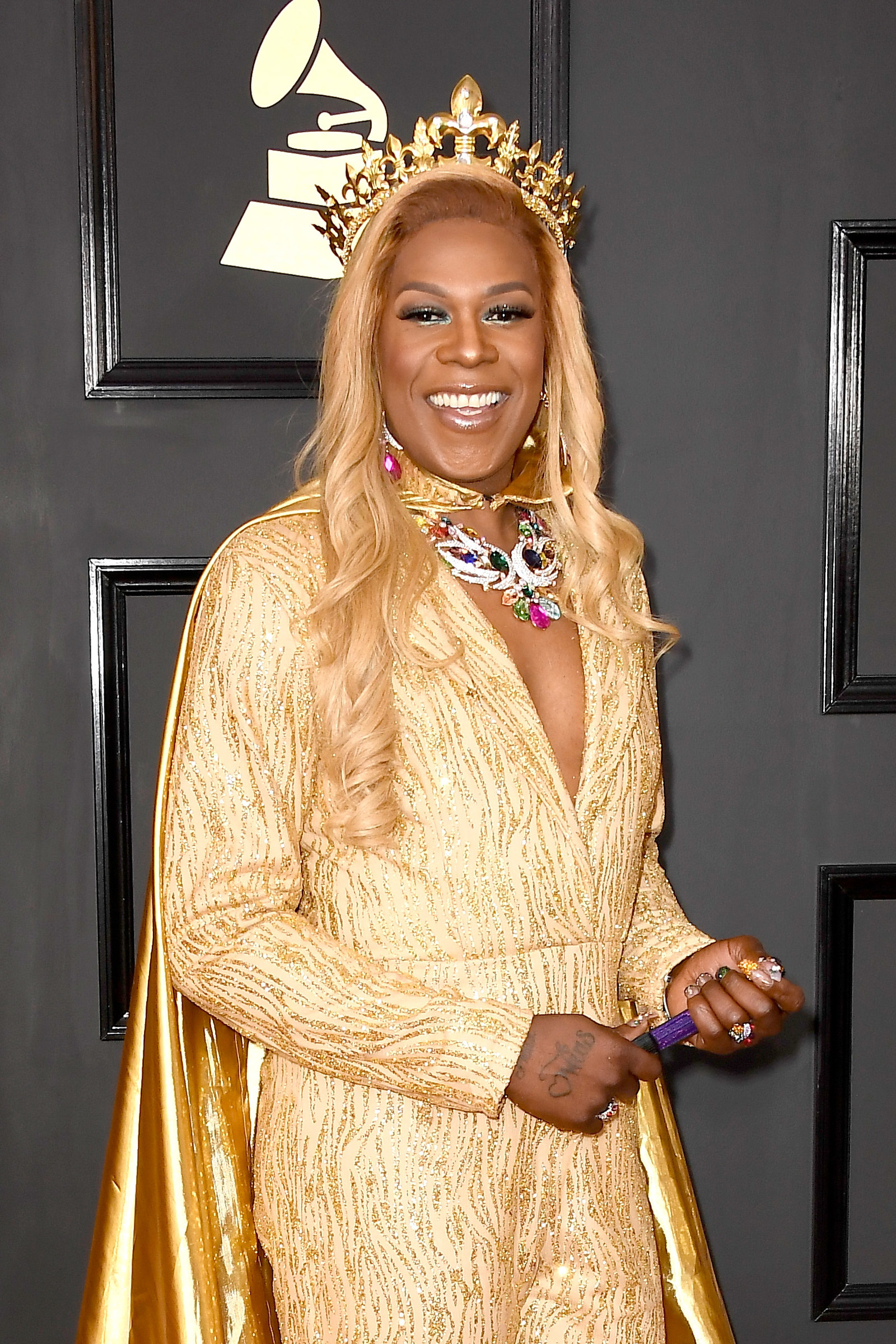 Increased visibility and welcome for trans black women is also helpful when the festival's music headliners are artists with huge LGBT fanbases, like this year's headliners Janet Jackson and Big Freedia, the latter of whom is headlining one of the festival's super lounges on Saturday. While she doesn't identify as transgender, Big Freedia is the first openly gender-fluid artist to be given this opportunity at the festival. As a New Orleans native and bounce music legend, it only makes sense that she would be tapped to perform, especially after working with artists like Beyoncé and Drake in recent years. Having more queer and trans black performers would be an excellent opportunity to continue the festival's tradition of giving black artists the platform they don't always get at other music festivals of this size. Only in the past decade have black artists like Kendrick Lamar, Kanye West, The Weeknd, Beyoncé, and Drake been given the opportunity to headline major music festivals, while many R&B artists like Mary J. Blige and Erykah Badu still don't get these kinds of opportunities, except in black spaces. It's part of what makes Essence Fest special, and adding marginalized talent can enhance that legacy.
Willis suggested Essence reach out to the many LGBT social justice organizations based in New Orleans to highlight their work and strategize with them about making the festival more inclusive. She also noted that trans women have a higher financial strain than most. This is not only due to the high cost of surgeries some trans women undergo to feel comfortable in their bodies, but also because trans women have a harder time finding and maintaining work. With that in mind, sponsoring some trans attendees would be another helpful solution to reduce their absence.
The visibility of trans women in public spaces is of course bigger than Essence Fest and can apply to all black spaces, both literal and figurative. Black Hollywood, for example, is another community that Ross feels doesn't do enough to welcome black trans actors or queer stories. While on a Screen Actors Guild panel with other black actors, including Sheryl Lee Ralph and Lil Rel, Ross spoke about what an honor it is to work with hit show creator Ryan Murphy, but she also added that she wished she could make history with black creators as well.
"Our black community is not willing to let their love for the LGBT community beat from their chest," she said to BuzzFeed News. "We're in a time where we're calling for folks from the administration to be more transparent and people to be more clear about their stance on the right side of things … No black person is going to get away with talking to me and upholding any form of discrimination while asking someone else not to discriminate."
Ross felt, for example, that the movie Moonlight, despite winning the Oscar for Best Picture and other critical acclaim, wasn't as embraced or promoted by the black community because of prejudice against queer narratives.
"When you get into Black Hollywood, you're still dealing with black Christians and black folks who don't think trans women are women, who don't believe in gay people being in marriages, so it's a thing where it's almost a live and let live thing. But they don't understand that they're duplicating white supremacy tactics by not saying anything, but building collective power within their cis heteronormative circles that continue to then marginalize people who don't fit into that."
The same applies to spaces and events celebrating black culture. When we leave out an entire sector of the community, and continue to not speak up about doing so, we contribute to their disenfranchisement.
"We are such an essential part of black womanhood. It's not about including us, it's about recognizing that we've always been here," said Willis. "It's about making a commitment so that when you leave that space, your actions are also reflective to the commitment you've made to your sisters, to black trans women."