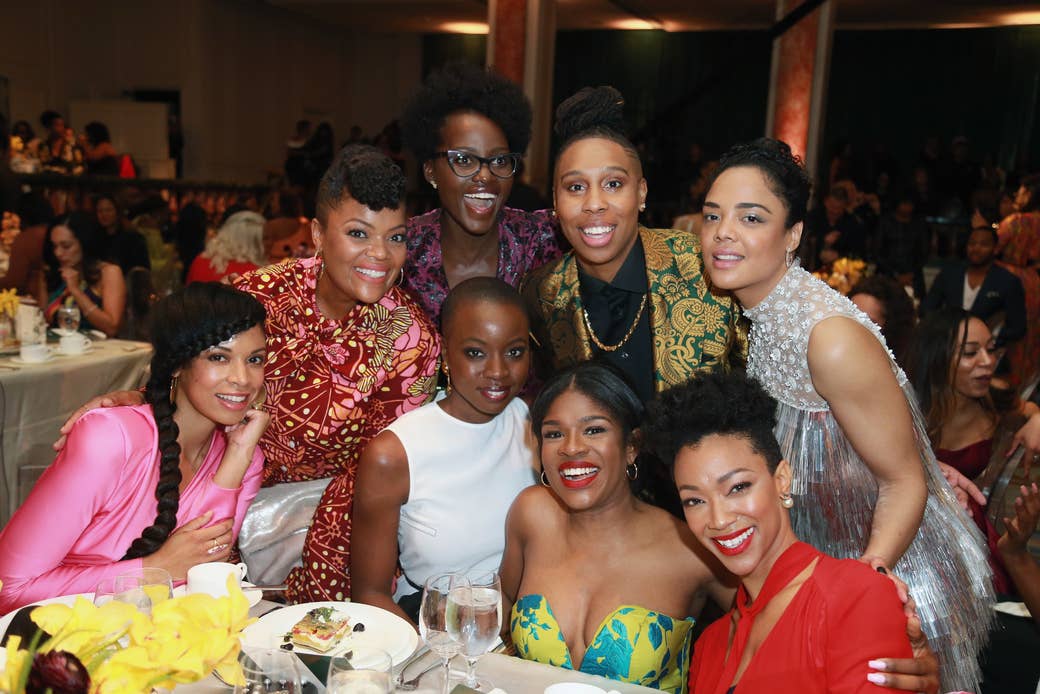 When the sexual assault reckoning hit Hollywood after the tremendous fall of Harvey Weinstein, it was clear the industry was on the precipice of a moment. What wasn't clear was how long that moment would last — or how intersectional (or not) it would be. Concerns were raised after the first set of black actors to speak out about being sexually harassed did not get the same reception or justice some of the white actors received. But as the Time's Up initiative announced itself at the top of 2018, with a diverse group of powerful women in Hollywood leading the charge, the possibility of a truly intersectional and effective movement appeared on the horizon. The question now is how to make sure the progress made by this feminist crusade actually benefits everyone.
Emmy winner Lena Waithe believes it's key that black women of color have had a fair seat at the Time's Up table so they've been able to speak up about the unique obstacles they face and play a role in determining strategy. "We're actually talking about these issues," she told BuzzFeed News. "I think that's the difference." At the same time, Waithe knows there needs to be real results. "We've got to fix it. It's not enough just to talk about it. I don't want to just wax poetic on panels or red carpets. It's like, what are we doing to change things?"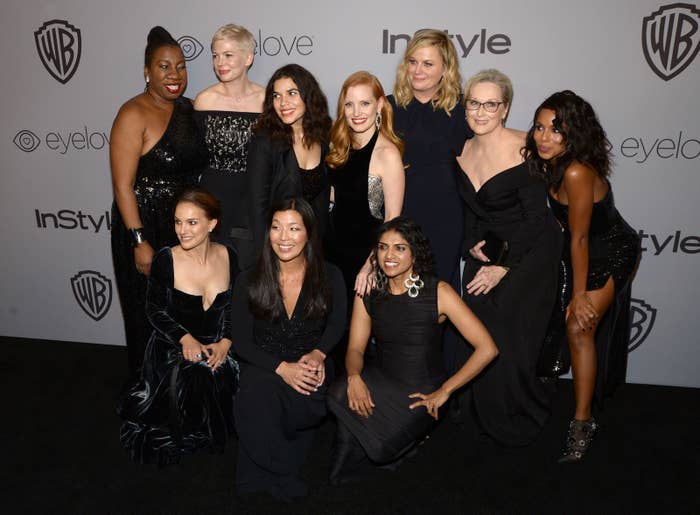 The women involved with Time's Up spent much of this past awards season getting the word out about the initiative on red carpets. These appearances have shown just how inclusive the group is, with black women like Waithe, Kerry Washington, Shonda Rhimes, Tessa Thompson, Tracee Ellis Ross, and Rashida Jones at the forefront when the initiative made its first big splash at the Golden Globes. That night, nearly all women in attendance wore black in solidarity with the mission. Several women walked the red carpet with activists of color as their guests — giving them a media platform they often don't have access to — while others used their moments onstage to highlight the issues they were fighting to change. It was a monumental show of unity from actors to not only end sexual assault and harassment but to call for pay equity and job fairness as well. These issues impact all women heavily, but are always more devastating for women of color.
But now that they've made their inclusive mission clear, what can be done to make sure those most impacted by unequal systems get the help they need? The legal defense fund created by Time's Up to support women dealing with sexual harassment, which is now in the millions, was a strong first show of action. So is the role the initiative is playing in holding Weinstein and his alleged enablers accountable, though it's worth noting that most of his victims were white women. Perhaps additionally getting behind a mainstream case that involves more black victims, like Jerhonda Pace — who accused R. Kelly of abusing her when she was a minor and has publicly stated his victims feel left out of the #MeToo movement — would be an effective next step. Mainstream Hollywood cases aside, the defense fund also intends to help those from other industries who are taking legal action against their sexual abusers. And while the group is committed to making sure women in need get access to that fund regardless of their race, it could prove beneficial to prioritize some cases involving black women each year to make up the economic difference that exists among women of different races.
Publicizing outreach toward black women would go a long way toward building trust again, because historically black women have been left out of these efforts. Amanda Seales, an actor on HBO's Insecure, told BuzzFeed News, "Intersectionality has really never been at the center of mainstream feminist movements in a real way. So I would like [Time's Up] to keep in mind that it's time to put that at the center."
Dear White People star Ashley Blaine Featherson echoed Seales' thoughts, noting that the concerns of black actors need to be heard and acknowledged. "I think that sometimes we feel that we're not being seen, and I think that we just have to talk about it and be open and transparent," she said. "And more of us also need to tell our stories and demand to be heard."

When Oscar winner Octavia Spencer confided in her costar Jessica Chastain about her pay history in Hollywood, she ended up getting offered five times her salary for their upcoming film. During a panel at Sundance in January, Spencer said, "I told her my story and we talked numbers and [Chastain] was quiet, and she had no idea that that's what it was like for women of color." Chastain didn't only listen to Spencer, but believed her, and then used her status, thanks in part to her white privilege, to help Spencer.
Chastain tweeted about the situation, saying, "[Spencer] had been underpaid for so long. When I discovered that, I realized that I could tie her deal to mine to bring up her quote. Men should start doing this with their female costars."
Chastain took a risk when she demanded the studio pay Spencer as much as they paid her, and luckily it worked out for them. It's the kind of action more men in Hollywood should be initiating, said the Molly's Game lead. And it's not a wild request since some men are already doing it. Emma Stone, who was the highest-paid female actor in 2016, has shared that she requests her male costars take pay cuts so their salaries would be more equal. "That's something they do for me because they feel it's what's right and fair," said Stone in an interview with Out magazine. "That's something that's also not discussed, necessarily — that our getting equal pay is going to require people to selflessly say, 'That's what's fair.'"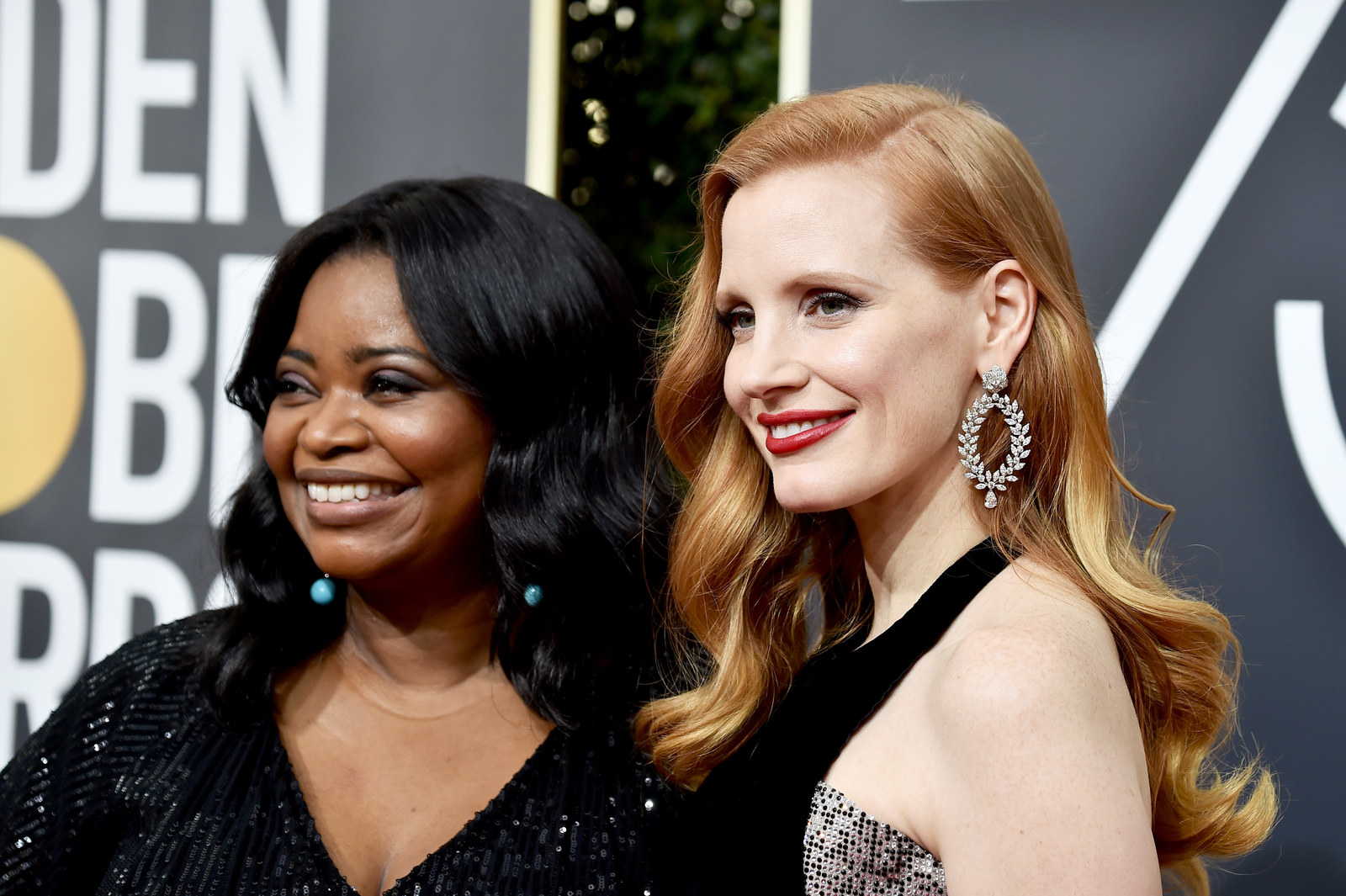 Thompson cited Spencer's and Chastain's actions when describing the kind of work that needs to continue to keep the Time's Up initiative intersectional. "That was collaboration," she said. "It's important because as women so often we are siloed off, and kept separate, that when we enter these spaces together, we hold each other accountable and we really hold each other."
During her Oscars acceptance speech for Best Actress earlier this month, Frances McDormand talked about accountability in the form of inclusion riders, a contract that requires a certain level of diversity on set. It's something Ava DuVernay has been doing for years with her Oprah Winfrey Network drama Queen Sugar, for which she purposefully only hires women directors. It's something that Black Panther star Michael B. Jordan also vowed to do on all projects produced by his company, Outlier Society, shortly after McDormand's call. Increasing the number of production companies committed to honoring inclusion riders should be on any intersectional agenda in the industry.
What it really comes down to is this: More Hollywood juggernauts need to be willing to stand up for their fellow actors to a much greater extent than they have in the past. For example, when Passengers actor Aurora Perrineau filed a police report against Girls writer Murray Miller for sexual assault, the series' showrunners, Lena Dunham and Jenni Konner, released a joint statement defending Miller, essentially calling Perrineau a liar. Dunham apologized after Miller's lawyers admitted they were not honest about Perrineau trying to extort Miller. There are also the numerous actors who didn't acknowledge Rose McGowan's initial Weinstein claims years ago, or who still continue to work with Woody Allen despite Dylan Farrow's accusation that he sexually abused her as a child.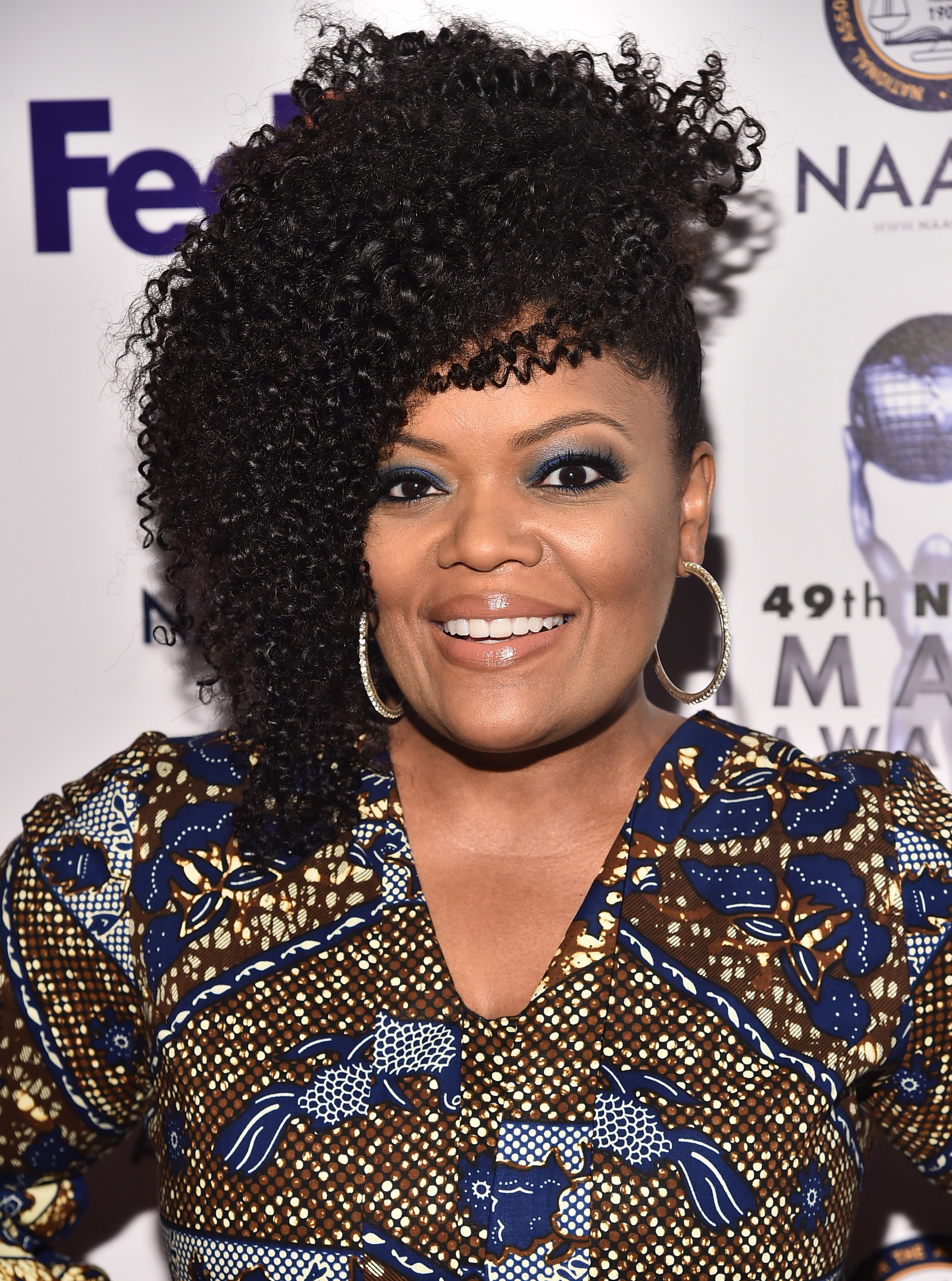 Yvette Nicole Brown, who most recently starred on the short-lived ABC sitcom The Mayor, told BuzzFeed News that everyone involved with Time's Up must be willing to take risks for the greater good if the initiative wants to succeed: "If you're speaking up for what's right, you'll end up on the right side of history. And sometimes you need to take a hit. Look at Colin Kaepernick. He's taken a hit, but he's getting the word out. So sometimes the cause needs to be greater than your personal gain. So that's how you do it. You stand up and you go: This isn't right."
The leaders of the Time's Up campaign have made it clear that inclusive justice is the goal. In a recent panel on the matter at the Makers Conference, Jones said, "I think everybody here and everybody in the movement kind of acknowledges that there is no change unless you bring every single person along who has spent time being marginalized, harassed, assaulted. … Intersectionality is the hub, it is the absolute centerpiece of everything that we do." It's now up to them to create results that support that mission. Whether that's by demanding equal pay for their costars of color, or refusing to work with those who have sexual assault or harassment allegations against them (until they have been exonerated) regardless of the race of the accuser, or using a majority of the defense fund for minority groups — it's time to move things forward.