These Ukrainian Billboards Are Aiming To Combat Anti-LGBT Discrimination
The campaign asks people to "speak properly" about LGBT people and other groups.
Billboards appeared in several Ukrainian cities this week calling for tolerance towards LGBT people, Jews, Roma, women and people with disabilities and living with HIV.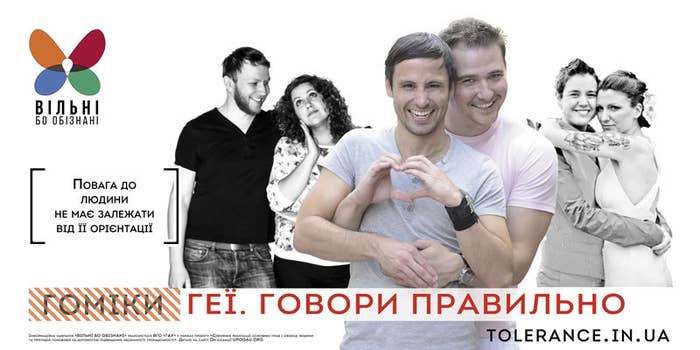 This billboard shows the Ukrainian word for "homos" crossed out, followed by: "Gays. Use The Right Word."
The campaign is a project of Gay Alliance Ukraine, funded by the Embassy of the Netherlands.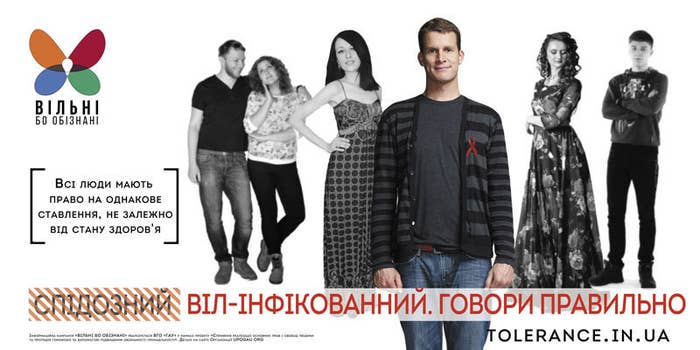 Here, "AIDS-ridden" is crossed out, replaced with "HIV-infected. Use the right word."
Many in the country's LGBT community have felt increasingly under threat as information wars — and a bloody conflict with Russian-backed separatists — rage between Ukraine and Russia.
The east Ukrainian separatists and others who favor a closer relationship with Russia denounce LGBT rights as a Western phenomenon, incompatible with Slavic, Orthodox Christian values. Even among those Ukrainians who have set their sights on integration with Europe, LGBT activists say anti-LGBT sentiment is pervasive. In March, a coalition of LGBT groups wrote an open letter to Ukraine's justice ministry about the country's new draft strategy on human rights, which does not mention LGBT rights.
"Homophobia is etched into the mass consciousness of Ukrainian society – in particular, due to the tireless efforts of our churches and politicians," the letter says.
The Russian media had a field day with the billboards. Bloknot.ru plastered this across the image: "In Ukraine a scandalous agitation for gay marriage has begun openly."
"Ukrainians are taught to be tolerant to the 'European choice' of their fellow citizens," the pro-Kremlin tabloid Life News wrote.
"Ukraine is choking under European values," ran the headline in Uralpress.ru.
The activists behind the project weren't discouraged.
"I think getting such a response from Putin's doormats is a success :)" Taras Karasiichuk of Gay Alliance Ukraine wrote on Facebook.