Russian Lawmakers Propose Banning Marriages For Trans People
A new bill introduced Tuesday would ban marriages between transgender men or women and their same-sex partners.
Lawmakers in Russia introduced draft legislation today that would ban marriage between two people of the same sex, including cases where a trans person has transitioned or is in the process of transitioning.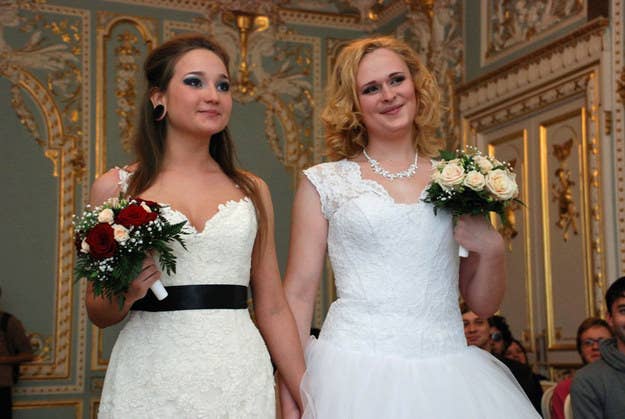 Same-sex marriage is already illegal in Russia, but the measure aims to close a bureaucratic loophole that allowed Irina Shumilova and Alyona Fursova to marry in St. Petersburg last November. Shumilova, who identifies as a transsexual woman, is still male according to her passport. Their wedding made headlines around the world and angered conservative politicians.
The bill is sponsored by three members of parliament — Aleksey Zhuravlyov, Dmitry Gorovtsov and Anatloy Greshnevikov — who argue that the measure is necessary to protect so-called traditional family values.
"Registering marriages between such individuals will lead to the legalization of same-sex marriage, which is not allowed in Russia," a memo to the bill says.
In 2013, Zhuravlev introduced a bill that would strip parents with "non-traditional sexual orientation" of the custody of their children. The measure was later withdrawn.
The bill would have to pass three readings in the Russian parliament, and then be signed by President Vladimir Putin, to become law.