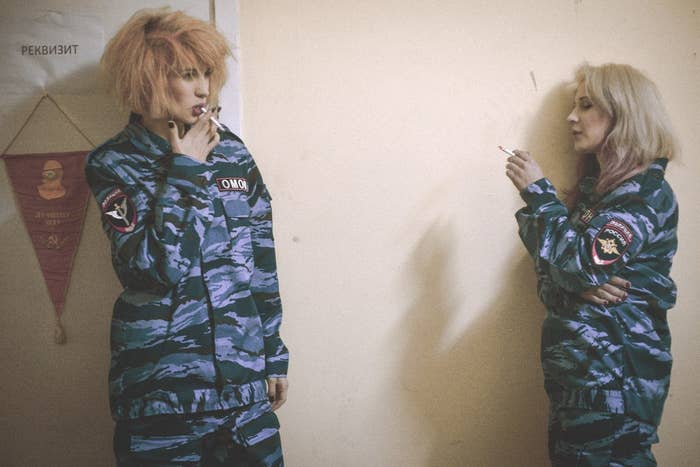 Masha Alekhina and Nadya Tolokonnikova, the two best known members of the Russian punk band Pussy Riot, have released a new video, their first in English, called "I Can't Breathe." The song is dedicated to victims of police brutality and features a dramatic reading of the last words of Eric Garner, the man whose chokehold death at the hands of a New York City police officer set off mass protests last year.
The video opens with a close-up of a package of Russian Spring cigarettes, a brand name that plays on pro-Russian sentiment in war-torn Ukraine. Then it shows the two women being buried alive while wearing Russian riot police uniforms.
The women wrote the song in New York during the protests that broke out after a grand jury declined to indict the officer who killed Garner. "We've known, on our own skin, what police brutality feels like and we can't be silent on this issue," the group told BuzzFeed News. Video of Pussy Riot members being whipped and beaten by Cossacks and undercover police officers during the Sochi Olympics made headlines last year.
The blue riot police uniforms the women wear in the video also reference the 2012 anti-Putin demonstrations at Bolotnaya Square in Moscow, after which dozens of people present were charged with participating in "mass riots." Several have been sentenced to years in prison.
"We really could not breathe for this whole last year," the women told BuzzFeed News. "Our previous ideas did not speak to what was happening in the conflict zone in Ukraine as we were realizing that Russia is burying itself alive in terms of the rest of the world. Committing suicide. Daily."