Kyrgyz Lawmakers Overwhelmingly Support Moving "Gay Propaganda" Ban Forward
MPs voted 90-2 to move the bill forward despite international criticism and opposition from the country's Ministry of Justice.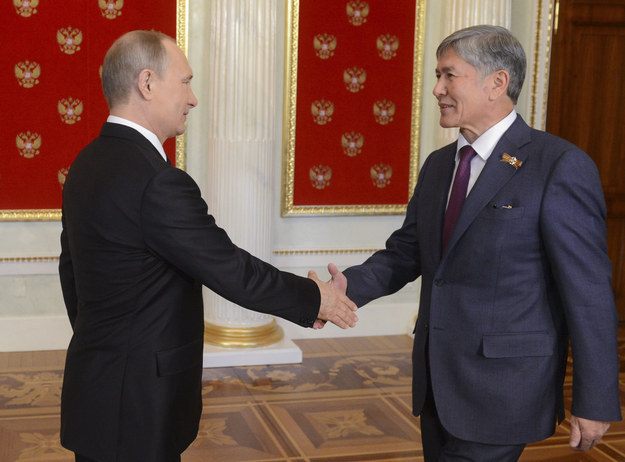 Lawmakers in the former Soviet republic of Kyrgyzstan moved a Russian-style bill banning "gay propaganda" one step closer to becoming law in a 90-2 vote.
The text of the bill, which passed its second of three required readings Wednesday, closely mirrors Russia's widely decried 2013 ban but provides stiffer penalties, including up to a year in prison.
The bill defines "propaganda of non-traditional sexual relations" as "the distribution of information aimed at forming a positive attitude among citizens to sexual relations between people of the same sex, if the act is committed using the mass media, including the internet, or among minors." It also states that public demonstrations promoting "propaganda of non-traditional sexual relations" may be banned.
The bill has sparked criticism from rights groups and the United Nations Office of the High Commissioner for Human Rights, the Organization for Security and Co-operation in Europe, the U.S. Embassy in Kyrgyzstan and the European Parliament.
Kyrgyzstan's parliamentary committee on human rights last year recommended the bill move forward, though Minister of Justice Jyldyz Mambetalieva told RFE/RL's Kyrgyz service in May that it violates human rights and the Ministry opposes it.
Activists say anti-LGBT rhetoric and violence has increased in Kyrgyzstan since the bill was introduced in the spring of 2014.
This video posted on Facebook by the LGBT organization Labrys shows young men from anti-LGBT nationalist groups disrupting a private event commemorating the International Day Against Homophobia, Transphobia and Biphobia on May 17. Labrys activists said the men forced their way into a private cafe where about 30 people had gathered, injuring one of the women present.
"Method of fighting LGBT. Meet them on the street, club them across the face, put them in a rocket and send them to Gay-rope," reads a tweet from an anti-LGBT nationalist group.
Anti-LGBT groups and politicians maintain the "propaganda" ban is necessary to protect family values and say LGBT rights are fundamentally incompatible with Kyrgyz culture and traditions.
A June 14 rally in Bishkek, Kyrgyzstan's capital, drew around 100 young men supporting the "gay propaganda" ban and another Russian-style bill that would require NGOs receiving funds from abroad and engaging in "political activity" to declare themselves "foreign agents," a term with Soviet-era connotations of espionage.
The "gay propaganda" bill must pass a third reading in Kyrgyzstan's parliament and be signed by the president to become law. Kyrgyz MPs go on recess in July and will return to their posts in September ahead of parliamentary elections.
Krygzstan isn't alone in Central Asia when it comes to attempting to bring about laws modeled after Russia's. In May, the Constitutional Council in neighboring Kazakhstan overturned a similar "gay propaganda" ban that had passed the legislature, citing technical grounds. The decision came following pressure from international athletes as the country bids to host the 2022 Winter Olympics. The council's ruling affirmed the government's power to restrict access to information as part of its responsibility to "defend marriage and family, motherhood, fatherhood and childhood." One of the MPs sponsoring the ban has vowed to resurrect it this fall.