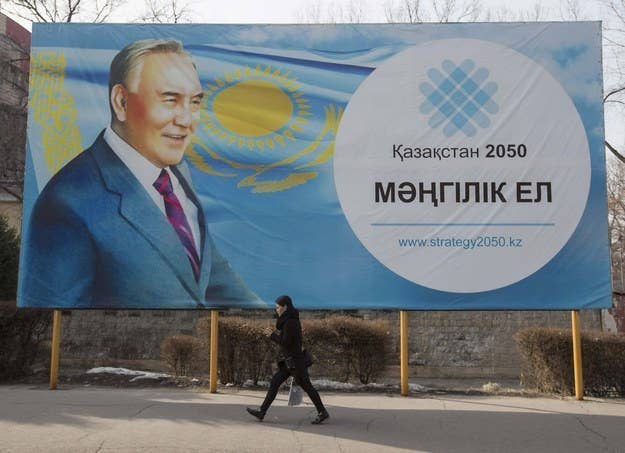 A bill in Kazakhstan that would prohibit the circulation of information "propagandizing non-traditional sexual orientation" to minors could be signed into law within the next few days.
The provision is part of a broad bill titled "On Protecting Children From Information Harmful to Their Health and Development" that imposes new limits on media content available to minors. The same section of the document that addresses sexual orientation also bans information "propagandizing cruelty and violence, or social, racial, national, religious, class or clan superiority" and information that would prompt young people "to commit acts that would threaten their life and/or health, including suicide."
The former Soviet republic in Central Asia has a large ethnic Russian population and is influenced by legal developments in Russia, which passed a ban on so-called gay propaganda in 2013 amid protest from human rights groups.
Despite the Kazakh bill's claims of suicide prevention, LGBT advocates say Russia's law puts LGBT teens at greater risk of suicide by effectively restricting access to any positive information about their sexual orientation or gender identity. Russian authorities fined the leader of Children-404, an online support group for LGBT youth, earlier this year for violating the ban. Teachers supportive of LGBT rights have also been threatened with dismissal. A recent Human Rights Watch report documented increased violence against LGBT people in Russia since the law took effect.
In Kazakhstan, life will become "darker" for LGBT people if the ban is passed, activist Zhanar Sekerbayeva said. "This law will do everything to tighten the screws once more," she told BuzzFeed News in an email. "No one knows, for example, what gay propaganda is. Is it when Tchaikovsky's music plays or if two people happen to be walking down the street hand in hand, regardless of their sex?"
Like in Russia and neighboring Kyrgyzstan, which is also considering a propaganda ban, anti-LGBT rhetoric and violence are common in Kazakhstan.
One of the brides in a widely publicized unofficial lesbian wedding held in 2013 was found dead a year later. Her partner and two other women were ultimately convicted of the murder. Shortly after the investigation of the case began, a group of anti-LGBT activists erected a brick wall in front of a gay club in the city of Almaty. The club owners did not call the police, according to a report by Radio Free Europe/Radio Liberty.
Last year, a court ruled in favor of a group of music students who claimed "moral damages" because of an advertisement that featured Russian literary great Alexander Pushkin locking lips with Kazakh composer Kurmangazy Sagyrbayuly, their conservatory's namesake.
The youth movement Bolashak has called for LGBT people to be banned from serving in the army or holding public office. The group's leader, Dauren Babamuratov, proposed identifying LGBT people through blood tests or by the color of their pants.
MP Aldan Smayil, a sponsor of the bill, pointed to the West for inspiration, citing laws in the U.S., the Netherlands, Germany, Canada, Norway, and Italy. Smayil appears to be referring to the U.S. Children's Internet Protection Act, which took effect in 2001 and mandates web filtering in schools and libraries that participate in a federal discount program for internet access. Critics say the law, designed to prevent children from viewing pornography and other explicit content, is overly restrictive and note that online filtering services can block LGBT sites that are not sexual in nature.
Smayil said that the ban being considered in Kazakhstan will "protect children from information that kills the feeling of warmth and humanity and harms their psyche and their health."
Sekerbayeva, the activist, said Kazakhstani lawmakers are simply trying to score political points. "Want to pass a law? Make sure there are words, provisions about children and childhood," she told BuzzFeed News. "I think these are officials' games."
Kazakhstan's Senate approved the bill February 19. Under the country's legislative procedure, bills approved by Parliament must be passed to the president within 10 days. President Nursultan Nazarbayev has one month to approve or veto the bill once it reaches his desk.
This post has been updated to include additional details about the case of a lesbian found dead in Kazakhstan.