Foreigner Found Dead In Crimea In Possible Anti-LGBT Hate Crime
"Most likely the reason for his murder was connected with his non-traditional interests."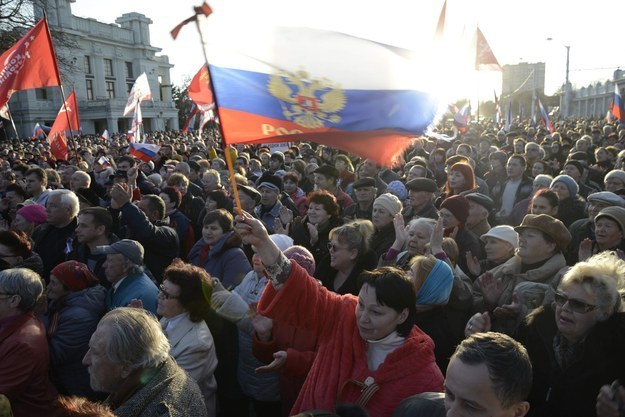 In a possible anti-LGBT hate crime, the body of a foreign tourist was found on Wednesday near a burned-out minibus in the Crimean town of Yevpatoria, a law enforcement source told local news agency CrimeaInform.
"The body bore signs of a violent death," the source said. "The victim was a foreigner of nontraditional sexual orientation who had been coming to vacation in Crimea for the last five years. Most likely the reason for his murder was connected with his non-traditional interests."
The body was discovered near a war memorial in the resort town, which sees an influx of tourists each summer. Russian President Vladimir Putin has encouraged his countrymen to vacation in Crimea since formally annexing the peninsula from Ukraine in March.
LGBT activists in Crimea have reacted variously to the annexation, with some supporting Russia and others fearing increased homophobia.
Yevpatoria, a Black Sea resort of about 100,000, has little LGBT community to speak of. "There aren't many of us in the whole city," Oleg, a pro-Ukraine LGBT activist there, told BuzzFeed by email. "I know less than two dozen openly gay and lesbian people in Yevpatoria."
"Homophobic propaganda was always one of the trump cards in the hands of pro-Russian groups and parties in Crimea — before the events at Euromaidan and afterwards," he continued, referring to protests in Kiev that ousted Ukraine's Russia-friendly government. "Now these pro-Russian groups on the peninsula are still stirring up homophobic themes and slogans, growing intolerance, phobias and hatred against LGBT people."
The incident comes nearly one year after Putin signed a bill banning "propaganda of non-traditional sexual relations to minors" into law. Activists say the measure has led to an increase in anti-LGBT violence in Russia.