Russia may restrict the procurement of imported condoms for "state and municipal needs," according to documents posted on a government website Tuesday.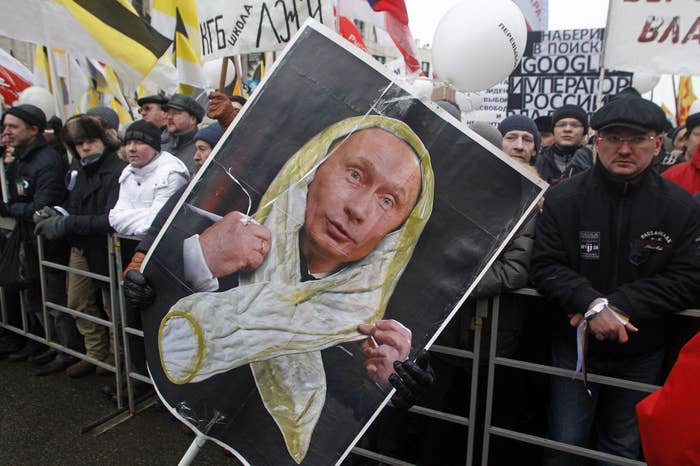 The proposed change would add condoms to a list first published in February of foreign-made medical supplies that the government was restricted from purchasing.
The proposal is designed to bolster Russian industry and comes at the height of a political push to promote Russian products over Western imports. Authorities are cracking down on sanctioned food imports like Italian and Spanish meat and French cheese.
Though the new proposal only concerns government purchases and would not prevent stores from selling foreign brands like Durex and Trojan to the public, comments by Gennady Onishchenko, an aide to Russia's prime minister and a former public health official, seemed to imply otherwise.
"Rubber goods (condoms) have no relation to health, it will just force people to be more disciplined, more strict and selective in their choice of partners, and maybe it will be of some service to society in terms of solving demographic problems," Onishchenko said in comments carried by RIA Novosti.
Russian Twitter seized on the news, with many interpreting the measure as a total ban on imported condoms.
"It's a shame Onishchenko's father didn't have a condom!"
"Real patriots love the Motherland without a condom."
"The Russian import-substitution industry is working on making condoms that smell like jamón and parmesan."
Some played on the fact that one Russian word for condom is also slang for "asshole": "Russia is banning foreign condoms, because it has enough of its own."
There were jokes about the quality of Soviet condoms: "I've been saving this condom since the Festival of Youth and Students in 1985. Bury me in it. For Putin, For United Russia."
And Soviet-style rationing: "Condoms should be given out under a doctor's prescription. Or on a voucher system, for example. And they could give the vouchers out at work, if you explain at a staff meeting what they're for."
Some people got serious, questioning the wisdom of restricting condom imports when Russia's HIV epidemic is getting worse.
"A country in a leading position in terms of growth of HIV infection is banning the import of condoms. Russia is ruled by enemies of Russia, exactly!"
Others pointed out that the government was considering limiting the procurement of many other kinds of imported medical supplies and equipment besides condoms.
"Condoms, fine, but banning the import of machines that help newborns breathe is already some kind of biblical evil."
"In that list along with condoms there's equipment for maternity homes and dental clinics — and that's what's totally fucked up"
Officials clarified that more than 98% of Russia's condom market would be unaffected by the proposed rule.
Gennady Onishchenko is an aide to Russian Prime Minister Dmitry Medvedev. An earlier version of this post said he was an adviser to Russian President Vladimir Putin.