A handful of feminist activists showed up at the Kremlin to protest on International Women's Day, raising a banner that read "200 Years Of Men In Power — Out With Them!"
A second banner — seen here in a photo of one of the Kremlin towers that the as-yet-unnamed group provided to Russian media and was later revealed to be Photoshopped — read: "The national idea is feminism."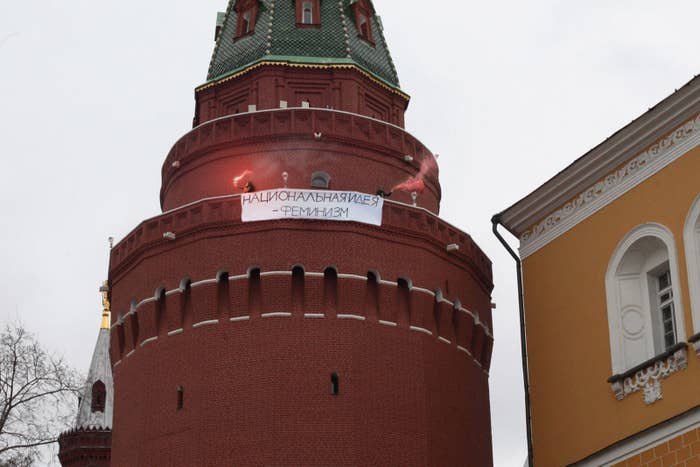 On Facebook, the organizers admitted the photo of the banner on the Kremlin's Corner Arsenal Tower was fake but said others taken that day, and the video, were real.
"We knew that there were women who liked the slogan 'the national idea is feminism' and were making that banner," Leda Garina wrote on Facebook, explaining that the activist who sent the photo to the press had not known it was fake. "We admit that the material sent out was Photoshopped, but that doesn't change the fact that we agree with the content. We are very sorry that we are not technically savvy enough to spot the difference between a fake image and a real one, and that we may have misled the media."
"We would prefer if such banners hung on all of the towers of the Kremlin."
Russian authorities said that no one had breached the security of the tower.
Seven people, including journalists from the Russian media outlet Novaya Gazeta, were detained by the police but were later released without charges, according to the monitoring group OVD-Info.
Fourteen people were also detained at a larger feminist Women's Day protest in St. Petersburg, Russian watchdog group OVD-Info reported.
"We were very harshly detained for singing songs and chanting on Malaya Sadovaya Street. We're on our way to the 78th police precinct ... Happy Women's Day, ladies!" activist Varya Mikhailova wrote on Twitter.
Mikhailova also wrote that human rights activist Dinar Idrisov had been beaten on the way to the police station.
Freelance photojournalist Dave Frenkel reported that the police used force to eject 15 people who showed up to the station in support of the protesters: "They hit them on the camera, the arms and legs."
Two of the detained protesters were taken to the hospital, OVD-Info reported. Some were given administrative charges for disobeying a police officer's order and violating the protocol for staging public events.
International Women's Day is celebrated widely with chocolates and flowers in Russia, but equality is harder to come by.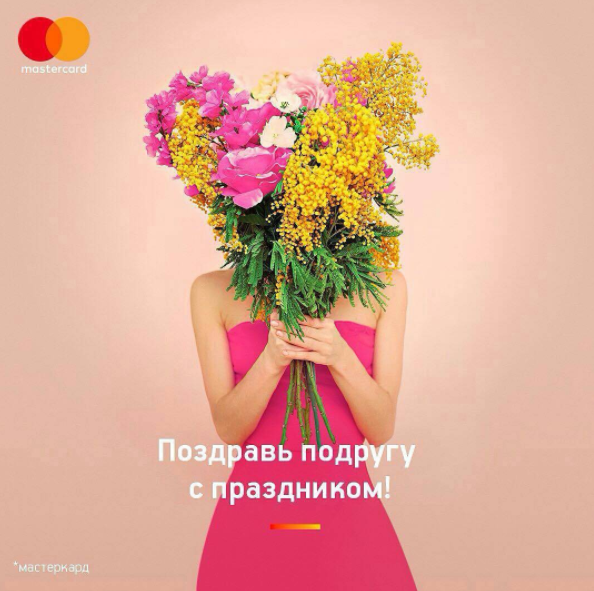 "Happy Women's Day, ladies! May feminism be with us!"
CORRECTION
A photo of a banner on the Corner Arsenal Tower of the Kremlin was actually photoshopped. A previous version of this story presented the photo as real.