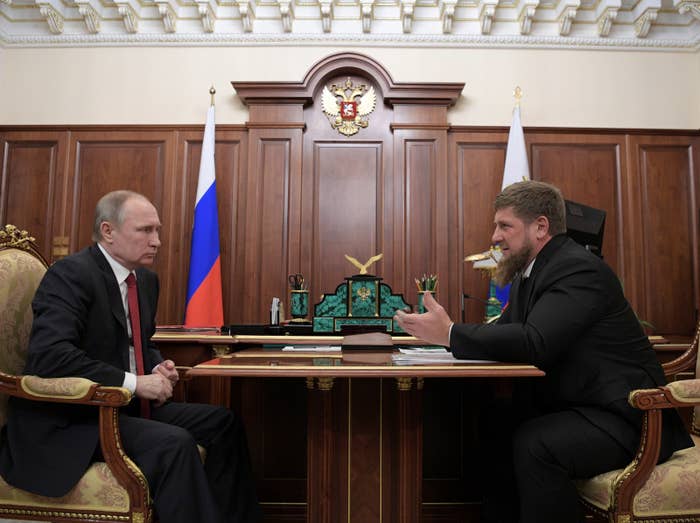 Chechnya's leader, Ramzan Kadyrov, said on Friday that he was prepared to "cooperate" with Russian authorities to investigate media reports about the "alleged persecution of people with non-traditional sexual orientation."
His comments come after Russian President Vladimir Putin said he would speak with the country's Prosecutor General and Minister of Internal Affairs about reports of gay men being abducted and tortured in the Russian republic of Chechnya.
However, Kadyrov continued to deny the existence of gay men in the republic. "We have never had them among the Chechens," Kadyrov said. "Unless we are talking about those who aren't Chechens but say they are so that they can get to the West."
"Chechen society does not have this phenomenon called non-traditional sexual orientation. For thousands of years the people have lived by other rules, prescribed by God."
Kadyrov said the Chechen authorities had not received any official reports of mistreatment from LGBT people in the republic.
Survivors have also told journalists and human rights organizations that the people kidnapping and torturing them were police officers — meaning reports of abuse would be submitted to the same authorities that perpetrated it.
Putin told Russia's human rights ombudsman, Tatyana Moskalkova, on Friday that he would ask law enforcement agencies to support her in addressing the issue, "based on known information or on rumors," Interfax reported. Moskalkova previously suggested that reports of kidnappings and torture, first published by the Russian investigative news organization Novaya Gazeta and corroborated independently by Human Rights Watch, might be "a provocation."
Chechnya is a republic of the Russian Federation and so is technically subject to federal law, but Kadyrov has significant leeway to operate with impunity in exchange for quashing local separatist movements. The Chechen authorities have conducted "extrajudicial executions, enforced disappearances, torture, and cruel and degrading treatment" for nearly two decades, according to Human Rights Watch's Tanya Lokshina.