Russian LGBT activist Grey Violet, who also goes by the name Maria Shtern, appears to have disappeared along with a companion after traveling into territory held by Russian-backed separatists in eastern Ukraine.
Friends say they have not been able to reach Grey Violet and Victoria Miroshnichenko since the two arrived in the self-proclaimed Donetsk People's Republic (DNR) on Jan. 31 to put on and document a performance in support of LGBT people, according to a release from Human Rights Watch.
Donetsk is one of two provinces that are attempting to break away from the Ukrainian government, with Russian support, and in recent weeks has been home of the most serious fighting that's taken place since a ceasefire between the sides was signed last year.
The human rights organization fears that Grey Violet, who is trans, and Miroshnichenko may be detained by the separatist authorities. According to the group, "friends said they received information that Grey Violet and Miroshnichenko were detained shortly after their arrival in the region, presumably by DNR security officials."
Alek Epstein, a friend of Grey Violet's, posted on Facebook that he had reached an assistant to DNR official Denis Pushilin, who confirmed that the two activists had crossed into the separatist area on Jan. 31 and arrived in Donetsk, but said they were not in the custody of the DNR security services or the police. Epstein also posted that he believed Grey Violet's email had been accessed by people other than the activist.
A tweet posted from Grey Violet's account Thursday said the activist was all right and simply in an area with spotty connections.
"Friends, I'm in remote areas of the DNR. I'm busy with the film. There's almost no internet. I'm alive and well."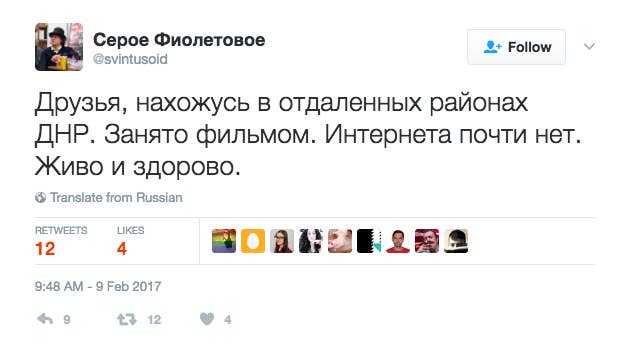 However, others quickly pointed out that an earlier tweet sent from the account had a nearly identical message — but was written with gender indicators that Grey Violet would not have used. That tweet has been deleted.
"The deleted and corrected tweet does not inspire confidence and doesn't help get rid of the feeling of anxiety and fear for your safety :("
"The longer Grey Violet and Miroshnichenko are held without revealing their whereabouts, the more they are vulnerable to abuse," said Tanya Cooper, a Ukraine researcher for Human Rights Watch Ukraine in the release. "The de facto DNR authorities should immediately find out where they are and ensure their safety. If there are lawful grounds for holding them, guarantee their due process rights, including unimpeded access to legal counsel of their choice."