In the hours after it became clear that Donald Trump would take the White House over Hillary Clinton, many South Asian–Americans in Hollywood took to Twitter to express their grief and anxieties over their newly elected president, a candidate who many say built a campaign on "open racism" and xenophobia, and urged a ban on Muslim immigrants.

Silicon Valley star Kumail Nanjiani was among the most vocal and incisive against Trump. "Anyone know any good skin bleaching places?" Nanjiani tweeted on election night. "I'll be OK. But I'm terrified for my family. My mom. My dad. My uncle. They live all over this country," he added. Less than a week after Nanjiani posted those thoughts to Twitter, he took to social media again to reveal that he and Silicon Valley co-star Thomas Middleditch were harassed at a bar in Los Angeles by two Trump supporters. He is not the only one dreading a Trump administration.
"It felt like a personal assault," Sleepy Hollow actor Janina Gavankar told BuzzFeed News in a phone interview in the days that immediately followed the election. "I am not allowing myself to believe that almost 60 million people are trying to hurt me personally, or I will not be able to go on in this world." For her, the wide division between voters is what shocked her more than anything. "I'm almost embarrassed by how wrapped up I must have been in my own little bubble. How did I not see this coming? How did we not see this coming?"

Meet the Patels actor Ravi Patel, who grew up in North Carolina, had his own explanation as to why so many white Americans — especially those who live in the Bible Belt — voted for Trump. "I know these people well: They're good-hearted, church-going, family-strong people … They're so blinded by their loyalty that they would never know to ask, 'Is this right? How does this affect the world?'" he told BuzzFeed News in a phone interview, calling the situation a "crisis" in "emotional education."
Patel continued, saying, "We need to teach people how to evaluate their beliefs, how to create their own moralities," rather than accept "what's written on a paper that was 200 or 2,000 years ago," be it the Constitution or the Bible. "We need to change our approach in how we deal with conflict as a country, start to see everyone as our own family members," though he acknowledged that it may be easier said than done. In the days after the Republican nominee became president-elect, for example, a slew of racist, sexist, Islamophobic, anti-gay, and anti-Semitic incidents have been reported.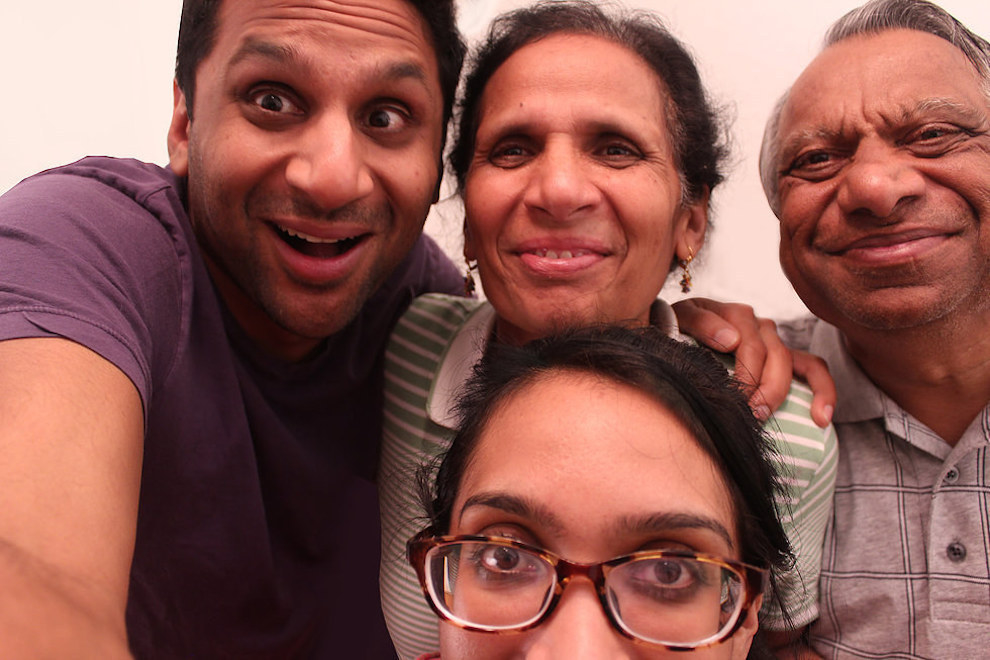 "It is hard to be empathetic for people who don't feel empathetic towards you," Patel acknowledged. "What my wife and I want to do is really sit down face-to-face with these people. ... And have a thoughtful, loving conversation."

Another manner in which Patel hopes to combat the country's divisiveness is "creating the world we want to see," through works by him and his filmmaker sister, Geeta. They make sure to include women and people of color both behind and in front of the camera and to write stories that show the "different dimensions of humans."
Parvesh Cheena, who starred on NBC's A to Z and currently plays a recurring character on Crazy Ex-Girlfriend, echoed Patel's sentiments in a phone interview with BuzzFeed News. "We talk about how words matter; images matters too," he said before praising Fresh Off the Boat and Dr. Ken, shows that have given Asian-Americans visibility. To him, Trump supporters "took away our visibility" when they voted for and helped him win the election, even as many South Asian–Americans voiced their objection to Trump prior to Election Day.
That's why Gavankar is urging fellow Americans and anyone who has felt "other" to continue to fight for representation. "We cannot be complacent. We cannot think that we are post-racism. We cannot afford to relax," said Gavankar. "It can only get better, but … it's not going to if people don't stand up for who they are and what they believe in.
"I refuse to let [Trump's win] debilitate me. I will find a way to stand taller and put what I want into the world."