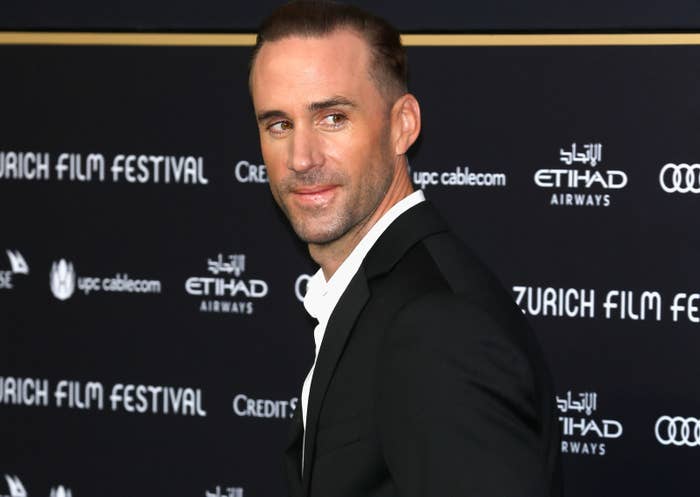 On Tuesday, The Guardian announced that Joseph Fiennes would play Michael Jackson in an upcoming special for Sky Arts, a cable channel in the U.K. It didn't take long for the outrage over the white actor playing the black king of pop to hit Twitter. Many people highlighted the entertainment industry's race problem that's gained even wider attention since the Academy didn't nominate any actors of color for Oscars this year.

Fiennes spoke with Entertainment Tonight on Wednesday in the wake of the backlash against the project, titled Elizabeth, Michael & Marlon. "I'm a white, middle-class guy from London," he said. "I'm as shocked as you may be. ... It's kind of off the wall, but the writing is a delight."
As as far as the criticism he's received for playing a black icon, Fiennes told ET, "[Jackson] definitely had an issue — a pigmentation issue — and that's something I do believe. He was probably closer to my color than his original color."
He added that Elizabeth, Marlon & Michael is "not in any way malicious. It's actually endearing."
The project, which many assumed was a TV movie drama or an episodic comedy, is actually a 22-minute short, a representative for Fiennes clarified to BuzzFeed News.
Here is the statement released by Sky Arts: "Elizabeth, Michael & Marlon is a Sky Arts comedy which takes a light hearted look at a reportedly true event; Joseph Fiennes is cast as Michael Jackson. It is part of a series of comedies about unlikely stories from arts and cultural history. Sky Arts gives producers the creative freedom to cast roles as they wish, within the diversity framework which we have set."
The comedy is based on a story originally reported in Vanity Fair about Michael Jackson, Elizabeth Taylor, and Marlon Brando driving from New York to Ohio in an attempt to get home after 9/11.
Publicists for Stockard Channing, who's playing Elizabeth Taylor; Brian Cox, who's playing Marlon Brando; Ben Palmer, who's directing the short; and Neil Forsyth, who's writing it, did not immediately reply to BuzzFeed News's request for further comments and information on the project.