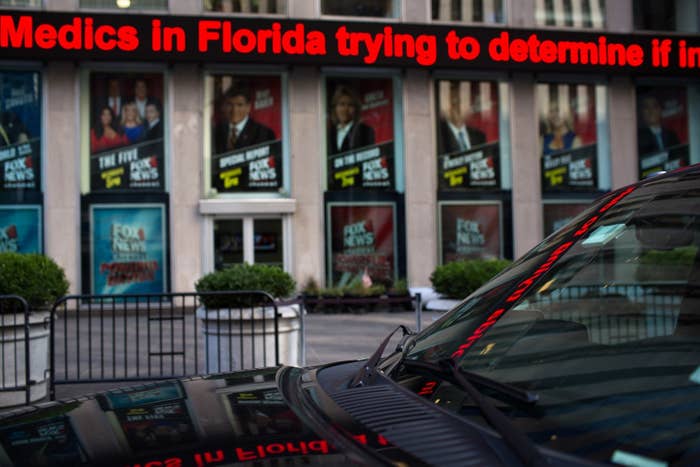 Almost exactly one year after the ouster of former Fox News chief Roger Ailes amid sexual harassment allegations, two interviews with the network's copresident, Jack Abernethy — who has assumed a central leadership role — have renewed interest about who Fox News' next one true leader will be.
In stories in the Wall Street Journal and Variety this week, Fox News and Abernethy emerged from something of a corporate quiet period to deliver a message: The turmoil is over.
Since Ailes' exit, media mogul Rupert Murdoch, who controls parent company 21st Century Fox, has assumed the top job at the network. Sources close to the 86-year-old say he is outright loving the hands-on role, and has no plans to step back.
Still, in recent months, the names of a handful of executives in Murdoch's orbit have been raised as potential successors for the top job at the network. Fox News talent and executives regarded Ailes — who died in May from complications following a fall — as a programming genius. While the network has kept its hold on the top spot in cable, some insiders say they are hoping a new executive can fill the void of his departure and that of copresident Bill Shine, Ailes' longtime programming lieutenant who recently left the network.
Any change at the top of Fox News could offer a glimpse into the political direction of the network, whose primetime opinion lineup, in particular Sean Hannity, has been a major nightly booster of President Donald Trump's message.
Until earlier this month, multiple Fox News hosts and executives hoped Murdoch would tap Jamie Horowitz, who led programming at Fox Sports until he was fired amid an investigation into sexual harassment (which Horowitz has denied).
According to two people familiar with the matter, Wall Street Journal editor Gerry Baker is interested in the Fox News position. The Journal is owned by News Corp., 21st Century Fox's sister company.
A key Murdoch ally, Baker has faced internal backlash in the Journal's newsroom from some reporters who feel the paper has been too soft on Trump, criticisms that Baker has pushed back on. Journal reporters also griped internally last month when a noteworthy story about a GOP operative linked to former national security adviser Michael Flynn lit up Twitter, but didn't run on the front page of the print paper. Indeed, some reporters in the Journal newsroom have delighted in the persistent rumor about Baker's potential move to Fox News (one Fox source said it was just a rumor).
Another person familiar with the matter said that Baker has not had discussions with Fox News about a role.
Baker, who received national acclaim for a standout performance moderating a Republican primary debate in 2015, is seen in the newsroom as personally conservative, but not hyperpartisan, sources said.
On Wednesday, Baker announced an editorial reorganization under his leadership as part of the paper's digital and mobile efforts.
Fox insiders have speculated on other possibilities for the top job: New York Post Publisher Jesse Angelo, former Sun editor Rebekah Brooks, and CBS News President David Rhodes. (New York magazine's Gabe Sherman first reported discussions about Baker, Brooks, Rhodes, and Murdoch's daughter Elisabeth Murdoch.)
But now some Fox News observers are reading the tea leaves from the WSJ and Variety pieces, and think perhaps Abernethy will be elevated to the top job. In the Journal story, Murdoch called the leadership team "great and settled," suggesting his vote of confidence. Abernethy also told Variety that Shine's copresident position is not likely to be directly replaced, suggesting that if a new programming guru were to enter the company, it would be at a higher or lower level than him. Fox News veteran Suzanne Scott was promoted to president of programming under Abernethy after Shine left.
While Rupert Murdoch's son James Murdoch is now the CEO of 21st Century Fox, sources say that the decision as to who will run Fox News will be Rupert's to make, and will ultimately signal his comfort with the direction of the network. If a new leader comes in from the outside, Fox News sources differ in opinion on what may happen to the current executive regime.
One Fox source said a new chief executive would have license to clean house, but that top executives would receive hefty exit packages. Another top Fox source believed that whoever came in would leave day-to-day operations to the executives in place.
In any event, succession at Fox News is more or less on hold as 21st Century Fox awaits the fate of its bid to take over the 61% of European media behemoth Sky that it doesn't currently own. In late June, that effort was delayed again by British regulators.
Also hanging over Fox News is a federal probe into the sexual harassment settlements made to employees (21st Century Fox has said the company is cooperating with the investigation). With the death of Ailes and the firing of US Attorney Preet Bharara, who was leading the office investigating the matter until March, staffers at the network have been left wondering about the probe's future.
Despite the string of negative headlines over the past few months, Fox News has communicated that workplace culture is changing, and that programming and executive exits haven't derailed the network's status as the reigning cable news champion. In the quarter that ended in June, Fox News topped CNN and MSNBC in total primetime viewers, and viewers in the key 25- to 54-year-old demographic.
Murdoch has proved to be a wise programmer, too. He selected Tucker Carlson to replace Megyn Kelly in the 9 p.m. hour, for instance, after Kelly headed for NBC News. Ratings remained strong. Carlson has since moved to the 8 p.m. slot, replacing Bill O'Reilly after his departure amid sexual harassment allegations (which O'Reilly has also denied).
Abernethy told the Journal that 2017 has been "a great year by virtually all measures." He told Variety that while the network has had "big shifts" over the past year, "We have been tasked with putting in new people and training people and sending a signal that there's a new environment."