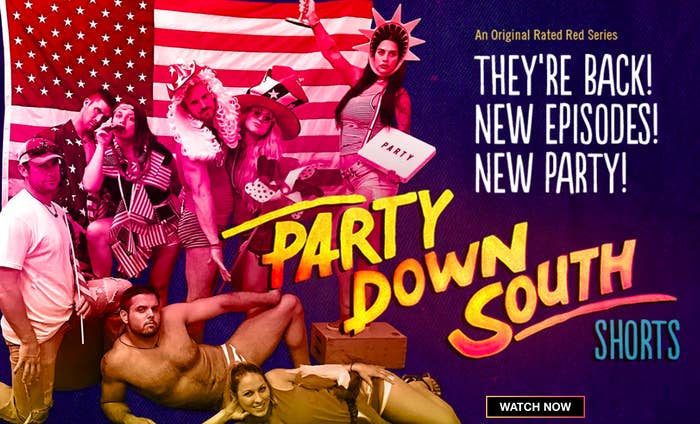 Verizon and Hearst are shuttering Rated Red, the digital video brand the two media companies created in the hopes it would become a magnet for young conservatives.
Headquartered in Nashville, Rated Red focused on what it described as cultural content for the heartland. Videos produced by the company, which operated under the Complex Networks joint venture, typically feature topics like outdoorsy lifehacks, the military, automobiles, video games, and guns.
Rated Red is the latest casualty in a digital media industry rattled by changing economics and the shifting whims of the two dominant tech platforms, Facebook and Google. Publishers' deep uncertainty when it comes to finding revenue and maintaining an audience has forced digital media companies, including BuzzFeed, to adjust their business models.

Rated Red had been moved around as part as a handful of corporate reshufflings. Hearst, the owner of magazines like Cosmopolitan and Esquire, joined together with Verizon in 2016 to announce a joint video venture that intended to launch a number of new brands, including Rated Red. Seriously.TV, the other video brand announced alongside Rated Red, quietly ceased publishing last year.
"Complex Networks is restructuring Rated Red and closing its Nashville office at the end of August," a company spokesperson confirmed to BuzzFeed News. "We will continue to focus our efforts to expand our slate of popular series for our core Complex brands and with a growing list of distribution partners."
According to a recent company profile in the Tennessean, Rated Red employs 36 people.
Rated Red carries a different tone than some of its cohort in conservative media, with videos more cultural than political. One series called Un-Current Events featured a camouflage hat–wearing "alternative fact analyst" named Alabama Boss, who joked each week about offbeat human interest stories. But the company also published longer, more serious documentaries, like one about a black gun club, one about veterans coping with civilian life, and a video documenting the St. Louis street motorcycle scene. Other recent videos echo a kind of video content pioneered by digital video companies like BuzzFeed — such as women offering what they really think about guys with tattoos.
Rated Red's closure comes shortly after Verizon shuttered its free mobile video service go90, which was intended to be a main distribution hub for Rated Red.
Verizon had stocked programming for go90 — both original shows and acquired content from companies like Vice — in the hopes of fashioning a new digital streaming powerhouse. But go90 failed to catch on, and its operations were largely closed last month and folded into Oath, the umbrella Verizon created to house two of its large recent acquisitions, AOL and Yahoo.
Verizon and Hearst later put Rated Red under the banner of Complex Networks, a venture the two companies established after they jointly acquired Complex Media.