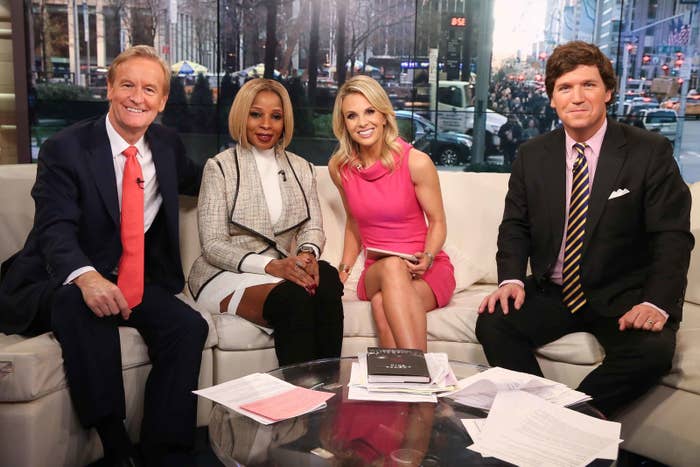 On Monday night, Tucker Carlson assumed the prized 8 p.m. time slot on Fox News, a big step in the cable news host's steady climb at the network over the past few months.
Now Carlson is looking to raise his profile even more. According to three people familiar with the matter, the 47-year-old Fox host is shopping a book or series of books to publishers.
Carlson is having something of a surprising media moment right now. When Megyn Kelly left Fox News for NBC News earlier this year, Carlson was handpicked by acting Fox News chief Rupert Murdoch to assume her 9 p.m. time slot. The show has been generally well received, and buoyed by the political news cycle, Carlson's ratings have soared.
This week, Carlson took over the 8 p.m. hour from Bill O'Reilly, who was forced out of Fox last week amid a sexual harassment scandal.
For book publishers, Carlson has fast become a pundit in relatively high demand. According to two sources, the ongoing auction will likely fetch Carlson millions of dollars.
The book is not autobiographical in nature, but rather reflects on themes Carlson cares about, a publishing source said.
Carlson is being represented by literary agency Javelin. The firm's founding partner, Keith Urbahn, is a former chief of staff to former Secretary of Defense Donald Rumsfeld.
"Tucker's is easily the most sought-after book by a news personality in many years, and he's on track to get one of the biggest and certainly most well deserved deals in recent history," said Matt Latimer, a partner at Javelin representing Carlson.
One natural home for Carlson's book would be News Corp's HarperCollins, which like Fox News owner 21st Century Fox is controlled by the Murdoch family. HarperCollins published Kelly's recent book, Settle for More.
Before arriving at Fox News, Carlson co-founded conservative news website The Daily Caller. He hosted a show on MSNBC from 2005 to 2008 but is perhaps most well-known for his time giving voice to the conservative viewpoint on CNN's Crossfire.
The new project would not be the first book for Carlson, who got his journalistic start in the magazine world. His 2003 autobiography, Politicians, Partisans, and Parasites: My Adventures in Cable News, traced his time throughout the Beltway media.
Carlson did not immediately return a request for comment.