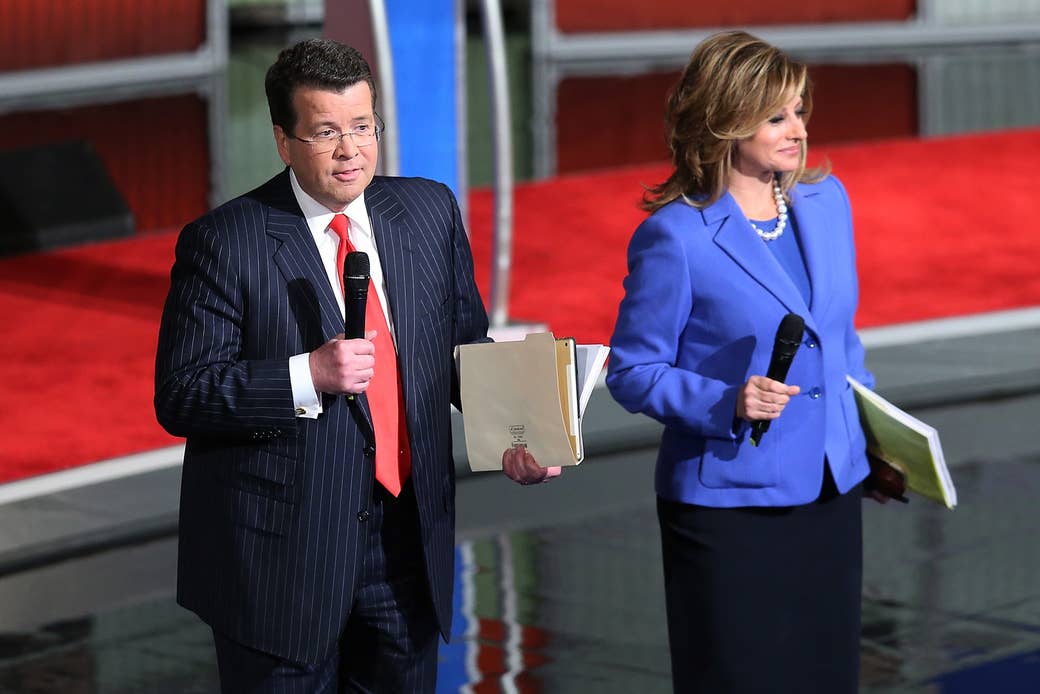 Stephen Colbert is beating Jimmy Fallon. Liberals are back watching MSNBC. Bill Maher is relevant again. The chaotic opening weeks of the Trump administration — with an ongoing glut of wild political news stories — has been a rising tide for both political television's ratings and its level of cultural influence.
But one long-middling TV player has been particularly well-positioned for a Republican and a businessman in the White House: Fox Business Network.
For years, Fox Business remained firmly behind the competition in the ratings. But for the past five months, the network has beaten CNBC in business-day viewership, the key part of the day for business news networks. According to Nielsen figures, Fox Business averaged 218,000 daytime viewers in February — a 59% spike from the same month last year.
Founded a decade ago, Fox Business has aimed to follow in the footsteps of Fox News, its conservative-leaning sister network that wrested CNN from the top spot in cable news years ago. With Fox Business, which also sits under Fox News's senior executive leadership team, the company set its sights set on another powerhouse incumbent — CNBC — the former terrain of ousted Fox News chief Roger Ailes and a mainstay on TVs across trading floors, gyms, and the homes of retail investors in their underwear watching Jim Cramer yell about stocks. As Fox Business has seen a rise, CNBC — with its rotating cast of hedge fund manager and high-powered investor interviewees — dropped from 212,000 to 182,000 viewers over the same period.
That Fox Business's leap in the ratings correlates with the Trump phenomenon is no coincidence. Trump has been a boon for many TV networks since he first entered the presidential race, and he continues to watch (and live tweet) cable news regularly. While CNBC covers the Trump presidency through the prism of its core finance constituency, Fox Business has taken a broader, more conservative tack, honing in on some of Trump's hobbyhorse topics that veer closer to Washington than Wall Street, like taxes, health care, the media, and immigration. Critics of the network say that it has morphed into a right-wing politics channel — Fox News 2 — with hosts fixated on pro-Trump talking points. Anchors and executives at Fox Business defend their coverage as more modern, holistic analysis that business people really care about, and they say Fox Business has always covered business more broadly than the competition.
Fox Business's ascent comes as a surprise to just about anybody who actually works in finance, the key audience for business television and financial advertisers. For top sages on Wall Street, the coolest thing to say is that you avoid business TV entirely. "[I] don't watch any," well-known hedge-fund activist Dan Loeb said in an email. But most of the finance rank and file spend their days with at least some sort of ambient background noise — and that was, and still is, almost always CNBC.
"I think CNBC has better interviews and more in depth business knowledge that creates more usable information for viewers," said billionaire investor and Shark Tank star Mark Cuban, who has been interviewed on both networks (Shark Tank reruns air on CNBC too). "I think Neil [Cavuto, Fox Business's managing editor for business news and a host on both Fox News and Fox Business] and Maria [Bartiromo, a Fox Business and Fox News host] are great and of course knowledgeable, but the network as a whole tends to still be too political. Which is why they probably are winning."
Fox Business may also be vying to win the cable TV battle to attract the most influential audience of one: the president.
Sitting in his office in parent company 21st Century Fox's midtown Manhattan headquarters, Cavuto said that the network's coverage seeks to link what Trump's doing to the markets and larger business environment. "We were already looking at the connection between financial capital and the nation's capital," Cavuto said. Fox Business has, in turn, juiced its ratings with a more mainstream cable news audience watching from home, if not the workplace.
Behind him, Cavuto has a screen playing four networks at once: Fox News, Fox Business, CNN, and MSNBC. "Sometimes they're included in the quad box," Cavuto says of CNBC.
"We're not about short-term trading. We don't care what Apple stock is going to do tomorrow," said Bartiromo, who joined Fox Business from CNBC in 2014. "We're going for much bigger than the trading desk."
That bigger play was on display on Thursday, when Cavuto landed an interview with Trump's original Labor Department nominee Andrew Puzder, who withdrew from the running after a series of damaging revelations: his employment of an undocumented worker, claims of wage violations at his company's franchise locations, and years-old domestic abuse allegations (including his ex-wife's incognito appearance on a early '90s Oprah episode in which she described the alleged abuse). Cavuto spent much of the interview allowing Puzder to knock down the abuse allegations on friendly turf.
"There's a lot of arguments in every marriage," Puzder told Cavuto. "There was never any substance to the abuse. I had always denied it. She admitted very shortly after the divorce that they weren't true. And so it was somewhat of a surprise that the media would go after it so strongly."
The spike in Fox Business's ratings, complete with the kind of gleeful press releases that are stock-in-trade in the television industry, has energized employees at the network. Before Puzder's hit, the Fox Business control room was in a good mood as Cavuto spoke with Environmental Protection Agency Administrator Scott Pruitt (after he had said on CNBC that carbon dioxide is not a primary contributor to global warming). "We used to get ice cream every time we beat CNBC. It got too expensive," Cavuto's executive producer Ralph Giordano shouted to vice president of programming Gary Schreier.
Staffers at Fox Business attribute the network's growth to a move in 2015 to retool its lineup to focus more on daytime programming. Led by top Fox News executive Bill Shine, the strategy has seen a cast of former CNBC personalities take over key daytime slots: Trish Regan, Liz Claman, Stuart Varney, Cavuto, and Bartiromo, who replaced a simulcast of Don Imus's radio show in the pre-market hours. Poaching your rival's top talent follows a standard TV playbook that has worked for Fox before (it's also a strategy that Fox Sports is currently utilizing as it seeks to compete with powerhouse ESPN).
Bragging rights aside, household ratings measured by Nielsen matter little to advertisers that need to reach rich people who watch financial TV. Two years ago, CNBC stopped relying on Nielsen figures as the basis for advertising transactions for daytime programming, arguing that the measurement company failed to capture both the size and wealth of its "out-of-home" viewership in places like offices and gyms, hence the Fidelity or expensive automobile ads you might see on a CNBC broadcast at 10 a.m. (Nielsen plans to roll out out-of-home audience measurement widely soon.)
"If you don't like the score of the game, sometimes you try to change the referee. We all have out-of-home viewership. I know that's not getting rated, but I'm glad we're on," Schreier said.
"As long as CNBC is the go-to network among financial and business elites in offices and hotel rooms and trading floors, Fox Business's high audience numbers among households mean nothing to potential advertisers. In terms of a reputation for financial acumen, Bloomberg is a bigger rival to CNBC than Fox Business is," said Andrew Tyndall, publisher of the Tyndall Report, which monitors TV network news.
Ad buyers still take notice of the horserace, especially because there just aren't a lot of places to go for business programming. Some buyers are likely "disproportionately giving to CNBC just because of legacy," said Dave Campanelli, senior vice president and director of national broadcast at ad-buying agency Horizon Media. Still, Campanelli said that Fox Business's audience is "less likely to be the C-suite viewer who is watching in their office, and more likely to be someone watching from home." Financial TV advertisers pay a premium to reach business viewers.
Fox Business also has one of the oldest audiences on cable TV in viewership around the clock, suggesting that titans of industry aren't the ones flocking to the network. During the business day last month, Fox Business's median viewer age was 69, compared to CNBC's 67, according to Nielsen figures.
"They have cornered the market on trailer parks and old age homes and we have trading floors and CEO suites. We'll take that," said a CNBC source. "Fox Business's strength is in the fact that its audience spans from the trading floor to the C-Suite, reaching one of the most affluent and highly educated audiences on cable television," Dom Rossi, Fox Business's vice president of east coast sales, said in a statement.
It should be said: posturing about the competition, and using Nielsen figures to paint the picture that you want, is a particularly common parlor game in the TV world.
Cavuto, for his part, had the harshest words for his rival and former employer: "They're defining themselves by either the latest earnings report or the latest musing of a CEO, but the world is bigger than that, much more meaningful than that. It's as if they haven't even taken a peek at the New York Stock Exchange floor from which they program. There are tumbleweeds there. Look around. Sometimes you don't have to be on the deck of the Titanic to feel that an iceberg could be coming."
Fox Business's climb can be traced to Nov. 10, 2015, when the network hosted its first-ever debate alongside The Wall Street Journal days after CNBC's own Republican debate was panned by critics across the political spectrum.
"They repeatedly clashed with the candidates while asking questions," the Washington Post reported about CNBC's debate. "On several occasions, they seemed to lack the confidence to challenge false assertions. They asked some small-bore questions. And they regularly interrupted the candidates or talked over them in a way that seemed to rob them of control and contributed to a free-for-all atmosphere."
Fox Business's GOP debate, hosted by Bartiromo, Cavuto, and WSJ editor-in-chief Gerry Baker, drew in 13.5 million viewers, just short of CNBC's 14 million. But it received considerably better reviews and was ultimately seen in the TV world as a major victory for the network. CNN ran a story headlined, "No debate over Fox Business moderators: Better than CNBC." Bartiromo said that, immediately following the event, Trump approached the moderators to thank them for an "elegant debate" that "stuck to the issues."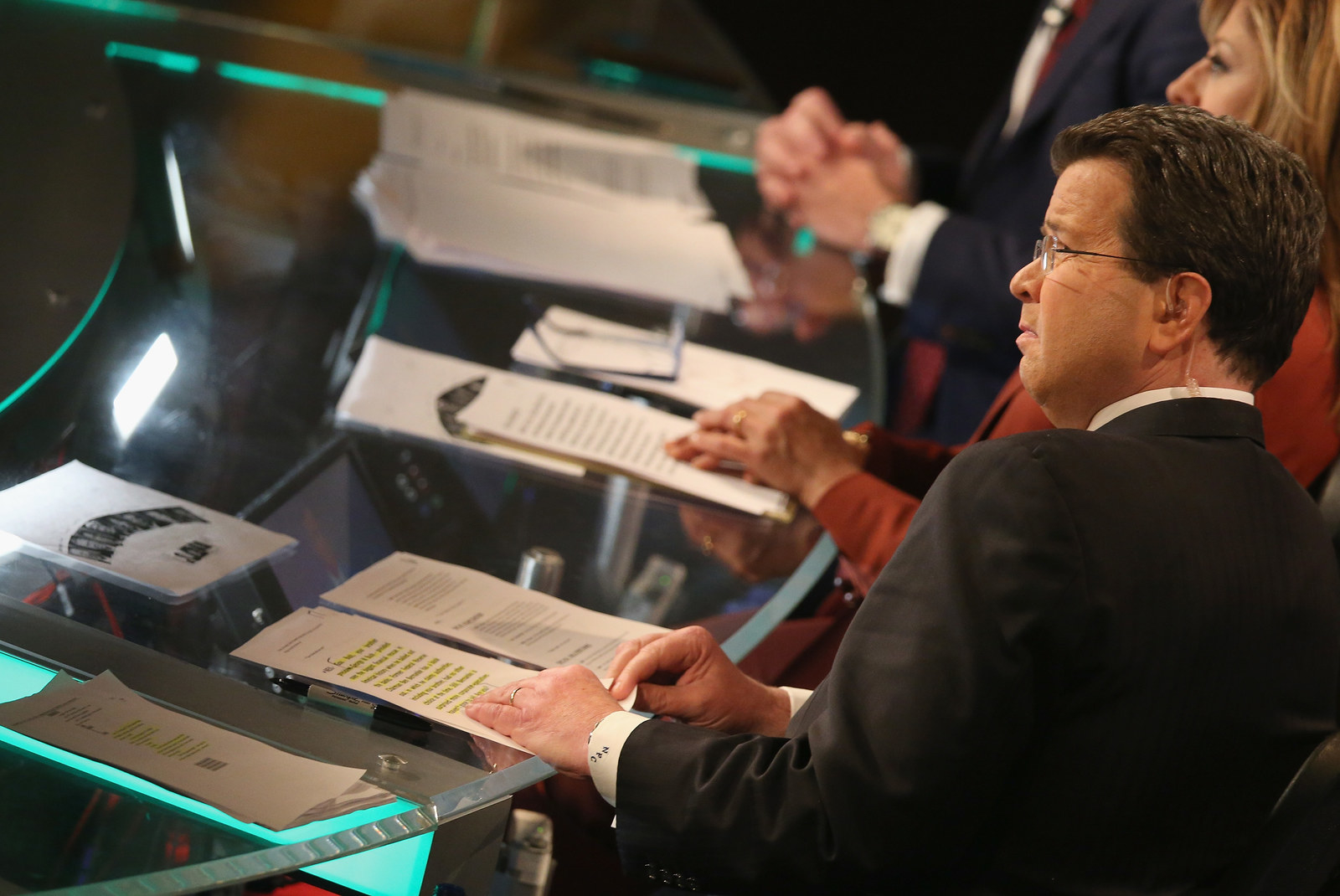 "I think the CNBC debate helped us a lot. The fact that it was so bad, and ours was so good," said Charlie Gasparino, a Fox Business correspondent who joined from CNBC in 2010. "We did the blocking and tackling that they didn't do."
Fox Business stresses that it has played the Trump story straight, but in the opening days of the new administration, the network and other Murdoch-owned outlets appeared to stand to benefit from Trump's barbs against the mainstream "fake news" media. At a joint press conference with Japanese Prime Minister Shinzo Abe, for instance, only two U.S. news outlets were granted questions: Murdoch's New York Post and Fox Business.
"I don't sense any more or less access than anyone else. I think we have better communications with this administration than the last one," Schreier said, adding that he expected Fox Business to have as fair a shot now to score the interviews with Treasury Secretary Steven Mnuchin or Commerce Secretary Wilbur Ross ahead of other networks. Gary Cohn, Trump's chief economic adviser, has rotated the order of his business TV appearances, Schreier said, while Fox Business had a harder time scheduling hits from Obama-era appointees like Treasury Secretary Jack Lew. Cavuto says that Trump won't come on his show, but the reality is that Fox Business is now much better positioned to nab key guests or ask questions at presidential press conferences, and the network is embracing that role.
There's still the question of whether CNBC has suffered from Fox Business's growth. As the Associated Press reported in an article about Fox Business's ratings surge (that, strangely, was also posted to CNBC.com), 83% of people who have watched at least one hour of Fox Business this year have also watched at least one hour of Fox News, according to Nielsen data. But only 10% of those viewers had watched an hour of CNBC. By "both duplication," another Nielsen figure that measures people who watch both networks, 16% of people tuned into both Fox Business and Fox News in February, versus 9% for both Fox Business and CNBC.
In a statement, CNBC said: "CNBC is the number one source for Business News and information across all platforms (TV, digital, print) with particular resonance among the nation's most affluent media consumers and has been for more than two decades (Ipsos Affluent Fall 2016, HHI: $100K+). Worldwide CNBC's business and general interest money content is far and away the largest, reaching more than 270 million adults per month and growing across all platforms (Global Web Index 4Q16). CNBC's primetime entertainment, focused on entrepreneurship, small business personal finance and financial freedom, yields the most affluent cable entertainment audience no matter the content (Nielsen)."
Fox Business's victory lap comes during a moment of stark transition for the company, which is still reeling from the exit of Ailes amid sexual harassment allegations sparked by a suit from former Fox News anchor Gretchen Carlson. As the scandal intensified over the summer and more women came forward, Cavuto, who was recovering from open-heart surgery, wrote an op-ed in Business Insider vouching for Ailes's character. "I've never seen it. I've never witnessed it. Not even hints of it," he wrote of the allegations. Nine days later, Ailes resigned from the network with a $40 million settlement package. Carlson settled with Fox for $20 million. Star host Megyn Kelly, who also accused Ailes of sexual harassment, decamped for NBC News.
"It was shocking and devastating," Cavuto said of the Ailes episode. "I like to think that the systems and the safeguards that have been put in place, and what we've learned and done from that. I do remember when I came back and had a chance to meet with my staff, obviously a lot of them were nervous. I like to think they were nervous because they didn't know if I would come back, but it turns out they were nervous because of some of these developments. I just started to say, 'Look, we can only focus on those events which we can control: the programming, the quality of bookings, etc.' And we kept our eye on that ball… I like to think these are just sad, unfortunate aberrations. That's not meant to minimize any of this."
Given that new stories are still streaming out, the Ailes saga is likely to continue to hang over the company. Federal investigators, for instance, are reportedly looking into whether 21st Century Fox should have told shareholders that it spent millions of dollars settling sexual harassment claims. And as New York Magazine reported, Murdoch could benefit from the ouster over the weekend of U.S attorney for the Southern District of Manhattan Preet Bharara, whose office was in the middle of the Fox News probe. According to The New York Times, Marc Mukasey, Ailes's lawyer, is on the shortlist to replace Bharara.
Fox News said in a statement that it has been in communication with the U.S. attorney's office for months and "will continue to cooperate on all inquiries with any interested authorities."
Still, Fox Business anchors say the Ailes controversy is behind them. "It's so in the rear view mirror," Bartiromo said. "We're all about: Let's keep winning."