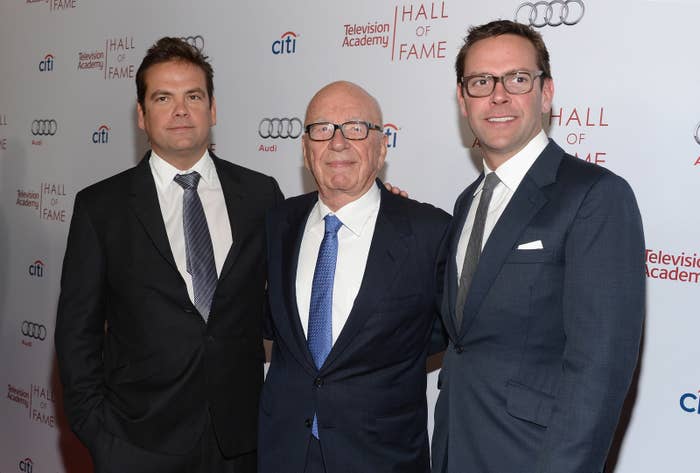 The Murdochs are staying silent while Fox News host Sean Hannity and others at the network continue to promote a fringe conspiracy theory about murdered DNC staffer Seth Rich, a development that has embarrassed staffers at the cable news giant.

On air and on Twitter, Hannity has clung to the theory — which has incubated in far-right corners of the internet for months — that Rich's killing was ordered by the Clintons in retaliation for leaking DNC emails to WikiLeaks. Police suggest the murder, which remains unsolved, was the result of an attempted robbery, but the story found new life last week when an investigator who appears on Fox News claimed that there was proof Rich had contact with WikiLeaks. That account quickly unraveled and the Rich family called on the investigator to stop speaking about the case.
A spokesperson for 21st Century Fox declined to comment about whether Fox News's parent company would rein Hannity in. Spokespeople for Fox News did not return requests for comment. Rupert Murdoch is acting CEO of Fox News, while sons James and Lachlan are chief executive officer and executive chairman of 21st Century Fox, respectively.
On Monday, accounts in CNN and The Daily Beast described the embarrassment felt by some Fox News staffers over Hannity's promotion of the conspiracy theory. The reports also shed light on the new Fox News environment, where staffers free from the iron fist of Roger Ailes' rule are more willing to chat on background with media reporters. That has, in turn, ramped up the pressure on Rupert Murdoch and his sons to take notice and perhaps act — though Hannity's show has always been billed as opinion programming.
Meanwhile, the Murdochs are attempting to get the network back on track after months of scandals that began last summer with Ailes's ouster amid sexual harassment allegations, which the former executive, who died last week, denied forcefully.
The network also forced out primetime star Bill O'Reilly over harassment allegations (which he likewise denied), and Fox News faces lawsuits over racial and gender discrimination. Government lawyers are also looking into whether the network misled investors over its financial settlements with former employees.
Those challenges come during renewed pressure from other networks on Fox News, which has long reigned as the king of cable news. Last week, liberal rival MSNBC reached the number one spot in the primetime ratings in both total viewers and the prized 25-54-year-old cable news demographic for the first time in its history.
Most of the mainstream media has ignored the Seth Rich story — but not Fox News. The network has promoted it on its website, Newt Gingrich raised the theory on Sunday's Fox & Friends, Geraldo Rivera tweeted about it, and Hannity has made it a central rallying cry. He has invited to his show Kim Dotcom, the New Zealand-based Megaupload founder who is fighting extradition to the US and claims to have evidence related to the case.
On Tuesday, CNN reported that Rich's brother sent a letter to Hannity's executive producer to plead with him to stop spreading the story.
Hannity's focus on the story also comes as his role at the network comes under more scrutiny following the exit of network co-president Bill Shine earlier this month. Hannity had been a key ally of Shine, and had tweeted that the network without him would be the "end of the FNC as we know it." But after Shine's ouster, Hannity quashed the rumors about his own exit to his team, according to Politico.
In response to the latest discrimination lawsuits on Monday, a Fox News spokesperson said: "We have consistently demonstrated that the Company is committed to a diverse workplace that is free from all forms of discrimination, takes any complaint of discrimination seriously, and in these particular matters took prompt, effective and, where necessary, strong remedial action. We believe these latest claims are without legal basis and look forward to proving that the Company at all times has acted appropriately, and lawfully, in connection with these matters."