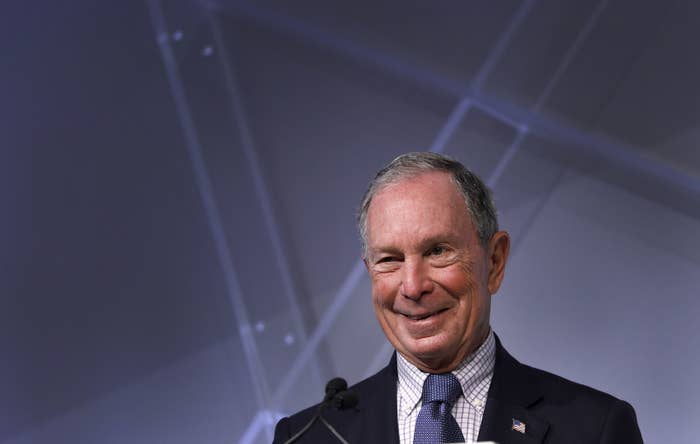 Reporters at Bloomberg News are on edge after their boss announced that if he chooses to run for president in 2020 — a decision he will have to finalize relatively soon — it could mean the end of the news outlet's political coverage.
Michael Bloomberg said in a Radio Iowa interview on Tuesday that if he ran, he would likely move to sell his company, Bloomberg LP, or place it into a blind trust. (CNBC reported that he likely wouldn't sell the business unless he actually became president.)
The interview quickly caused paranoia within Bloomberg's news division, according to sources familiar with the matter. The politics team, in particular, has been rankled by what Bloomberg said about how in-house political reporters should handle his potential campaign (not at all).
"Quite honestly, I don't want all the reporters I'm paying to write a bad story about me," Bloomberg said through laughter during the interview. One serious option for handling his campaign, he said, would be to "not cover politics at all," ceding all political coverage to other outlets' wire stories.
The other possibility would be a more conventional approach: attaching a boilerplate explanation to all political stories that mention the boss. "You can cover us, and anytime say that Mike Bloomberg is the owner of Bloomberg LP, the parent of this radio station, television station, newswire, magazine, internet site, whatever the case may be," Bloomberg said in the interview.
Reporters in the Bloomberg newsroom, which currently features news-breaking political reporters, are largely unsure of what to make of the comments. There has been no wider communication from top editors about the remarks. "A lot of people are confused and don't really know what to expect in the next two years," said one Bloomberg News staffer.
Another source described the environment as "semi- but not acutely anxious."
Spokespeople for Bloomberg News and Michael Bloomberg both declined to comment.
How Bloomberg News covers Michael Bloomberg is a topic the company has had to consider before. Bloomberg flirted with running for president in 2016 before ultimately deciding against it, and now is actively considering running in 2020. In 2016, Bloomberg News's Washington news director resigned over concerns that the political team could not aggressively cover Bloomberg's potential run. In October, Bloomberg, who was elected as mayor of New York as a Republican and an independent, announced he had changed his voter registration to Democrat.
Unlike newsrooms like the New York Times or BuzzFeed News, Bloomberg News has long had a policy to not cover itself as a company — a rule that generally applied to its founder, too.
In the Radio Iowa interview, Bloomberg said that he had begun to talk about the coverage issue with John Micklethwait, the editor-in-chief of Bloomberg News. "I'm not a candidate yet, so I've got plenty of time to think about it, but I have thought a lot about that, because the news part of our business is a very big part of our business," he said.
Chiefly a financial data powerhouse, Bloomberg LP has long been able to stomach an expensive money-losing media business thanks to its lucrative financial terminal business. The company takes in about $10 billion in annual revenue, according to CNBC.
As an executive, Bloomberg has been known to favor his newsroom's "core" business coverage for financial professionals over some of the splashier vanity projects that the media company embarked on in recent years.
In 2014, for instance, Bloomberg News sought to expand into a larger, more consumer-facing brand. It made big hires in the political media space, like reporters Mark Halperin and John Heilemann, who drew reported salaries of $1 million to host a short-lived Bloomberg TV show. Bloomberg, for his part, disparaged the show as "entertainment," and it was canceled in 2016.