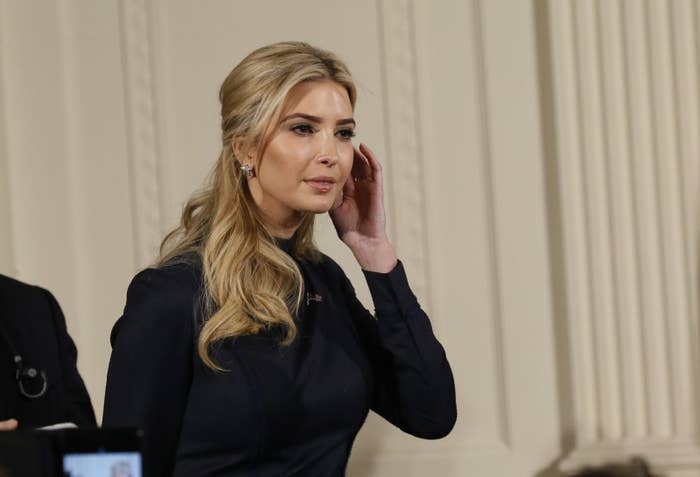 Earlier this month, as Ivanka Trump strolled around the Kushner family's new tony Washington home for her first post-inauguration TV interview with CBS's Gayle King, the president's eldest daughter was caught by the paparazzi.
Standing by Ivanka's side was a key public relations adviser that any New York City Democrat would recognize: Risa Heller.
A well-known crisis communications expert, Heller has been working in recent months to shape Ivanka's public image as she assumes a controversial official White House role. But Heller's position has raised some eyebrows among her former Democratic colleagues in New York political circles.
Within an administration already chockful of shrewd operators, Heller's influence offers a glimpse into the ideological gap between the administration's Jared Kushner wing and the Steve Bannon red-meat fever swamp wing that supported Trump throughout the campaign. It also comes during a time of serious infighting between the two factions over the direction of the Trump agenda, with reports detailing how Bannon's populist cohort has dubbed Kushner, Ivanka's husband, a "globalist," and a "Democrat."
"Risa is incredibly talented, driven and passionate. She is a formidable advocate and respected by all as a trustworthy and honest broker of facts," Ivanka Trump said in a statement to BuzzFeed News.
Like many top New York City flacks, Heller, 37, cut her teeth in Democratic Senator Chuck Schumer's notoriously scrappy office. She is well-respected, and has a reputation as a hard worker who knows how to maneuver in a challenging environment. Heller is described by reporters and political operatives as sharp, experienced, and one of the most well-informed gossips in the city.
"She's one of the toughest and most tenacious people you'll ever meet," Schumer said in a statement.
She's also beloved by a media Trump has said is his enemy. Two reporters who deal with Heller regularly said that they would call her for advice if they ever found themselves in PR trouble.
As Heller has taken on Ivanka's personal PR, Trump's daughter's sway with the president is coming into sharper focus. Eric Trump recently told the Daily Telegraph that his sister's outrage over the use of chemical weapons in Syria helped spur the US's strike, a factor that press secretary Sean Spicer acknowledged in a press conference.
Reports have also detailed how Jared and Ivanka have worked behind the scenes to cool the administration's conservatism on left-leaning issues like LGBT rights. A Politico story described a meeting shortly after the inauguration between Ivanka and Cecile Richards, the head of Planned Parenthood, who has since publicly reprimanded the president's daughter.
"Anyone who works in this White House is responsible for addressing why women are in the crosshairs of basically every single policy we've seen in this administration," Richards said at a conference this month. During the CBS interview, Ivanka fought back on criticism — immortalized in a Saturday Night Live sketch — that she has become "complicit" in her father's hard-line conservative agenda.
The situation looks unusual from the outside: a Democratic operative working for the family of a president who many New York Democrats loathe. She's not alone in this regard: Jamie Gorelick, an attorney and longtime Clinton ally, helped with the Kushners' transition into the White House.
Heller, who was less than thrilled to learn that a story about her was in the works, said in a statement: "I fight tirelessly for my clients, period. That's what I am in business to do. I am proud of what I do and who I do it for."
Prior to the last few years, the Kushners were an extremely prominent northeast Democratic family; before his legal problems in the 2000s, Kushner's father, Charles, was a significant donor to major Democratic efforts. Heller had existing relationships with members of Trump's extended family: Kushner and his family real estate company are longtime clients of her eponymous PR shop. Until Kushner assumed a formal White House role and separated himself from the family business, Heller flacked for Trump's son-in-law directly, defending him in a January New York Times report, for instance, on his dealings with a Chinese businessman that raised questions about conflicts of interest.
"She's the best fighter in the business, is universally respected, and most importantly has always told me what she really thinks, good or bad," Jared Kushner said in a statement.
New York City political observers say that one of Heller's most striking traits is her fierce loyalty, clearly evidenced by her steadfast aid to Anthony Weiner. Heller has for years provided free counsel to the scandal-prone former member of Congress, from his first tweeted dick pic to his failed mayoral run to the most recent episode, which involved sending sexually explicit messages to a 15-year-old girl.
"If I had taken her advice at critical junctures even 5% of the time, I would have been infinitely better off. It doesn't surprise me that people like the Kushners would gravitate toward her," Weiner told BuzzFeed News. "This may sound ironic coming from me, but she never advocates for not telling the truth. I repeatedly didn't take that kind of advice where I should have."
Weiner said that he declined to attend a screening of a documentary about his mayoral campaign, but that the straight-talking Heller went and then gave him a synopsis. "If you want someone to hold your hand, make you a cup of tea, and make you calm down on a tough day, that's not her," Weiner said.
Those close to Heller describe the genuine care she has for her friends and clients. According to people familiar with the matter, Heller encouraged Weiner to get help throughout his many struggles, as a means to rehabilitate rather than just to get through a scandal. He entered treatment after tabloids published a series of reports about him sexting with the minor with his sleeping son nearby.
One political reporter said that, even during that unsavory episode, Heller argued passionately that Weiner was a good person and father who just needed help.
Weiner became emotional while discussing Heller, saying that while he doesn't tend to talk to reporters these days, he wanted to do so in order to praise her and to make clear that his PR damage was "self-inflicted."
Heller became a rising star in New York political circles in the mid-2000s, when she arrived in Schumer's office after communications guru Stu Loeser left for Michael Bloomberg's mayoral reelection campaign. She stood out both for her aggressiveness even by Schumer's intense standards; as a rare woman in a long line of aggressive young men who came up under the senator; and a fashionable figure in a schlumpy world.
According to Loeser, Heller nabbed her first big win in competitive Schumerland when she advised the senator in 2006 to fight an under-the-radar issue: the obscure sale of the operator of several US ports to a Dubai company. Schumer's denunciation garnered little attention before gaining steam with strange bedfellows in conservative talk radio. Eventually, the deal blew up and dealt President George W. Bush a major political blow.
"Here's this person who really just arrived in New York, who grew up in Michigan, who harnessed the national media, beat back an issue, and presented it in a way that made it untenable for the Bush administration to continue," Loeser said. "It was this extraordinary moment in which she clearly had an eye and ear for issues."
An alum of David Paterson's short-lived and rocky New York governorship, Heller's political leanings are no secret to those that know her. She donated to Hillary Clinton's campaign, and one reporter noted that she has a Clinton pillow on a couch in her office near New York City Hall.
Still, Heller is known as a professional who works with a diverse array of clients. Glen Caplin, a senior adviser to Senator Kirsten Gillibrand and former communications director for Weiner, called her an "honest broker" and "straightforward."
New York City beat reporters past and present seem to all have a Risa Heller story — or have been on the receiving end of one of her passion projects. One reporter described how Heller made a personal crusade out of New York City Mayor Bill de Blasio's controversial late-morning habit of going to a Park Slope gym. De Blasio's often late arrival time to City Hall (particularly in comparison to Bloomberg) has received plenty of gleeful coverage from the New York press corps.
In recent years, Heller's corporate clients have included companies such as Airbnb and New York City Football Club, a Major League Soccer team part-owned by the Yankees. "She was aggressive without being overly aggressive, which is sort of the sweet spot among New York PR professionals," said Howard Wolfson, a former deputy mayor under Michael Bloomberg, who worked with Heller on the city's unsuccessful attempt to land a new stadium for the soccer team.
But when it comes to working for Ivanka, Heller's cohort of largely left-leaning New York political contemporaries are split.
"I have a very dim view of the administration, but I have a very high regard for Risa. If she thinks that she can make a positive difference at this moment in this way, I think that she certainly deserves the benefit of the doubt," Wolfson said.
Some can't forgive Heller for working for a Trump. "I think there's a big difference between representing business interest and essentially helping to advance an agenda that is completely antithetical to everything that Democrats stand for," said one longtime New York City political operative.
"Risa is never going to pull her punches, even with her boss," said another Democratic operative. "I have no doubt that she is brutally honest with Jared and Ivanka on whatever the issue may be."