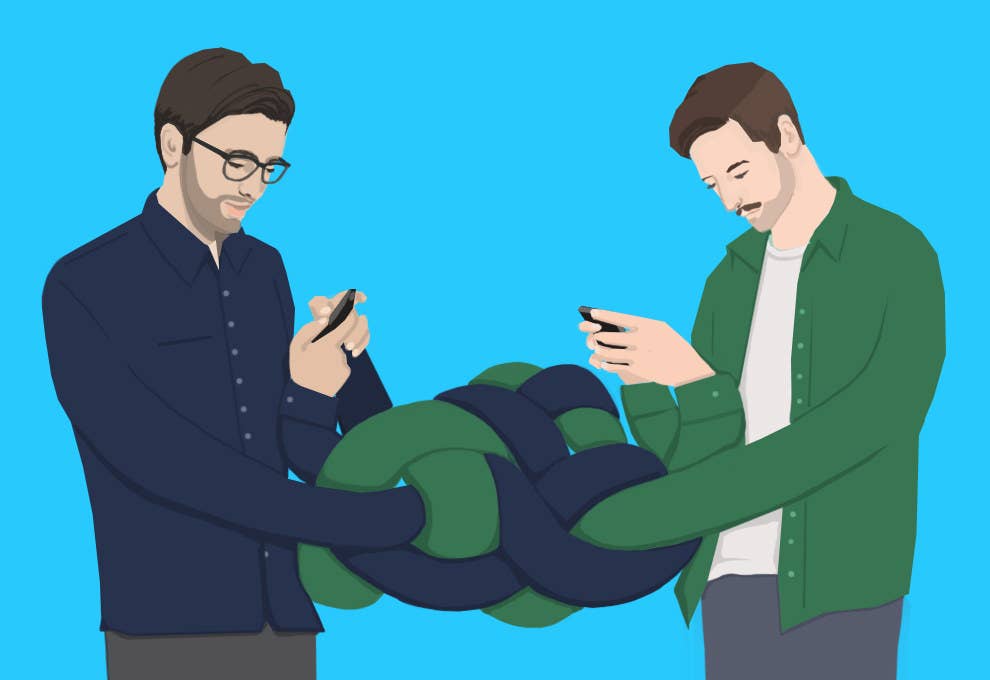 At 7:36 a.m. on May 18, Time executive editor Matt Vella tweeted the magazine's weekly cover, an image perfectly engineered to generate fodder for cable news and unleash screenshots across Twitter: the onion domes and red paint of Moscow's St. Basil Cathedral spreading across the south-facing columns of the White House — Russia literally taking over America.

But Vella's viral tweet was immediately overshadowed.
Seconds later, Kyle Griffin, a producer for MSNBC's The Last Word, grabbed the cover image and tweeted it to his 200,000-plus followers with a splash of knowing commentary: "Oh boy. The new cover of @TIME went there," he wrote. Griffin's tweet has more than 43,000 retweets and 89,000 likes.
For those who follow his account, the tweet is vintage Griffin: a nugget of breaking news, packaged tightly with a line of inoffensive but somewhat incredulous analysis — as if to say, 'omg, I know.'
He's not alone. Bradd Jaffy — an editor and writer for the NBC Nightly News broadcast — has become a Twitter celebrity with a similar string of obsessive viral news posts. Jaffy boasts a larger following than Griffin, with about 245,000 followers. The two men, who at MSNBC and NBC Nightly News work in different parts of the company, are said to share something of a rivalry, according to sources. (NBCUniversal is an investor in BuzzFeed.)
Be it a press conference on Capitol Hill, cabinet meeting pool spray from the White House, Trump golf outing, or fiery segment on Morning Joe — you'll see it first from Jaffy or Griffin. When a reporter in the NBC News operation has an exclusive, Jaffy or Griffin are often first to post the relevant details. Between the two, they somehow manage to tweet virtually every piece of news and opinion of the day — from a fact-check of that morning's controversial Trump tweet, to a late-night Washington Post or New York Times bombshell report — and always with plenty of screenshots.
As news cycles grow faster and more overwhelming, Jaffy and Griffin have become feeds of record for obsessive political journalists and casual Twitter users alike. Their relentless output, which, in a different environment, might have felt exhausting, is now a mooring force for a growing number who feel bombarded by breaking news and fear they might miss the next bombshell. The two are hardly the only journalists to tweet breaking news, to be sure. But in a presidency that plays out primarily over Twitter and cable news, Jaffy and Griffin were already in perfect position at Trump's media nexus with all the resources of the internet and a multinational broadcast organization.
"They are the AP and Reuters of Twitter," said Yashar Ali, a political operative and fundraiser turned freelance journalist, who is an obsessive political Twitter user in his own right. "There's so much news that's breaking every day in so many different areas that they help reporters stay on top of the news."
While much has been written about the chaos of the administration and its boon for investigative journalists and Trump-savvy reporters like the Washington Post's David Fahrenthold and the New York Times' Maggie Haberman, Jaffy and Griffin have also entered that space through sharp news curation and the centralized delivery of what's happening in a given day. On Twitter, they're widely known. Celebrities retweet them. ("I have a couple of go-to Twitter accounts that I check as soon as I wake up in the morning," said actor Alyssa Milano. "One is Kyle Griffin's feed and the other is Bradd Jaffy's.") The pair's tweets travel so far and wide that two people interviewed for this piece mistakenly thought they were following Jaffy and Griffin when in fact they were not.
"Bradd and Kyle are both indispensable talents," said an NBC News spokesperson. "While they're in different roles they understand the benefits of using multiple platforms to get news out and we are fortunate to have them."
The spokesperson said that Jaffy and Griffin did not wish to be interviewed for this story, but that they understood the interest.
That interest has come with criticism, particularly from some other journalists, who see Jaffy and Griffin as using the work they do to amass more Twitter followers. A bevy of Twitter complaints follow from these critics: They over-screenshot (like three paragraphs of a competing outlet's story); they throw one emoji in a quote tweet (like the eyes emoji); they use a tweet to simply identify an easily identifiable figure (like former Attorney General Eric Holder).
While there's no strict formula for a Jaffy and Griffin tweet, an examination of their body of work reveals a few tried and true templates:
The Screenshotter:
If a bombshell story drops, there's a good chance Jaffy and Griffin are halfway through reading it before you've even seen the link. The pair use that speed to their advantage, running through the stories or relevant documents and screenshotting the money sentences and paragraphs. When used sparingly, the tweets are an excellent, fawning bit of promo for a big story, teasing a juicy tidbit that is used to share the story far and wide. On occasion, the screenshots pick the story over completely, making every relevant detail available to the reader without the need to click through.

This has created an environment where some journalists complain that Jaffy and Griffin are "capitalizing on real reporters' work to enhance their own Twitter clout," as one reporter told BuzzFeed News.
The Point-and-Gawk:
Seizing on a piece of breaking news that's just come across Twitter, Jaffy and Griffin amplify it, but first make sure to add their own flair, usually in the form of an eyes emoji or a downward pointing emoji finger. These have quickly become the most polarizing of the pair's style of tweets. Critics — many of them other reporters — see it as as drafting off the success of someone else's tweets. They see Griffin or Jaffy's emojis as ways of adding their own brand on top of someone making or breaking actual news while adding very little value of their own.
But the pair's most loyal followers see it differently and for them, a Jaffy/Griffin's point-and-gawk is the Twitter equivalent of a flare to signal attention that's reminiscent of another blogger's famous siren. Two reporters independently likened them to the infamous conservative aggregator Matt Drudge for their ability to take the reporting of others and use it to set narratives.
The Secondhand NBC Scoop:
Jaffy and Griffin's speed has caused a good deal of stress for some of their colleagues at NBC News and MSNBC, who have complained that the two are employing proprietary company information to pump out news to their personal followings first. Some of Jaffy and Griffin's colleagues gripe that the two take advantage of NBC's internal news-gathering system, whereby network journalists file reporting for employees to use across various TV and digital platforms.
On May 30, for example, some colleagues were irked when Jaffy tweeted a screenshot of a few paragraphs of reporting — from NBC News justice correspondent Pete Williams — as opposed to waiting for a story to be shaped from that reporting on NBC's website.
Indeed, Jaffy and Griffin are so fast on Twitter that they sometimes post NBC's reporting before the digital team can get stories online or tweeted from the house accounts. In other words, Jaffy and Griffin are able to grab the scoop — and the windfall of retweets that come with it.
On May 17, for example, Jaffy tweeted that Williams was reporting that former FBI director Robert Mueller had taken over the Justice Department's Russia investigation. Jaffy was fast to the news — Williams' Twitter account has been dormant for more than a year — and his tweet generated more than 2,000 retweets. Three minutes later, Jaffy tweeted again, this time with a link to the just-published story on NBCNews.com. That tweet received fewer than 300 retweets.
Network sources say staffers have been critical internally of the practice.
"It's frustrating because they are tweeting internal information. It hasn't been published on our website," said one network source. "It hasn't been on MSNBC. At the end of the day, it's not your info — it's info that is for the network's platforms."
Another source said that Jaffy and Griffin aren't breaking any internal rules by being fast, and are following the editorial standards guidance as to what is "reportable" or not.
The Viral TV Clip:
As TV producers, Jaffy and Griffin have at their fingertips the kind of digital tools to quickly get a clip from cable news on to Twitter, a valuable skill in the cable news presidency. In March, for instance, Jaffy tweeted: "Watch this. John Lewis is shouting on the House floor: I'll 'fight every day…I oppose this bill with every breath and every bone in my body.'" It generated more than 20,000 retweets.
One of Griffin's biggest tweets came in May, when he tweeted a two-minute clip of James Corden's reaction to the bombing in Manchester. "Emotional message from James Corden on the tragedy in Manchester. Take the time to watch," Griffin tweeted. The tweet received more than 20,000 retweets.

There's no question that Jaffy and Griffin's style works on Twitter. Network sources said they recognize the impressive nature of Jaffy and Griffin's dedication, and they marvel at the duo's ability to tweet around the clock while also conducting fairly time-consuming day jobs. Jaffy, for his part, is essentially Lester Holt's writer, helping to craft the copy for the all-important 22-minute nightly news broadcast on NBC. Griffin is a segment producer for Lawrence O'Donnell's 10 p.m. primetime show on MSNBC, making his early morning tweets all the more remarkable. Both are said to be well-liked by colleagues.
Top executives at the network have discussed Jaffy and Griffin's popularity and at least one executive is said to be irked by the success of their personal brands at the expense of NBC's own, according to a network source. But for the time being, nobody has called either off from enriching their personal brands. Sources also say that Jaffy is highly regarded among top producers and is particularly close to another rising star: Katy Tur, who rose to prominence during the Trump campaign.
Some NBC insiders also credit Jaffy and Griffin for being self-starters at a time when the broadcaster is still trying to figure out its digital strategy.
"The challenge NBC has is that digital is still a backwater," said one former employee. "The focus is on air."
(A company spokesperson said that NBC News has hired at least 50 people this year to focus on digital and highlighted examples like "Left Field," a new digital video journalism unit.)
At competing networks, there's a sense of admiration for the pair and even hints of jealousy that they are able to so effectively push viral cable news clips into Twitter at speed. "I'm surprised there aren't more people like them," said one reporter from a rival network. "Obsessive, savvy about social, with a keen eye for breaking news and hypocrisy and flip-flops. Newsrooms need more people like them right now."
Jon Favreau, the former director of speechwriting for President Obama and cohost of the popular Pod Save America podcast, said that he loves following Jaffy and Griffin on Twitter. "I just appreciate all the helpful updates they send out!" Favreau said.
If the critics see Jaffy and Griffin's Twitter personas as formulaic, their fans see the two as offering a stable, concentrated place to find out what's going on.
"I don't understand the backlash. It's so bizarre to me — to spend time worrying about two guys who are tweeting," Ali said.
Former Reuters social media editor Anthony De Rosa, one of the pioneers of the social media editor role back in the early 2010s, acknowledged that the pair is continuing the legacy of being a kind of breaking news tour guide, despite the fact that the job of social media editor largely been subsumed by more traditional editors and newsrooms.
"The need for this kind of information hasn't diminished," he said. "I think those guys definitely take that same approach where they're not just pushing their own organizations stories but trying to be the kind of person who tells you what's going on regardless of organization."
As the chaos inside the White House intensifies, Griffin and Jaffy's roles seem only to grow in importance. For example, in the last 30 days — which included the tumultuous 10-day tenure of Anthony Scaramucci — Griffin gained more than 30,000 followers. Proof that, the wilder things get in Washington, the more valuable the tweets. For the pair, that realization appears to be bittersweet. "Tonight was the first weeknight in I can't remember how long without major breaking news," Griffin tweeted just after midnight on Tuesday morning. "It was equal parts wonderful and unsettling." ●