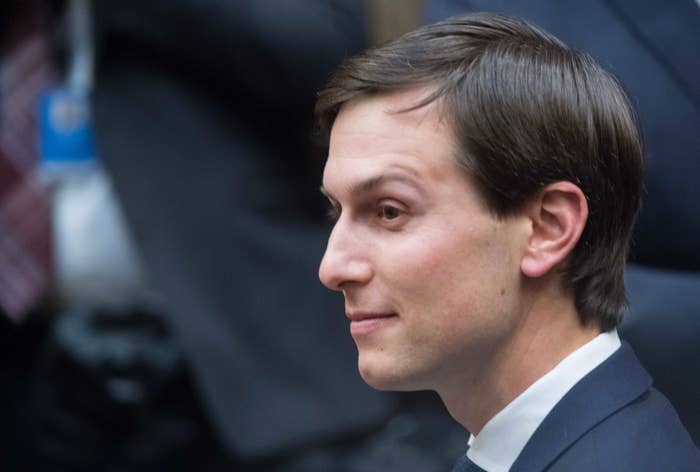 Jared Kushner personally ordered a software developer at his newspaper to remove stories that were critical of his friends and real estate peers.
Now a senior White House adviser and son-in-law to President Donald Trump, Kushner in 2012 went around the editorial leaders at the New York Observer — the newspaper he owned and operated — to mandate the removal of a handful of articles from the website, according to emails obtained by BuzzFeed News.
Kushner requested the removal of a 2010 story about a settlement between then-New York attorney general Andrew Cuomo and real estate firm Vantage Properties regarding allegations that the company had illegally forced tenants out of their apartments to raise rents. Kushner also ordered another 2010 article deleted about Vantage's top executive Neil Rubler. That story's URL suggests that Rubler had appeared on some sort of "10 worst landlords" list.
The disappearing act included more mundane fare: a 2012 story about NBA Commissioner Adam Silver purchasing a $6.75 million apartment in a tony New York City building, the kind of item that privacy-conscious famous people often try to keep out of the real estate press. Silver and Kushner are friends, and the NBA commissioner praised Kushner in a 2016 New Yorker article for helping the league find space for a retail store.
White House spokespeople did not return requests for comment on Kushner's behalf. An NBA spokesperson declined to comment. Rubler, whose company now operates as Candlebrook Properties, did not return a request for comment.
A once-influential force that skewered the city's upper crust, the Observer struggled in recent years under the stewardship of Kushner, who stepped down as publisher of the paper to join the administration. He transferred ownership to a family trust, and the company has said that Kushner does not currently play a role in editorial matters.
Austin Smith, a software employee who worked on staff for the Observer Media Group and then as an outside consultant, said that he fielded and complied with Kushner's deletion requests. Smith wrote about the incident on a Hacker News forum discussing unethical practices in programming.
"That Kushner, a newspaper owner of all people, would participate in an administration that labels news media the enemy of the people, is an affront to the very notion of the freedom of the press and an utter betrayal of those who worked hard and in good faith for him at the Observer," Smith told BuzzFeed News.
Elizabeth Spiers, the former editor of the Observer who has been publicly critical of Kushner as he rose to political prominence, said she was not aware at the time that her boss was going around editorial leadership to order the removal of stories.
"If I had known about it, Jared and I would have had a big problem," she said. "Jared's such a coward. Went directly to Austin because he knew I wouldn't do it." Spiers said that Smith didn't have any choice in the matter but to delete the stories since he was not an editorial employee.
Kushner's deletion orders continued under Aaron Gell, Spiers' deputy editor and successor, who also said he did not know that his boss was privately instructing the tech team to remove articles.
"When Jared announced I was out, he told me, 'I just needed someone I could trust,'" Gell told BuzzFeed News. "The more I learn about how he wanted to run the paper, the more I've been able to take that as a compliment."
The secret removal of stories due to outside pressure is widely regarded as an unethical practice in journalism. In 2015, BuzzFeed faced widespread media criticism after deleting more than a thousand articles, three of which were removed after an editorial employee fielded a complaint from a business-side employee who'd worked with an advertiser, according to an internal company review at the time.
Kushner was known at the Observer to be heavy-handed in his approach to running a newspaper, and Vanity Fair reported that he had once ordered a "hit piece" on rival real estate executive Richard Mack.