When Sean Spicer found out that a certain reporter had been in the Oval Office interviewing his boss, the White House press secretary became "livid for days," one anonymous official told the Wall Street Journal.
The reporter went unnamed, but it wasn't hard for Washington insiders to guess who reportedly had made Spicer, tasked with controlling the message coming out of the White House, so angry. According to sources, the reporter was Politico's Alex Isenstadt, who shared a byline on a recent story in which an eager Donald Trump speaks on the record about his first 100 days in office "over the objections from nervous-looking staffers."
In the Politico newsroom and across the Washington media, Spicer's battle with Isenstadt is notorious. The low-key, bespectacled reporter is widely regarded as one of the press secretary's least favorite members of the media, a badge of honor among his peers.
All press secretaries fight with reporters, and both sides often don't care for one another. It's not surprising that Spicer — beset with the unenviable task of sparring with reporters armed with a wellspring of leaks from chatty administration officials — would have beef with members of a media the White House has dubbed "the opposition party."
But in this case, things have gotten vindictive: Spicer has appeared to plant opposition stories in friendly outlets about Isenstadt and he has told other Politico reporters that they shouldn't be a "douche" like their colleague, according to sources familiar with the matter.
Spicer and Isenstadt have a long history that dates back to when Spicer served as the communications director for the Republican National Committee and Isenstadt focused his coverage on the GOP political body. At the core of the hostility is that Isenstadt's stories often depict a White House (or RNC) steeped in chaos and mistrust, details that impugn not just the president, but Spicer himself and his key ally, chief of staff Reince Priebus.
The feud came to a head in 2015, when Isenstadt's reporting effectively helped to diminish Spicer's role at the RNC. During the primaries, Spicer was tasked with overseeing the GOP debates, working with multiple campaigns and TV networks to coordinate the events. Things did not go smoothly, and an October 2015 debate on CNBC was criticized across the ideological spectrum as a disorganized trainwreck. Afterward, Republican campaigns were in rare agreement that the RNC — which had taken on more debate responsibility than in previous cycles — was to blame. "Exclusive: GOP campaigns plot revolt against RNC," read the headline of a Politico story written by Isenstadt.
"It was time, top aides to at least half a dozen of the candidates agreed, to begin discussing among themselves how the next debates should be structured and not leave it up to the RNC and television networks," Isenstadt reported. Days later, then-RNC chairman Priebus shook up his senior staff, handing Spicer's debate responsibilities to chief operating officer Sean Cairncross. "Spicer, a confidant of Priebus, will remain in his role but will work in a supplementary position when it comes to arranging the debates," the Washington Post reported.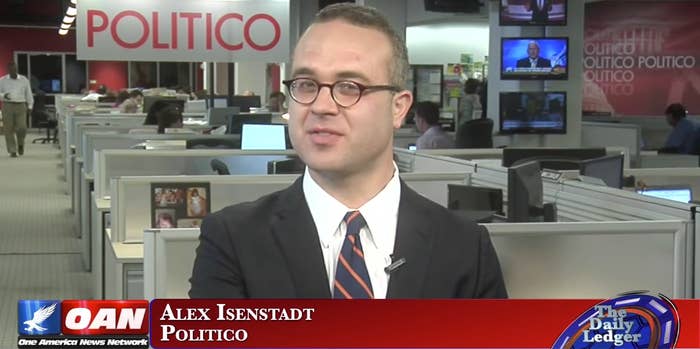 "It made Sean Spicer's life complicated and caused him to lose a position in a way," said a person familiar with the matter. "Priebus had to take him to task a bit."
Isenstadt and Spicer declined to comment for this story.
Sources said that even before the debate story, Spicer didn't like Isenstadt, who reported on the kind of internal squabbles at the RNC that Politico sometimes emphasizes. "Nobody really wrote palace intrigue stories about the RNC except for Politico," said one reporter who is friends with Isenstadt. "He knew more about what was going on at the RNC than anyone."
A former Republican official said that Isenstadt would text junior staffers asking about staff shakeups, which, in this official's view, was meant to "plant false narratives to get people stirred up." The official said it felt as though Isenstadt had his mind made up already on stories and would give officials little time to answer on the record, a notion that people inside Politico dispute.
During the primaries, Isenstadt's notebook became a dumping ground for GOP campaign complaints about the party apparatus, and he counted Spicer's underlings as sources, too, according to people familiar with the matter. Isenstadt's standing with Spicer meant that he and some other Politico reporters would routinely find their names absent on the list for press credentials at RNC events, leaving editors scrambling to do damage control. Politico sources said Isenstadt wouldn't receive the blast emails prompting registration, and would have to report from the lobby. The former Republican official said it was Politico's fault for missing sign-up deadlines.
"The feud is enabled because both Sean and Alex are the people that they are. Sean lets nothing go, cares about every slight, believes in payback and retribution, and can be petty at times. And Alex believes there is no scoop too small to be revealing, and no person who is too important for him to worry about," said one reporter.
After the campaign, both men found themselves opposite each other once again, with Spicer as White House press secretary and Isenstadt as a political reporter writing about the administration (though he is not officially on Politico's White House team). In February, the clash intensified when Isenstadt and Annie Karni reported that Spicer had cracked down on his staff amid a flurry of leaks. The press secretary, according to the report, instituted "phone checks" to monitor staffers' potential unauthorized correspondence with reporters. The story also revealed an incident where Spicer had harshly criticized deputy communications director Jessica Ditto, causing her to cry.
It was that detail that sparked the most well-known exchange between Spicer and Isenstadt.
"The only time Jessica recalls almost getting emotional is when we had to relay the information on the death of Chief Ryan Owens," Spicer told Politico, referring to the Navy SEAL killed in Yemen.
When Spicer delivered that comment to Isenstadt amid a heated exchange, the reporter laughed in response to the press secretary using Owens as political cover, according to sources. But Spicer saw an opportunity to attack, threatening that he would leak that Isenstadt had laughed about the national tragedy itself, the sources said.
Sure enough, the evening the Politico article posted, Washington Examiner reporter Paul Bedard ran the story Spicer had warned about. "He started laughing about that SEAL," an "informed official" told the conservative news outlet. A Politico spokesperson disputed the account to the Examiner, and afterward, Politico editor Carrie Budoff Brown tweeted, "Reporter writes story WH doesn't like/disputes. WH anonymously plants false story about reporter."
It wasn't the first time that a negative story about Isenstadt had questionable fingerprints. Over the summer, Breitbart News reported that a handful of Politico reporters had been registered Democrats. The right-wing site focused the report on Isenstadt, describing him as a "vicious hit piece writer" and delving into his political beliefs in college. The Breitbart story said that Isenstadt was seeking to "create divides inside the Republican Party deeper than the ones that already exist."
While those who have been on the receiving end of an unpleasant story call him aggressive, the 32-year-old Isenstadt is also described as a quiet presence in the newsroom who can be seen frequently on his phone texting or talking to senior administration sources. According to two people familiar with the matter, Isenstadt has also spoken with Trump on the phone, in addition to the Oval Office interview.
A low-profile figure, Isenstadt eats a grilled cheese at his desk for lunch every day, works late, and largely avoids the Washington party circuit. He graduated from Haverford College in 2007, and worked briefly on Joe Biden's 2008 presidential campaign compiling press clips before joining Politicker.com, a defunct politics site operated under the New York Observer. The paper, purchased in 2006 by White House senior adviser and son-in-law to the president Jared Kushner, has been transferred to a family trust. Isenstadt moved to Politico in late 2008 when the Washington digital media outlet was just starting to make its mark, making him one of the longest-serving staffers in the newsroom.
From the briefing room, Spicer has decried the kind of stories Isenstadt specializes in: ones that divulge the pecking order or internal politics in the administration. Weeks after the Examiner plant, Isenstadt and Ken Vogel reported on how "paranoia" had gripped the White House, with aides using secret chat apps and leaving their phones at home. Ironically, political reporters say the easiest way to get White House officials to actually engage is to write about palace intrigue — not policy. People close to Isenstadt say Spicer's beef doesn't much deter him, and that he would ultimately prefer it if the press secretary would take his calls.
Publicly, the White House has had harsh words for Politico, though administration sources, including those in the press shop, talk to the outlet on background and on the record regularly. On Friday, deputy White House press secretary Sarah Huckabee Sanders filled in while Spicer was on Navy reservist duty. Asked about a Politico story detailing budget cuts to the office fighting the opioid crisis, Sanders said, "My first response is to never use Politico as a source for a story."
"White House press secretaries often have a love-hate relationship with the press, and Sean is no exception," said Politico spokesperson Brad Dayspring. "Alex is going to keep doing what he does best, which is to keep reporting, put his head down, and keep delivering scoops."
Many in Washington find the Spicer and Isenstadt quarrel somewhat amusing — particularly given the fact that the reporter sat down with Trump without the press secretary knowing about it.
"Every political reporter in DC knows about the feud, and it made a Wall Street Journal story," said the political reporter who is Isenstadt's friend. "What an absurd thing."