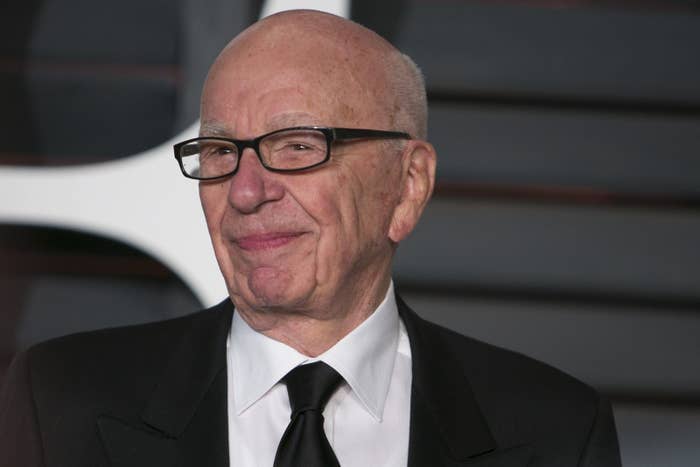 The empire of Rupert Murdoch — the octogenarian mogul known for aggressively buying up media properties for decades — is set to be split up.
Disney on Thursday announced it would buy key parts of 21st Century Fox for $52.4 billion in stock. The deal would give Disney the 20th Century Fox film and TV studios, cable properties like FX, a share in European media giant Sky, and a controlling interest in Hulu. Disney CEO Bob Iger will stay on past his planned 2019 retirement date through the end of 2021, effectively putting to rest rumors that the executive was planning a presidential run.
Fox's holdings will be pared down to focus on news and sports. A new company will include the Fox broadcast network, Fox News Channel, Fox Business Network, and Fox Sports. If approved by regulators, the deal positions Disney to better compete with newer competitors like Netflix and Amazon and would add a powerful roster of entertainment properties — like X-Men — to Disney's portfolio.
The agreement marks an unexpected swan song in Murdoch's long career as a buyer, not seller. It is also something of an acknowledgment that only a few media powerhouses will survive in a new environment being reshaped by streaming services and consumers cutting the cable cord. Comcast had looked into buying assets from 21st Century Fox but backed out. (Comcast's NBCUniversal is an investor in BuzzFeed.)
Whether the deal will be approved by antitrust regulators remains to be seen. The Justice Department has shown it is willing to take on mega-media mergers, and is seeking to block AT&T's acquisition of Time Warner. "We know that a deal of this nature and of this size is going to receive a significant amount of regulatory scrutiny,' Iger said on a conference call following the deal's announcement.
On the call, Murdoch said executives have not thought about whether to combine the new Fox with News Corp, his newspaper company that owns the Wall Street Journal. Murdoch said that if the new Fox were to combine with News Corp, it would be "well into the future." But he did say that the new Fox company will likely pursue buying local TV stations.
At the White House briefing, Press Secretary Sarah Huckabee Sanders said that President Trump spoke with Murdoch on Thursday to congratulate him on the deal. The president, who speaks with Murdoch frequently, believes the deal would be a great thing for jobs, Sanders said.
The deal comes as Fox seeks to buy up the remaining parts of satellite company Sky and its news network Sky News. Fox will continue to try and close the deal, which has faced strong opposition in the UK, where the Disney deal is being celebrated by the longtime foes of a mogul who has dominated the political landscape for decades.
"This is the end of an era for the Murdochs who after decades of aggressive empire expansion are now in retreat," said Tom Watson, the Labour MP who clashed with the Murdoch's during the phone-hacking scandal in 2011. "It's important for Disney, a highly respected global media brand, that they do not allow the toxic corporate culture we have seen in the Murdoch empire to contaminate their business and tarnish their reputation."
In an email obtained by BuzzFeed News, Sky chief executive Jeremy Darroch assured staff that the company expects the Fox takeover to get regulatory approval before Disney takes the reins at 21st Century Fox.
"Of course, with today's news many of you will have questions about what this means for our transaction with Fox," Darroch wrote. "In short, it continues as normal and today, Fox and Disney reiterated their commitment to completing the Fox/Sky transaction, subject to regulatory approval, and their expectation that this would be done by 30 June 2018."
It does leave open questions about the future of Sky News. It's unclear what Disney would do with a loss-making 24-hour news channel, which caters to an audience of UK political obsessives.