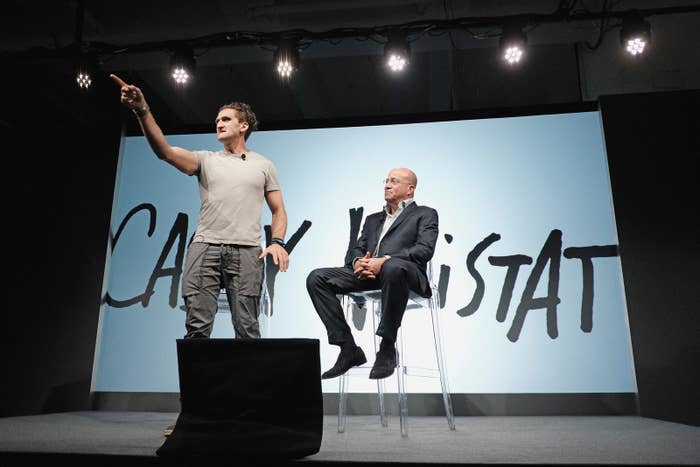 In late 2016, CNN plunked down millions of dollars to purchase Beme, the video-sharing app started by YouTube star Casey Neistat.
CNN had big plans for Neistat, a viral online filmmaker, envisioning him as a sort of digital Anthony Bourdain who could bring a new generation of news consumers into the cable news channel's fold.
But now Beme, which CNN had hoped to fashion into an independently operated daily online news program, is effectively shutting down. On Thursday, CNN will announce that Neistat and his Beme cofounder Matt Hackett are leaving the company.
In an interview with BuzzFeed News, Neistat spoke candidly about his inability to figure out a viable strategy for "Beme News," which CNN had intended to become a central part of its digital business. Instead, Neistat said he slowly, and frustratingly, distanced himself from his own company, retreating into what he knew best — producing videos for his personal YouTube channel.
"I couldn't find answers. I would sort of disappear, and I would hide, and I would make YouTube videos for my channel because at least I would be able yield something," Neistat said. "I don't think I'm giving CNN what I want to give them, and I don't think they're getting value from me."
Beme, Neistat acknowledges, became a source of exasperation, with grand plans to create the next great digital news brand dogged by creative conflicts and sluggish progress. The Beme News YouTube channel, which will continue to exist within CNN, has published only a few dozen videos. CNN said that it would seek to find different positions across the company for nearly everyone on Beme's 22-member team, but that some people would lose their jobs. The company will also continue to house and develop the technology products built by the Beme team, like a live-news app called Wire that has yet to be released.
The announcement is a significant turnaround for CNN's digital operation, which announced the Beme deal with much fanfare. For months, CNN has labored to tease various elements of what Beme would ultimately become after Neistat appeared on the cover of the Hollywood Reporter alongside CNN talent and president Jeff Zucker (who originally learned about the YouTube star through his teenaged son). In June, at the Cannes advertising festival, Zucker said that Beme was "weeks away" from a four-day-a-week news show, but he acknowledged the development had been slow going.
"You can't be afraid to take chances if you want to stay on top of an industry that is changing every day," Andrew Morse, general manager of CNN's digital business, said in a statement. "This was a chance worth taking — we built products and developed key talent that has made CNN stronger."
Neistat launched the original Beme in the summer of 2015, and the app quickly exploded thanks in large part to his loyal online following. At the time, Beme was more or less modeled as a spontaneous Snapchat. Users recorded and uploaded short video clips to their profile, but the catch was that you had to hold your phone to your chest to trigger the camera — the idea being that you should actually experience the moment you want to capture instead of viewing it through an iPhone screen.
Eventually, growth of the app flagged, but Neistat's high-profile online persona helped lead him toward a successful deal with CNN valued at more than $20 million, according to people familiar the matter (though the deal will be less valuable than it could have been had Beme met its internal goals).
Beme's sunset comes amid broader struggles in the digital media industry, which is facing increased pressure amid competition for advertising dollars from tech giants like Facebook and YouTube. Although CNN has seen success in digital video thanks to its brand Great Big Story, the company, like BuzzFeed, has not been immune to challenges. BuzzFeed News reported that CNN's digital unit faced a $20 million budget shortfall last year.