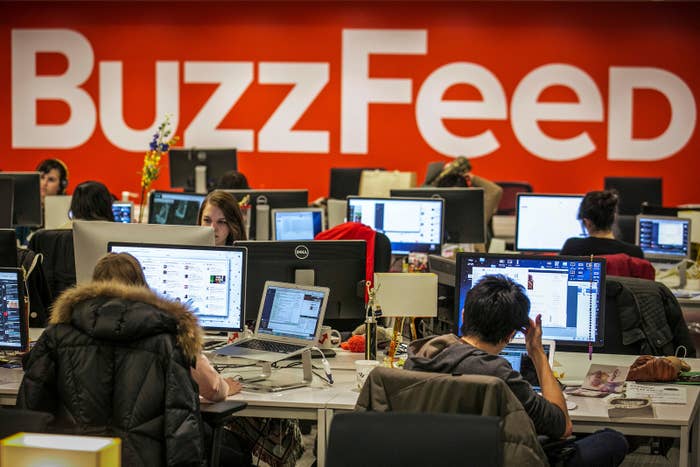 BuzzFeed is laying off about 100 employees in the US and restructuring its advertising sales operation amid a tough digital media market.
In an email to staff, BuzzFeed CEO Jonah Peretti said Greg Coleman, a veteran advertising executive and BuzzFeed's president, is transitioning to an advisory role. The cuts in the US, which come from the business operation, reflect about 8% of staff.
BuzzFeed News Editor-in-Chief Ben Smith said in an email to staff that the US news team was not directly affected.
In the email, Peretti said BuzzFeed's UK operation would refocus on core topics like investigations and politics, resulting in both editorial and business cuts. Smith spoke to staff in London on Wednesday, describing the changes as "significant," with "more than 20" job losses across a range of both BuzzFeed UK business and news.
One of the early pioneers of "native advertising," BuzzFeed has in recent months expanded into new revenue models like programmatic advertising, commerce, and TV.
"As our strategy evolves, we need to evolve our organization, too — particularly our Business team, which was built to support direct sold advertising but will need to bring in different, more diverse expertise to support these new lines of business," Peretti said in the email. "Unfortunately, this means we have to say goodbye to some talented colleagues whose work has helped us tremendously."
The layoffs come during a tough time in the broader digital media arena, where Google and Facebook continue to gobble up more ad dollars and media companies big and small attempt to navigate a difficult market. The Wall Street Journal reported earlier this month that BuzzFeed was set to fall short of its revenue projection — of around $350 million — by about 15% to 20%.
"We have greater audience reach and a more diversified business than ever, and are very well-positioned heading into 2018," the company said in a statement to the Journal at the time.

BuzzFeed News reported that CNN Digital is also facing a budget shortfall this year, and the WSJ reported that Mashable, once a high-flying digital media darling, sold to Ziff Davis for $50 million, a fraction of its once-lofty valuation.
In his email to staff, Peretti said the company is searching for a new chief operating officer.
Here's the full email:
Hi BuzzFeeders,

I'm writing to share news about changes at BuzzFeed that will set us up for the future and allow us to continue to lead the industry. We'll be significantly expanding our investment to grow our lifestyle brands and additional new areas, and at the same time making necessary reductions in other areas that will impact employees on our US Business team and in the UK.

2017 has been a transformational year, in which we dramatically grew what we create for our audiences and deliver for our clients. From the growth of Tasty and Nifty, to original series like Worth It and AM to DM, to shows we're developing for partners like NBCU and Facebook, we create in more ways than ever. On the Sales side, we now offer clients innovative products that bridge native and display, programmatic, and strategic partnerships in addition to our core native advertising. And we continue to give our fans everything they love about BuzzFeed — lists, quizzes, and videos; BuzzFeed News' informative and revelatory stories; and international editions in multiple languages spanning the globe.

Our business is more diverse and balanced than it was a year ago and, very importantly, for the first time a quarter of our annual revenue will come from sources other than direct sold advertising. We're going to continue to aggressively build out our advertising capabilities, but also accelerate this evolution in 2018 with some big steps to reshape BuzzFeed for its future and advance our vision.

First, we're building on the success of Tasty by creating BuzzFeed Media Brands, which will house lifestyle brands Tasty, Nifty, Bring Me, Goodful and new brands, including a fashion and beauty franchise launching in Q1. We've created an interdisciplinary team to develop a strategy for this group and we're recruiting a senior leader to oversee it.

Second, as we move into our new studio spaces in our Lexington office, we are rebranding BuzzFeed Motion Pictures to simply BuzzFeed Studios — bringing together our internal slate of original series and the robust pipeline of series we have in the works for external partners.

Finally, we are expanding our Product Labs business, which exceeded our expectations in its first full year of operations, into BuzzFeed Commerce which has a strong lineup of new licensing and commerce partnerships, and new products for 2018. BuzzFeed Commerce will work closely with our new BuzzFeed Media Brands team to create new opportunities for our brands in the way it has with Tasty.As our strategy evolves, we need to evolve our organization, too — particularly our Business team, which was built to support direct sold advertising but will need to bring in different, more diverse expertise to support these new lines of business. Unfortunately, this means we have to say goodbye to some talented colleagues whose work has helped us tremendously. In the U.S., we are restructuring select functions of the Business team, including Sales, Creative, Client Services, Ad Solutions, and Marketing, to better support our diversifying revenue model. In the U.K., we are realigning the organization to focus on content for global audiences and our core U.K. News beats — investigations, politics, media, and social justice — and intend to make reductions across Buzz, Commercial, News, and Admin as a result. We will communicate today with everyone impacted by these changes. I'd like to thank the departing employees for their many contributions to BuzzFeed. They will be missed, and I know they will go on to do big things in the future.

As our strategy evolves, we need to evolve our organization, too — particularly our Business team, which was built to support direct sold advertising but will need to bring in different, more diverse expertise to support these new lines of business. Unfortunately, this means we have to say goodbye to some talented colleagues whose work has helped us tremendously. In the U.S., we are restructuring select functions of the Business team, including Sales, Creative, Client Services, Ad Solutions, and Marketing, to better support our diversifying revenue model. In the U.K., we are realigning the organization to focus on content for global audiences and our core U.K. News beats — investigations, politics, media, and social justice — and intend to make reductions across Buzz, Commercial, News, and Admin as a result. We will communicate today with everyone impacted by these changes. I'd like to thank the departing employees for their many contributions to BuzzFeed. They will be missed, and I know they will go on to do big things in the future.

As we reshape our Business team, Greg Coleman has decided to take the opportunity to transition into a new role. Before joining BuzzFeed, Greg helped me set up the ad sales leadership team as a senior advisor to the company, and he has decided to return to that role after a strong three-and-a-half-year run as President. We thank Greg for his amazing leadership, and are grateful for his ongoing help, particularly as an advisor to Tasty and BuzzFeed Japan. We've already begun a search for a Chief Operating Officer to help lead in the many areas and opportunities we have for growth.

Lee Brown's leadership as CRO will continue to be critical, and I'm grateful that he will step up and report directly to me on the senior team. Lee is a strong, dynamic leader, and I'm looking forward to partnering with him in a bigger way to build our future.

Throughout 2017, we continued to grow our revenue and our business, and we know that digital media has a bright future — especially for leading companies with the greatest scale, the strongest tech and the best teams. We are well-positioned because we will continue to innovate and manage our operations with the focus required to succeed in a tough marketplace. Our new structure will ensure that BuzzFeed continues to grow, transform our industry, and impact the lives of millions of people.

Thank you all for your contributions to BuzzFeed. I'm continually in awe of the work that you do, and honored to work alongside you.

Thank you,

Jonah