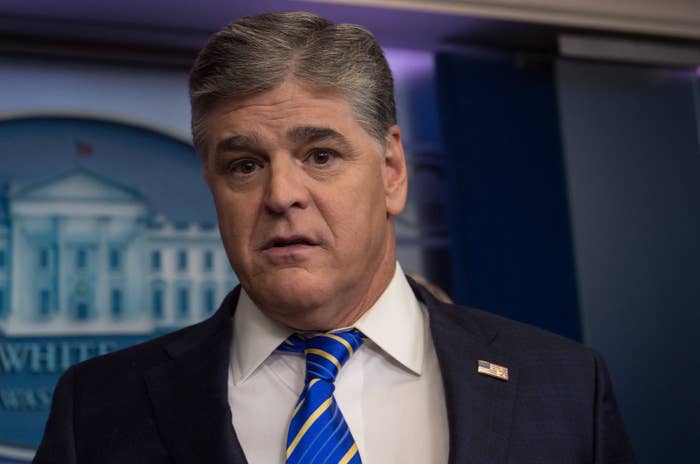 The appointment of Bill Shine to a White House role has highlighted an awkward reality for executives at Fox News: Sean Hannity is more isolated than ever.
Donald Trump last week hired Shine, a former network copresident who served as Roger Ailes' right-hand man and a close ally to Hannity, as the administration's deputy chief of staff for communications, a move that appeared to reinforce the ties between Trump and his favorite cable news network.
But according to people familiar with the matter, Shine's political ascent has brought renewed stress and paranoia to Fox's executive ranks more than a year after he was forced out of the network amid allegations that he helped cover up the network's culture of sexual harassment.
"The media consensus that this closes the circle between Fox and the White House is wrong," said one Fox News insider. "Bill was fired under unhappy circumstances and felt thrown under the bus by his protégés who did not publicly defend him and now have replaced him."
Fox News executives don't expect any favors from Shine. Instead, the hire has underscored a tense dynamic at the network — not completely uncommon in the TV world — between management and star "talent," in this case Hannity, who privately advocated for Shine with Trump.
A spokesperson for Fox News and Hannity did not return requests for comment. Speaking on his radio program Tuesday afternoon, Hannity disputed the story, saying, "My relationship has never been better with the management of Fox."
Hannity's level of freelancing has irked some at the top of Fox News and its parent company, 21st Century Fox, including Rupert Murdoch's sons James and Lachlan, who increasingly feel like Hannity has "gone rogue," as one source put it.
Hannity and Trump reportedly speak almost nightly, and Fox leadership harbors suspicions that their top host has spent time bad-mouthing his own network to the president. Hannity has maintained his leverage with Fox, in part, through his singular importance to the network's conservative audience and by continuing to bring in huge ratings.
"They'd never dare try to rein him in," said one Fox News source.
Hannity's strangely close relationship with the president has even sparked security concerns at Fox News, and the host took a burner phone to Singapore for the North Korea summit to avoid any unwanted foreign surveillance.
Hannity, according to a person familiar with his thinking, likes Fox News but thinks its leadership has no backbone. He has also chafed at the growing clout of news-side anchor Shep Smith — with whom he has traded barbs publicly.
Shine's appointment comes as Fox has sought to move beyond the scandal that gripped the network for two years. In May, the network promoted Fox veteran Suzanne Scott as its first woman CEO.
Shine, for his part, has denied that he covered up sexual harassment allegations against Ailes, who also denied the claims up until his death last year. Shine did not return requests for comment for this story.
Some at Fox News have found a degree of humor in Shine's new political job. While working at the network, Shine was known for his deft ability to deal with TV figures with difficult-to-manage personalities. Now, Fox News sources have joked, Shine just has a new client: the president of the United States.