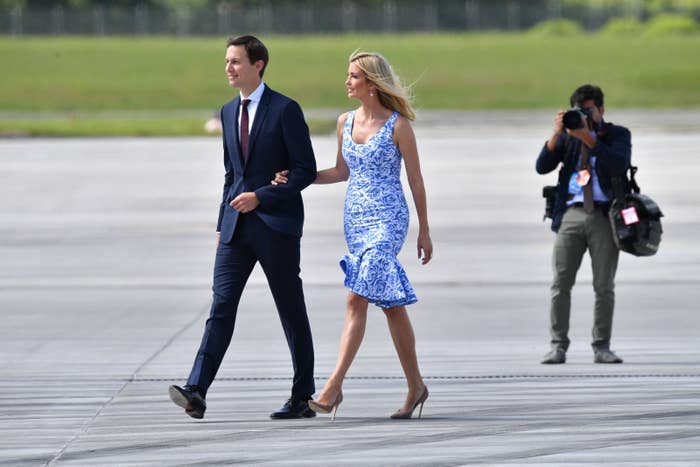 On a Thursday late last month, shortly before the New Yorker published its famous interview with Anthony Scaramucci, Jared Kushner paused in the West Wing to chat with ABC's Jonathan Karl and his daughter, who worked as a CNN summer intern.
Kushner told Karl's daughter that it must be interesting to be a reporter, because you always have to figure out who is going to lie to you, according to two people familiar with the matter.
When Kushner thought he noticed another reporter, New York magazine's Olivia Nuzzi, recording the exchange, he was startled and said it was off the record. He then uncomfortably asked Nuzzi to delete the recording, which she did not do. A few minutes later, after Kushner had left, a Secret Service agent and a press assistant approached Nuzzi and told her she was not permitted to record. (She is.)
The exchange offered a brief look into Kushner's awkwardness sometimes when it comes to dealing with the press. Luckily for him, it's a responsibility that typically falls to a 33-year-old White House spokesperson and key lieutenant: Josh Raffel.
A product of the ruthless New York corporate arena, Raffel conducts the "blocking and tackling" for Kushner and his wife, Ivanka Trump, routinely making the couple available for off-the-record chats, sources say. He's smart and good-humored, and reporters who've battled with him say he comfortably oscillates between friendly chatter and aggressiveness. One White House reporter said he's the most competent staffer in the West Wing.
Karl declined to comment and his daughter did not return requests for comment. "It was tense and uncomfortable, but I didn't want to agree to delete a recording when I was within my rights to record," Nuzzi told BuzzFeed News.
Ivanka Trump and Kushner, who both hold senior White House roles, are the subject of endless media fascination. And when reporters are writing about the couple, they will quickly hear back from Raffel.
People who know Raffel say he hardly supports the Trump agenda. He donated to Hillary Clinton as late as Oct. 2016. But since April, Raffel has worked in the White House's Office of American Innovation, a hub for Kushner's portfolio of interests. Raffel has worked on efforts ranging from a "tech week" to the Middle East to the Foxconn announcement that the Apple supplier would open a factory in Wisconsin, White House officials say.
He also manages PR for Kushner and Ivanka Trump, who declined to comment for this story. Sources say Raffel is intensely loyal to the couple and also to Hope Hicks, with whom he formerly worked at Hiltzik Strategies, a New York PR firm that represented Kushner's family real estate company. The couple trusts Raffel, whom Kushner has known for years, more than the White House communications department, and, according to sources close to them, they want him to be their press steward.
That apparatus — a press shop within a press shop defending the couple's personal brands — is yet another feature of an unconventional White House. It also seems at odds with new White House Chief of Staff John Kelly's manifest: bringing discipline to a West Wing defined by warring factions, where senior officials have built up their own camps of aides and handlers.
For close readers of stories about the couple, a portrait emerges: The first daughter and Kushner largely hold progressive policy beliefs, from LGBT rights to paid family leave. Amid the rolling White House chaos, in story after story, they are depicted as sober advocates for big hires or required firings — or both, in the case of former communications director Anthony Scaramucci. They are crucial advisers, sure, but when things don't go their way and the president lurches in some disfavored direction, anonymous allies deftly temper expectations about what the couple can really achieve, while their internal enemies pounce.
Raffel's response when contacted for this story — focusing on how he skillfully influences pieces about Kushner and Ivanka Trump — offers a case study in how he skillfully influences pieces about Kushner and Ivanka Trump.
He declined to comment, but after BuzzFeed News reached out to him, numerous White House officials reached out to BuzzFeed News to speak (mostly) anonymously.
Raffel, a parade of White House officials said, works hand-in-hand every day with the main press shop and spends most of his time on actual policy-related work.
"He's very integrated into our press team. I probably talk to Josh 30 times a day," White House Press Secretary Sarah Huckabee Sanders told BuzzFeed News. "I certainly wouldn't say he's doing personal PR, but he handles a lot of things in [Kushner and Ivanka Trump's] portfolio."
Sanders disputed the characterization, offered by multiple White House reporters, that Raffel operates a press shop within a press shop. "I feel like I would probably have the best insight on that front," she said.
White House officials say that Raffel, who participates in larger press meetings, isn't going rogue, and that his role makes sense given the intense level of media attention, where any move from the president at odds with what Ivanka Trump has said in the past launches a hundred takes.
"Whatever the issue is, I'm sure you can find multiple opinions within the White House," Sanders told BuzzFeed News.

Some reporters and sources close to Kushner and Trump have viewed maneuvering from their camp cynically — and have since the campaign. They argue that protecting the Javanka brand is less about supporting the White House's message and more about trying to maintain some semblance of status in their old polite society haunts, from Manhattan to the Hamptons.
"They are like their dad or father-in-law," said a reporter who deals with the pair. "When good stuff happens, they want to be associated. When bad things happen, they don't want any fingerprints."
While the early days of the administration saw a flurry of stories of what Kushner and Trump hoped to achieve, six months later, the situation is much different.
Last week, CNN reported that the first daughter is working on a "quiet reset" after a "summer of bruising headlines." A White House official told CNN that that the couple is eager to follow Kelly's lead and "have a lot of admiration and respect" for the new chief of staff. In June, after the climate loss, Politico reported that sources close to Trump and Kushner claimed that "climate change was never their focus," and that "people close to the first daughter and her husband often express frustration when Trump's decisions are interpreted as wins or losses for his family members turned aides." Following the president's tweets that the military would no longer allow transgender people to serve, Politico reported that Trump was said to be "sometimes frustrated by the misunderstanding of the limits of her power."
That doesn't mean that the descriptions of their frustrations or roles aren't true, or that questions about what they think aren't of interest to the reading public.
Either way, Raffel's role is a dream assignment for a crisis communications expert, particularly this summer, where he has had plenty of fires to help put out. The swirling Russia probe, for instance, has embroiled Kushner, who was questioned by Senate investigators about his Russian contacts.

After cutting his teeth in the New York corporate world, Raffel sparred with Hollywood trade reporters during his year and a half at horror production company Blumhouse. He has worked for controversial clients in the past, like former Fox News host Glenn Beck and his company.
"He was a pretty good, loyal soldier," said a reporter who used to cover Beck regularly. "He understood how nutty Glenn could be, and yet was always trying to generate positive relationships with mainstream reporters nevertheless."
Raffel is also not the only New York City operative to raise eyebrows among former contemporaries. Risa Heller, a longtime Democratic PR professional who has also worked in the Kushner orbit, helped shape Ivanka Trump's public image from outside the White House. Once Trump's book tour and other personal projects finished this summer, the White House took over all her PR responsibilities from Heller, according to a person familiar with the matter.
In his first few months, Raffel has managed to navigate the snake pit White House environment and keep a relatively low profile for himself, even as the communications structure thrashed in a power struggle that led the exits of Sean Spicer, Reince Priebus, and Scaramucci.

Kushner and Ivanka Trump, however, have anything but a low profile.
Sources close to the couple say that Trump, who like her father is familiar with lots of media attention and the way the media actually works on a technical level, takes the criticism and disappointment in the press harder than Kushner does.
She also has a tendency to drop by unannounced when reporters are conducting an interview with her father in the Oval Office, and has done so both for the New York Times (where a source said it was unintended) and the Wall Street Journal — when Editor-in-Chief Gerry Baker chatted with her about a recent party in Southampton, New York.