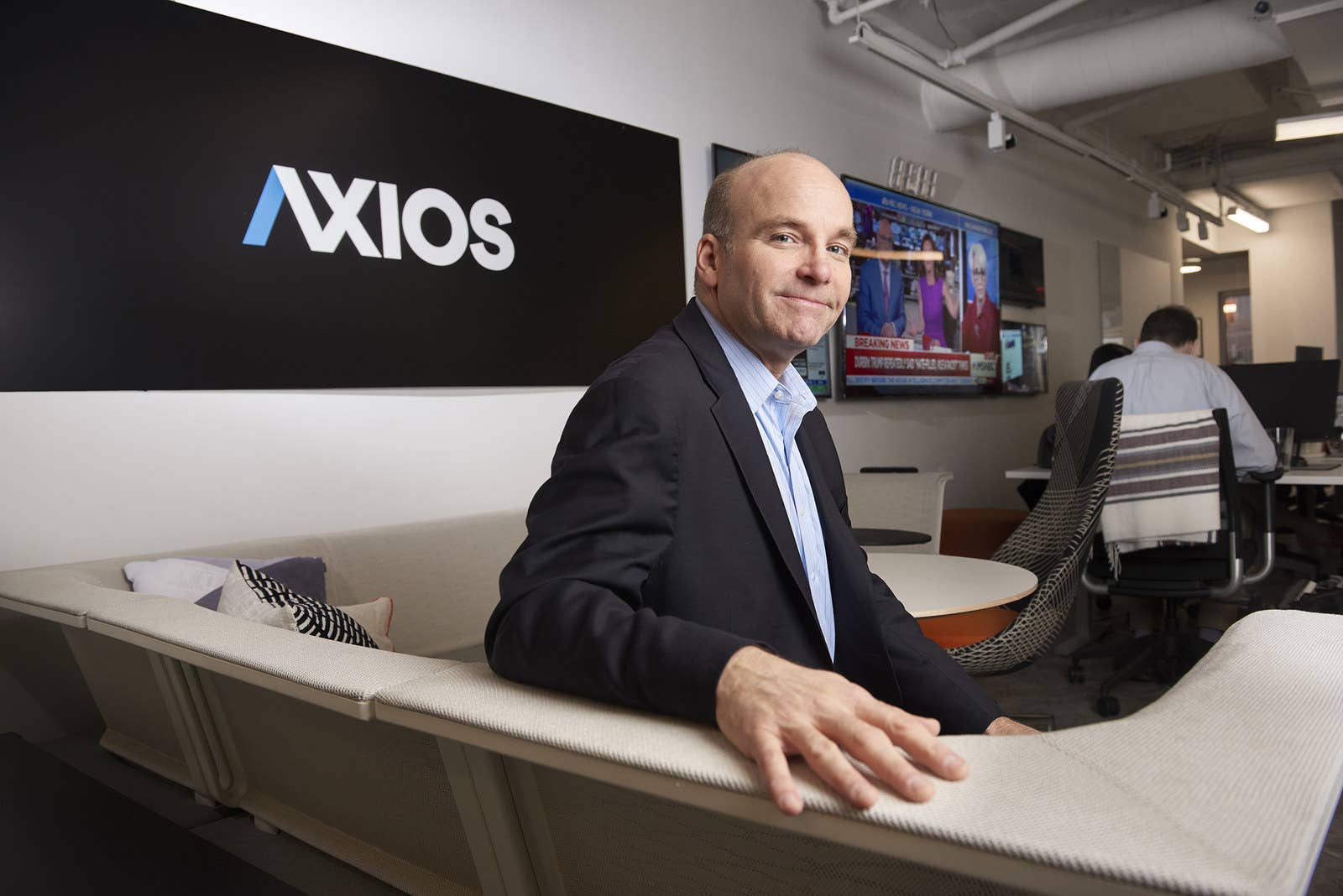 It's 6:20 a.m. on a frigid Friday morning and Mike Allen is sitting in a TV studio overlooking the Capitol, pinpointing — in the parlance of Axios, the short-form news outlet he cofounded — "Why It Matters."
"Jonathan Swan has a good take," Allen says, texting with his news protégé as they wait to appear on separate morning shows. "He just texted me, 'Guarantee you that the Mike Schmidt story" — a piece in the New York Times about the Russia investigation — "was damage control [from] McGahn or Priebus's lawyer,'" the White House chief counsel and former chief of staff, respectively. Allen texts back that Swan should say this good take when he appears on Morning Joe, but Swan, a 32-year-old Australian who has quickly become a dominant reporter on the White House beat, responds that he won't because it's too speculative. "Rare in TV," Allen says approvingly.
By the order of Allen's email newsletter, Axios AM, which he has written seven days a week since the company was founded a year ago, the Mike Schmidt story is the third most important thing that busy professionals need to know about this morning. The first two are 1) What's true and what's false in Michael Wolff's explosive book documenting the rolling chaos of Donald Trump's White House, and 2) How Trump's threats of legal action, resisted by aides, likely jacked up book sales.
Despite outright falsehoods and violations of off-the-record understandings, Wolff nails two central ideas about the president, Allen writes: "His spot-on portrait of Trump as an emotionally erratic president, and the low opinion of him among some of those serving him." Allen, who is recognized in Fire and Fury's acknowledgments for helping make it a "smarter book," concludes the item with a signature denouement, in keeping with Axios's ethos of "smart brevity."

"Every news organization, for better or worse, has been following that model, and it's because of Mike. Mike brought it to its logical conclusion with Axios."
"Be smart: More than half a dozen of the more skilled White House staff are contemplating imminent departures."
Allen, at 53, has long been one of the most well-known reporters in Washington. At Politico, the DC news upstart launched in 2007, he fashioned his Playbook newsletter into the rubric for how business got done in Obama's Washington. Allen, and Politico at large, upended the media ecosystem, covering political maneuvering as a sport for readers in the game itself — Hill staffers, lobbyists, flacks, hacks, and news junkies. Playbook created its own language, which became the language of Washington. People out and about were "SPOTTED," "SHOTS" were followed by "CHASERS," and administration talking points produced a "WEST WING MINDMELD." Allen was the inheritor of a powerful, if mixed, tradition of Washington Inside Dope, one that dates back to Drew Pearson's syndicated "Washington Merry Go Round" in the 1930s, through to Walter Winchell, Bob Novak, and Mark Halperin. In its prime, Allen's tipsheet was the most influential "must-read" inside the Beltway. And Allen, who previously worked at the Washington Post and TIME, was dubbed the "man the White House wakes up to" in a 2010 New York Times magazine profile, with Playbook recognized as his "morning distillation of the Nation's Business in the form of a summer-camp newsletter."
"Even if you didn't like Politico, you have to acknowledge that it completely changed the game," said one White House reporter, and not one who works for Politico. "Oh, you have something that moves the ball an inch forward and you can shout that it's a huge scoop? Publish it. Every news organization, for better or worse, has been following that model, and it's because of Mike. Mike brought it to its logical conclusion with Axios."
Axios has bigger ambitions than changing Washington's news diet. Led by Allen's fellow Politico alum Jim VandeHei, the company has a broad audience in mind: tens of millions of smart people who seek out quick news on a daily basis. Like Politico, Axios delivers news fast — but distilled down to a few sentences or bullet points. And like Playbook, Axios has created another language, framing the day's stories under tags like: "Be smart," "Why it matters," "Go deeper," and occasionally the highest praise, "Worthy of your time." Allen calls these little framing phrases "Axioms," and they litter Axios's coverage of politics, media, business, and tech. Rival reporters call them primers for warmed-over conventional wisdom, but if you read Axios consistently enough, you can find yourself texting in Axiosese to friends.
Why It Matters: If they're mocking you, you've done something right.

"This isn't normal," Allen wrote this summer. "We should never lose sight that we are experiencing a daily display of unprecedented actions and behaviors."
Be Smart: Advertisers pay about $75,000 per week to sponsor the Axios AM newsletter, according to a source familiar with the matter.
The short-and-sweet information strategy has helped turn Axios into a well-known "brand" in Washington in no time, and Allen extends this unmatched discipline to real life. When it's time for his hit on CNBC, Allen's analysis of Trump's psyche is essentially a sales pitch for his company. "The president will listen," he tells the hosts, "if he thinks you're worthy — axios — and one of the ways that you're worthy in the president's eyes is if you're a successful business person."
Around Washington, Allen is still known for his Playbook persona, a cheerful insider comfortable with all the swamp politics people claim to hate about Washington. He's the kind of person who, when you meet him for dinner, has already ordered oysters and shrimp appetizers for the table (which he's hoping you like, too!). He may even have a gift, like a manuscript of the unreleased Fire and Fury. But at Axios, something seems to have changed about Allen's way of doing things. A dissonance now appears regularly in his newsletter as the political press trudges through whatever wild thing Trump just said or did. Some days, Allen reports the kind of outrageous things he might not have before, like Sean Spicer threatening to "call the authorities" on him. And some days, Axios AM takes on a sober, moral tone. "This isn't normal," Allen wrote this summer. "We should never lose sight that we are experiencing a daily display of unprecedented actions and behaviors."
To read Axios AM every morning is to watch Allen working out, in real time, what happens when the person who wrote the rules of Washington has to grapple with the person unwriting them.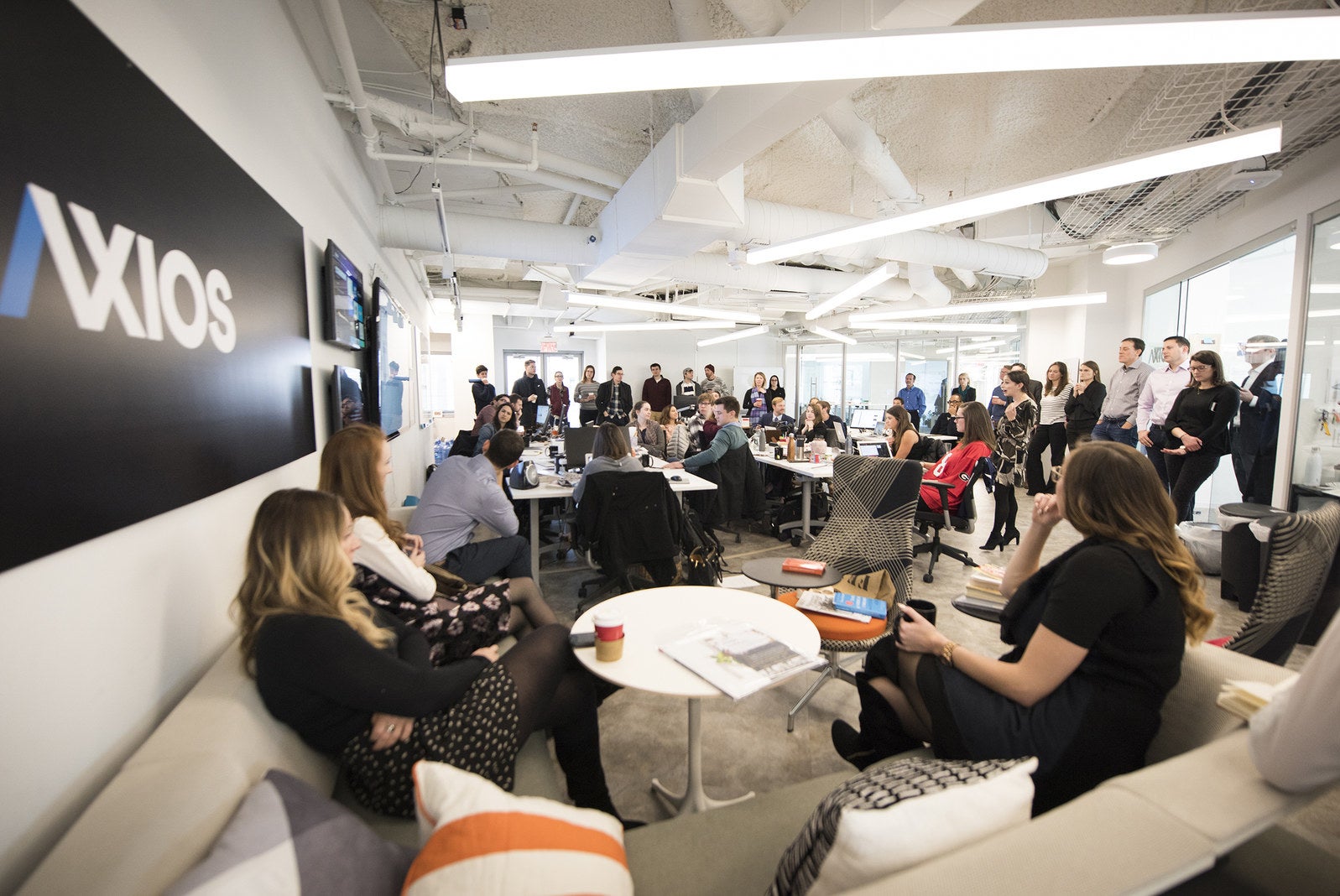 Between 4:15 a.m. and 5:00 a.m. every morning, Allen and VandeHei settle on the first item for Axios AM. Allen is a master aggregator, reading the big stories in the world of politics, business, and tech so you don't have to, but the top is almost always some sort of scoop. A new tidbit of information on tax policy, immigration, White House palace intrigue. What people inside the White House think about this or that, why it matters, and how you can be smart about it before the breakfast meeting with your boss. "We might get on the phone and spend upwards a half hour talking," former Trump campaign adviser Jason Miller said about his chats with Allen. "He would describe it as his 'getting smart' time, and he does that with a number of people across the ideological and partisan spectrum."
Scroll down, and Allen is offering his informed analysis of the biggest stories of the day from outlets like the New York Times, the Washington Post, and others, including Axios. The newsletter is limited to 10 stories, meaning that it is, by design, significantly shorter and breezier than Playbook.
It's no simple task breaking through in the time of Trump — particularly in the agenda-setting newsletter business — when the president may or may not change the global order with a morning tweet. But Allen is supremely plugged in, and according to two people familiar with the matter, he is among the reporters who the president has spoken to privately (although it's not clear how recently). An interview with Trump, written by Allen and VandeHei, helped launch Axios into the mainstream days before the inauguration. "They've been able to become relevant in Trump's Washington because Mike is Mike," one White House reporter said.
Much of Axios's success on the White House beat can also be attributed to Swan, who White House sources say is a fair and well-connected operator. "Mike Allen has got the best insights around town," Steve Bannon said. "Jonathan has got the best understanding of economic nationalism and the whole economic nationalist part of the White House."
Swan, a former political reporter for the Sydney Morning Herald, arrived in the US for a program working on the House Foreign Affairs Committee. He used his time on Capitol Hill to network and nab a job at the Hill, the newspaper, distinguishing himself during the 2016 campaign. Swan joined Axios before it had a name, and, bolstered by Allen's rolodex, quickly became among the "top 5" best-sourced reporters on the White House beat, according to one White House official.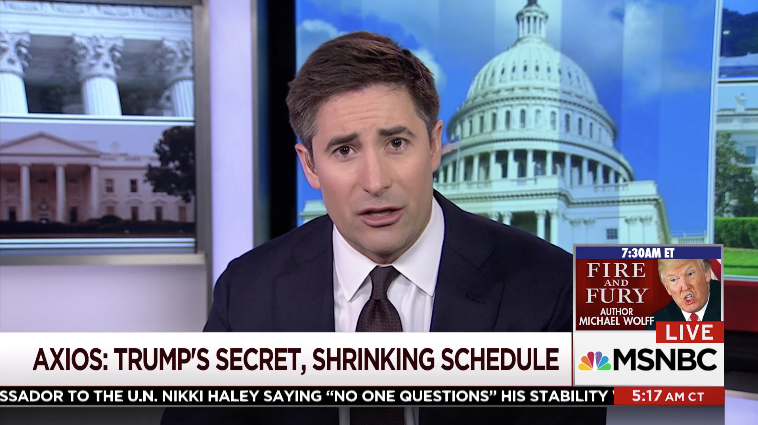 Axios launched in tandem with the new administration, so it has helped, with readers and sources, that Axios doesn't have any prior baggage from 2016. Plus, Allen and Swan, who often go on source meetings together, have a similar metabolism — Allen communicates with hundreds of people 18 hours a day; Swan takes multiple drink and dinner meetings between 6 p.m. and 11 p.m. Competitors like Politico, the New York Times, and the Washington Post all have a handful of reporters covering the White House, but at Axios it's just Swan and Allen, with assists from VandeHei and other beat reporters when applicable. Their work ethic, and Axios's speed at getting information online, has made the site a key information hub in the Trump era.
In July, for instance, Swan reported that Anthony Scaramucci would be named White House communications director, and he scooped in May that Trump decided to withdraw from the Paris climate accord. "When I started making calls to the administration — I don't think people were spinning me — a bunch of senior officials in the administration didn't know," a rival White House reporter said about the Paris story. "They were people who should have known before Jonathan."
"People are not loyal to the president," Swan said. "If you hustle hard enough you get information."
Axios's short-form delivery also means that items often read like interested parties simply dispensed them straight to the publication, a notion Axios disputes. But Allen's default format — quick, punchy, and a Why It Matters you can help influence — means that the newsletter can be the perfect vessel for getting out information that's maybe only one piece of the larger story, without the multi-paragraph demolitions you see in much of the press every day. When political operatives and government officials try to tee up exclusive stories for Allen, they say they have to be careful. The advantage of the "mindmeld" style means they can more easily circulate their talking points, but the disadvantage is it can be too obvious where something came from.
"People are not loyal to the president," Swan says. "If you hustle hard enough you get information."
It's in this respect that Allen has been disparaged by competitors and critics for trafficking in "access journalism," the symbiotic relationship between the powerful and the media whereby exclusives are doled out to safe spaces. There's even a joke in the White House press corps, where Allen is regarded as a suck-up, that "Axios" means "access" in Greek. ("It's Greek for worthy, dude," Allen responds.)
"It is no secret we have lots of access to people in power in Washington, business, tech, and media," VandeHei said in a statement. "It's dumb — and often the lament of journalists with no sources or access to news — to simply say access is bad. The question is: What do you do with it? And Mike and all of Axios use our insight, connections, sources to bluntly illuminate what's really happening with the people and topics that matter."
Regardless, the result is that the newsletter can take on a parlor game quality, where the reader guesses which part of the White House, or media, or political party, might want to plant a piece of information. Like in the case of Michael Wolff. As more incendiary anecdotes and quotes emerged in the press, Wolff began to face pressure not just from the White House, but from a media chattering class that has long loathed him. The backlash was on. How could Wolff's book paint such a detailed picture, media types wondered aloud, of a private dinner between Bannon and the late Fox News chief Roger Ailes? Axios AM provided the opportunity for Wolff's answer. "It turns out Wolff hosted the dinner for six at his Manhattan townhouse," Allen scooped.
Bannon played defense in the same Axios AM item. He "wouldn't comment on the record," Allen wrote, "but 'a source with knowledge of this matter' texted me that 'more than a dozen wh staffers or colleagues of potus talked with [wolff] ... because the wh was cooperating with the book.'"
Bannon is a well-known master of the background quote, and a savvy political reader can tell when a source familiar or a source close to the situation… is the principal himself. But placing "source with knowledge of this matter" within quotation marks, as Allen did, reflects the dissonance permeating Axios AM since the beginning of the administration. Would Allen have made that rule-bending wink pre-Trump? When asked about the characterization, Allen smiles, then pauses. "And, it's a salute to the intelligence of our readers," he says. "Our readers get it. Like, they know."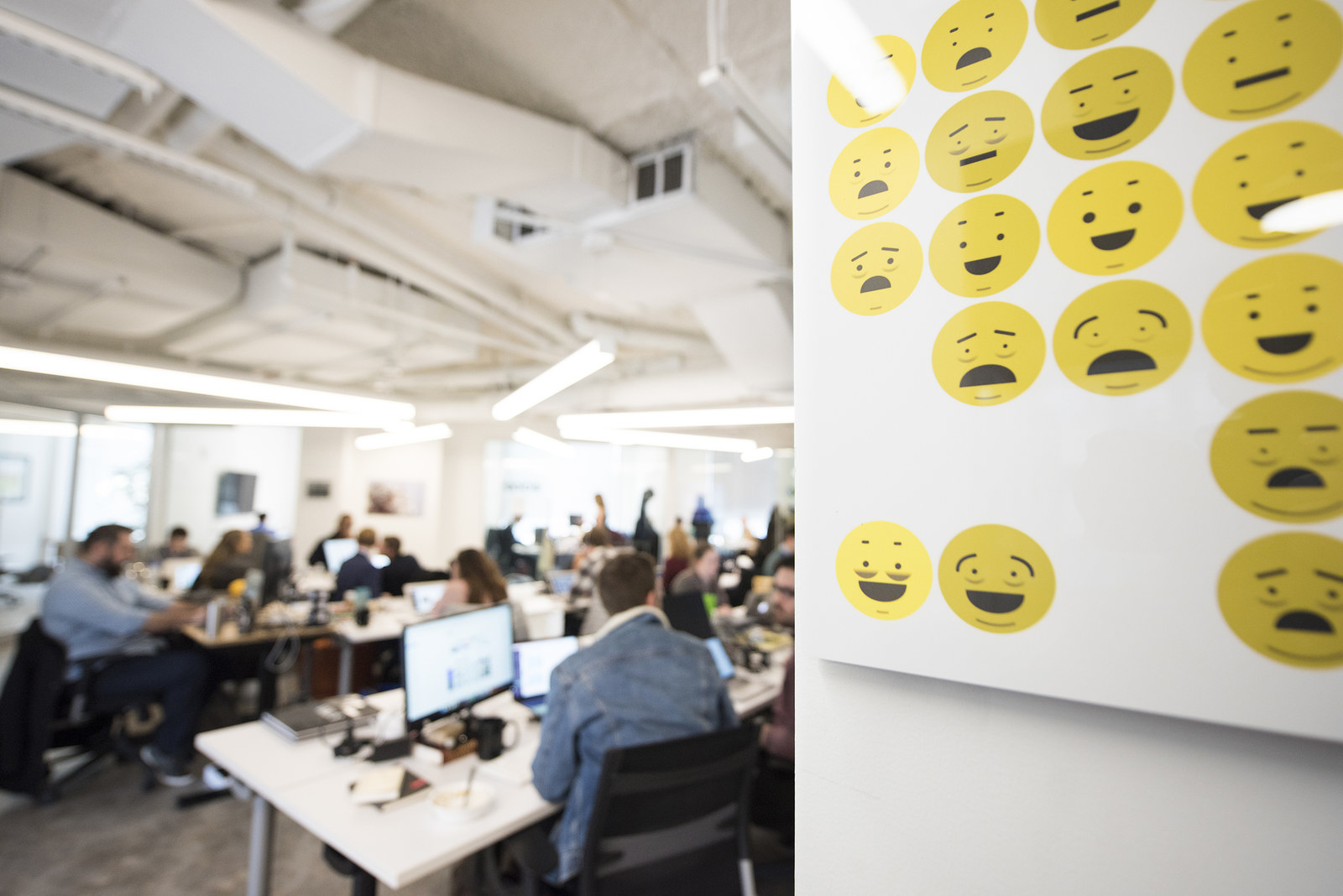 Axios argues that Allen is often a tough critic of the White House, with frequent newsletter reminders that we are not living in normal times and nuclear war with North Korea remains a legitimate possibility. "So much of the Trump coverage is what I call the NASCAR effect," Allen says. "People just want to see the flaming tires and the bent metal. And our idea is, no, there's enough noise, we're going to try to eliminate it. To explain it. To take both sides. To take people who know the president best and explain how he makes decisions."
The access jab has become a favorite gripe from the political left, and a certain style of reporting on the inner workings of the administration often faces denunciation as "normalizing" Team Trump's behavior and distancing the reader from policy ramifications. VandeHei fought this notion when he appeared on Pod Save America, the progressive podcast hosted by former Obama officials and a vanguard of Resistance Twitter.
"As Trump was pulling out of Paris, Jonathan Swan — who again is a great reporter — covers it by saying, 'Why does this matter?" Jon Lovett, a former Obama speechwriter, said on the podcast. "'Well, it matters because he's undoing Obama's proposal. It's a win for Trump. It's a defeat for Democrats.' But of course why it matters is how it actually affects the planet. Do you not see any problem in the assumption that being smart means you already know the consequences? That the consequences aren't important enough to be mentioned in the coverage of the politics?"
VandeHei fought back. "Could you take a Be Smart and do 20 different versions of it? Absolutely," he responded. "Are we always going to get it right when we say Why It Matters or Be Smart or what you should think about next? No, we're not always going to satisfy you. But you have to look at it in totality. Do you walk away better educated, better informed, and better equipped to make better decisions because of the content we're providing? If you answer yes, you will read it."
"The reality is that what Politico did and what Twitter has done has made political journalism very fast and small."
Almost all political operatives have an opinion about Allen, but few wish to speak about him on the record. Why damage a relationship they might need in the future? Or if not, why pile on a nice guy? "I know we've been critical of them, but I also like Mike personally and I know if I get on the phone with you I'll probably say something I feel bad about later," emailed Jon Favreau, another Pod Save America host. "Or if I manage to not do that, I'll just be a boring source."
"I think because Politico sort of accelerated and incrementalized political journalism, anyone associated with Politico, including the Axios gang, gets tagged as the poster children for access journalism," said Peter Hamby, the head of news at Snapchat and a former CNN reporter. "The reality is that what Politico did and what Twitter has done has made political journalism very fast and small."
The other reality is that Allen and Swan are breaking some attention-grabbing news. Swan, for instance, reported an embarrassing item that Trump has been starting his days at 11 a.m., after three hours of "Executive Time" — "watching TV, making phone calls, and tweeting." On Monday night, he reported FBI Director Christopher Wray threatened to resign amid pressure from Trump and Attorney General Jeff Sessions to fire his deputy. Like the climate accord scoop, those are big, if not long stories. (Axios posts often have a "keep reading" button, if you want to extend the story from the first few bullet points.) Axios has also been home to some bizarre and engrossing happenings within the White House. Bannon, for instance, gave his mea culpa for his part in the Wolff book to Swan after the reporter asked if he wanted to do his official apology with Axios — meaning that the newshounds of Twitter, Drudge Report, and other outlets were all crediting Axios once it went live. And in a fit of rage, Sean Spicer, the former press secretary, texted Allen in September (which Allen then published), "Please refrain from sending me unsolicited texts and emails. Should you not do so I will contact the appropriate legal authorities to address your harassment."
By the swampy rituals of Washington, there's enough peace between the White House and Axios to at least party together. Last week, White House officials Gary Cohn, Rob Porter, Josh Raffel, Johnny DeStefano, and the departing Dina Powell attended Axios's one-year anniversary event, a swanky Boeing-sponsored affair with an aviation-themed bar. It was a noteworthy move from a White House that, after all, skipped the annual gala for the entire White House press corps last year.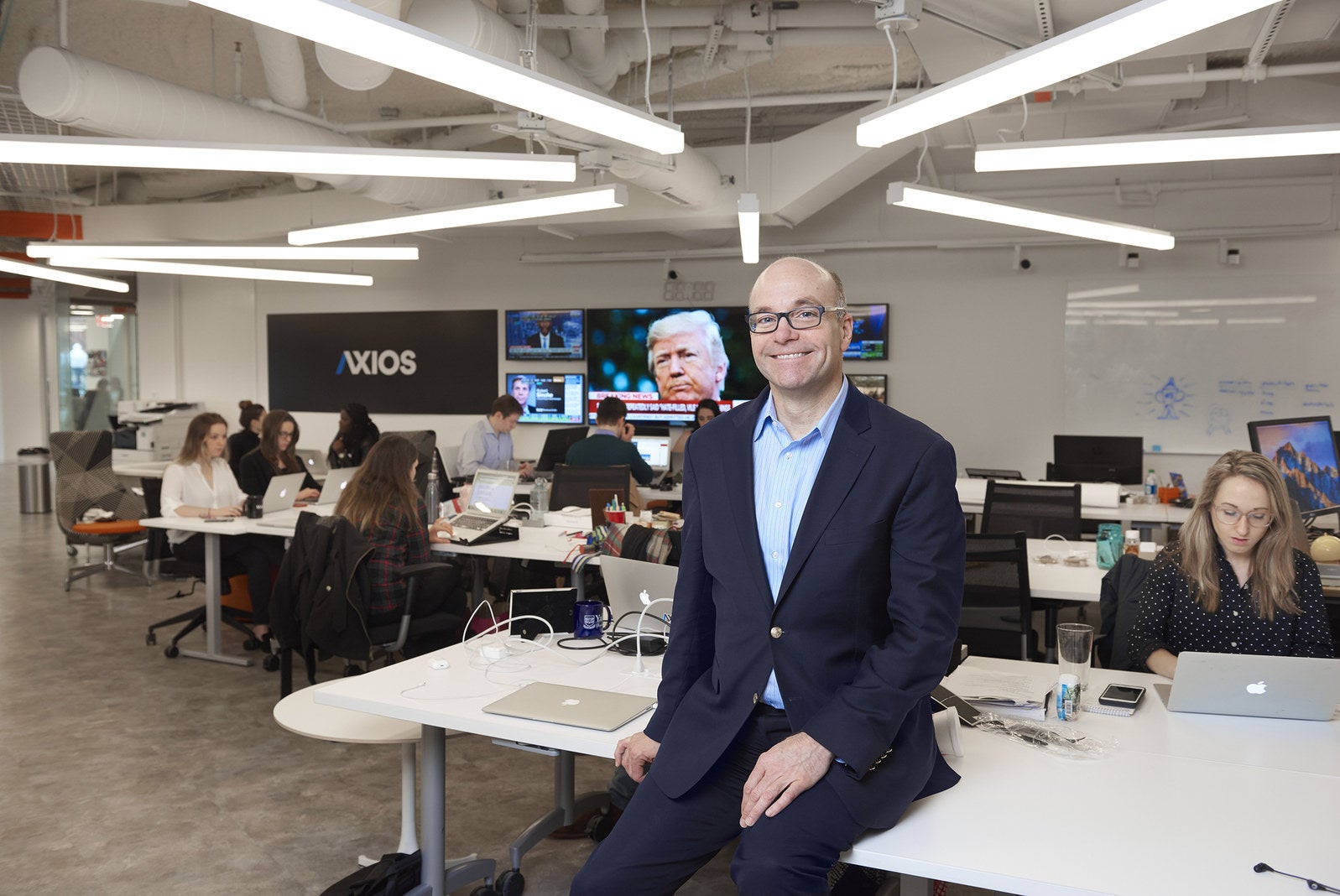 For all of the anti-press rhetoric, one of the great ironies of the Trump era has been the resurgence of old-school media. The Washington Post and the New York Times are enjoying huge subscription booms, dueling daily on colossal stories like the Russia investigation. TV networks are driving stellar ratings, despite the frequent refrain that cable is a dying medium. And the most important cable news viewer in the world watches constantly, live-tweeting. In every instance of political transition, there are a few pushy media newcomers made for the moment. Politico was that in 2008. Maybe Axios is that now. The product, after all, is delivered just how Trump likes it — short-and-sweet, just enough words to know Why It Matters.
Executives in media and tech are quick to credit Axios for being unburdened by legacy traditions. "You have to be thinking deeply about how to get credible news to people," said Hamby. "I don't think a lot of consumers are reading to the bottom of 1,600-word day stories in newspapers anymore. People in the media need to accept that."
Axios has collected a bench of talent extending beyond politics — like Dan Primack, the Mike Allen of the venture capital beat. Veteran reporters, like Ina Fried on technology and Amy Harder on energy, are expanding Axios's reach. If Politico reshaped coverage of politics, VandeHei and Allen want Axios to transform coverage of politics, tech, business, media, and beyond.
Axios's business side shares the same objective. Roy Schwartz, Axios's president and the former chief revenue officer of Politico, has argued against longer "native advertising," an under-pressure business model wherein media companies create branded articles and videos that resemble regular editorial content. Typical banner advertisements, Schwartz says, don't work either. Axios offers, in their place, truncated custom ads on its stream of stories and within its newsletters for advertisers like Boeing and Koch Industries. These short ads look and feel…kind of like Axios posts. "Smart brevity works in editorial," Schwartz said. "And so therefore it works in advertising."
Like other rivals, Axios has also taken its show on the road in an effort to build out an events business and spread the good news of smart brevity. Many of the events have been shaped around Allen, and he has interviewed newsmakers like Sheryl Sandberg, Paul Ryan, Mitch McConnell, Steve Mnuchin, Joe Biden, and Sean Parker. "We want to be a national brand, and Mike is a key part of that, because Axios AM has a following around the country," said Evan Ryan, executive vice president of Axios and the former assistant secretary of state for educational and cultural affairs. "Mike might be our magnet."
"Everything is going to get faster and smarter and shorter — and anyone who stands in the way will be destroyed."
What the future holds for Axios, like most media companies right now, is unclear. It has no benevolent billionaire owner, but it has added itself to the roster of recognizable, high-flying new media startups. After an initial investment, the company raised an additional $20 million late last year, giving it a post-money valuation of more than $100 million, according to a person familiar with the matter (Axios declined to comment). According to two people familiar with the company's finances, Axios pulled in more than $12 million in revenue in 2017. In presentations to investors, the company expects to double that this year — and expand from 95 to 150 employees. (Axios and BuzzFeed share common investors, such as NBCUniversal.)
VandeHei took flack in the media world for saying in 2016 that he was eyeing eventual subscriptions at around $10,000. The company has delayed a subscription business, but some form of that model will be on the way toward the end of this year or the beginning of 2019. Axios says it has 260,000 subscribers across 11 newsletters, with an open rate of about 50% (the average reader subscribes to 2.5 newsletters).
If you believe in Axios's vision for where things are headed, the competition can deride the news outlet (but not on the record, of course) as an avatar for Washington's worst journalism predilections all they want. They are dead meat. "Everything is going to get faster and smarter and shorter — and anyone who stands in the way will be destroyed," says Axios's editor, Nicholas Johnston.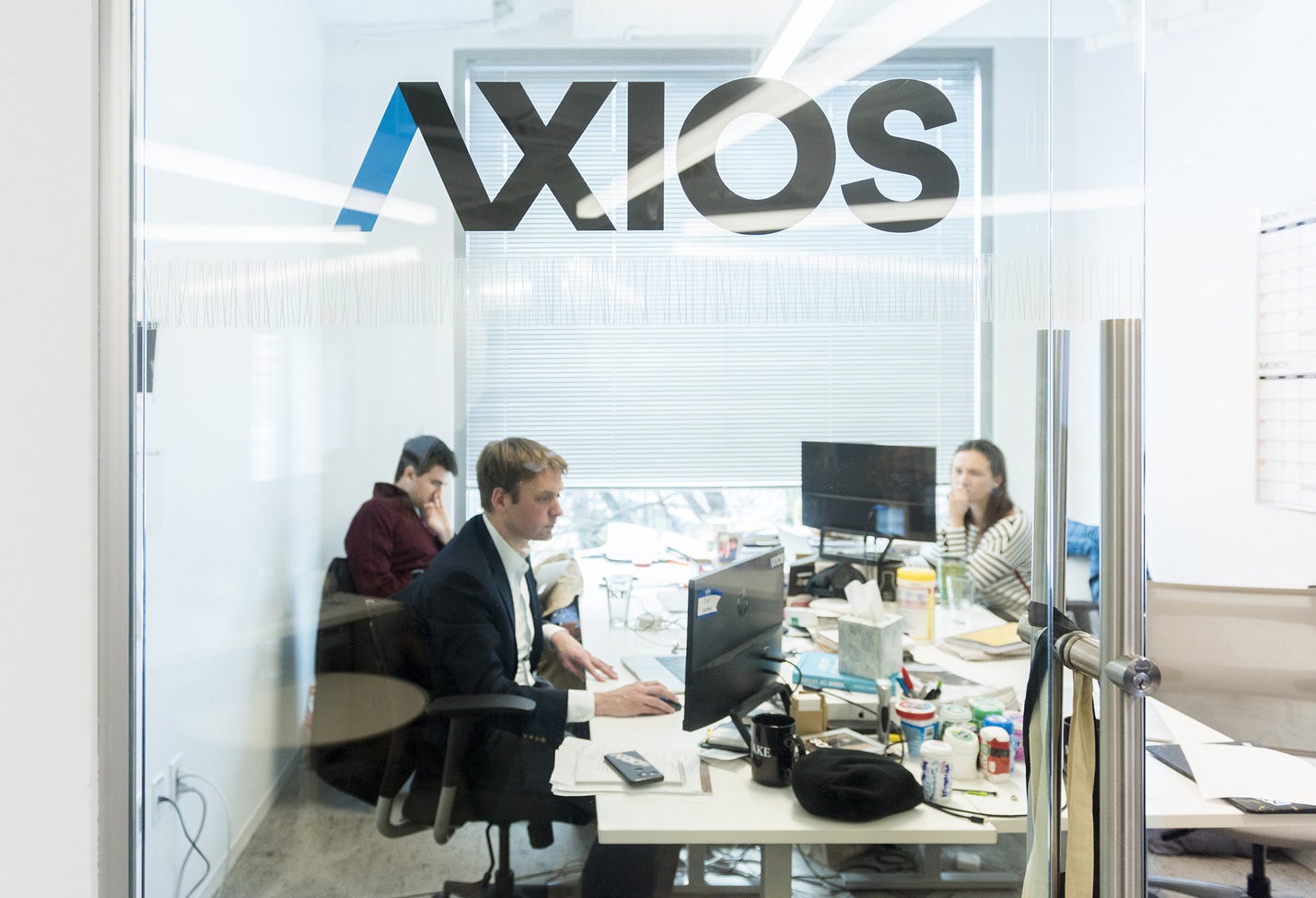 Johnston, formerly the managing editor of part of Bloomberg's Washington operation, oversees Axios's growing newsroom, a mixture of veteran beat reporters like Allen, and twentysomethings learning to break stories, aggregate from other outlets, and spin up the wisest Be Smarts in town. Illustrations from stories adorn the walls of the Axios office, a coworking space in Arlington, not far from Politico. Johnston has a picture with the rarely photographed Matt Drudge hanging in the office.
Drudge is a big Allen fan, too, tweeting in December that he was DC's "top reporter," before praising him for being "bold, plugged in, mysterious and controversial."
Trump has brought out, in Allen, all of those things. Allen can be bold, but when he's critical of Trump, it's typically because the president is tearing up some beloved norm of Washington. Allen is plugged in — well-sourced among the powerful like always — and Axios has in its young life already achieved controversial status among its peers. And he is, of course, mysterious, described by just about everyone as disarmingly polite. "It seems like there must be some sinister, creepy motive at the core, but there isn't," Fox News host Tucker Carlson says. "Everyone who's profiled him has reached the same conclusion."
On the way out of the CNBC studio, Allen — who, like the president, gets little sleep — is far more buoyant than most adults should be before 7 a.m. He thanks the production staff and wishes them a happy weekend. He asks the makeup women, who have MSNBC airing on their TV, how Jonathan Swan did on Morning Joe, but they weren't really watching. Despite the bone-chilling bomb cyclone temperature, Allen stops outside and says something so cinematic that he surely wants it to appear in this story — or, if you believe Tucker Carlson, he doesn't.
"You see that?" Allen says, motioning to the Capitol dome, illuminated in the predawn darkness. "Never gets old." ●