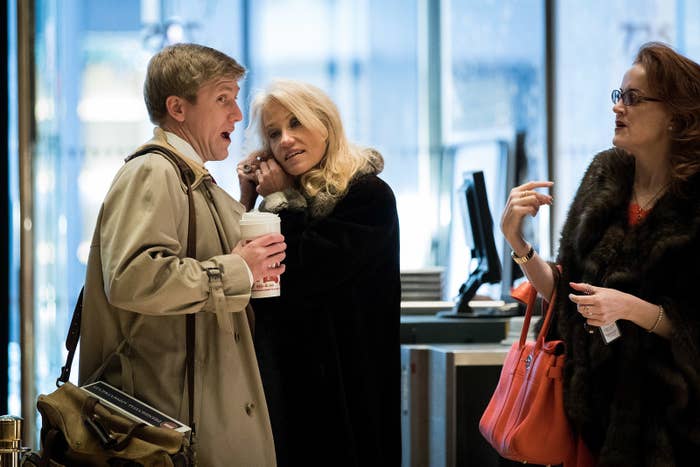 One of Vice President Mike Pence's top political advisers is a major investor in the Independent Journal Review, a social media-minded news outlet geared toward young conservatives.
Nick Ayers, Pence's top strategist outside of the White House, confirmed to BuzzFeed News that he owns part of IJR. He is also playing a major role in America First Priorities, a political group launched by Trump campaign advisers to trumpet the president's message. He joined Trump's campaign when Pence was tapped as the vice presidential nominee and later acted as a senior advisor for the vice president-elect during the transition. Ayers previously worked as a political consultant and as campaign manager for former Minnesota Gov. Tim Pawlenty's presidential bid in 2012.
There's no indication that Ayers was involved in this week's controversial State Department decision to grant the sole press spot on Secretary of State Rex Tillerson's trip to Asia to IJR's White House correspondent. The move, a break from tradition, has enraged the State Department press corps as Tillerson makes big diplomatic news without a traditional pooler tagging along.
Ayers' investment in IJR is another example of close ties between Trump's orbit and a favored media outlet. Steve Bannon, the president's top strategist, ran Breitbart News for years and has brought with him to the administration a handful of ex-Breitbart staffers. The company has said that it no longer has financial and editorial ties to Bannon. Trump's son-in-law and senior adviser Jared Kushner transferred his ownership of The New York Observer to a family trust.
There's no sign that Ayers has had any editorial involvement with his investment, and a person involved in the company noted that IJR notably didn't benefit from insider leaks during the campaign.
The revelation of Ayers's investment comes as a series of recent IJR stories attracted wider attention. An IJR reporter had dinner near the president at DC's Trump Hotel based on a tip from a source. The site scooped the national media when it first reported that Neil Gorsuch would be Trump's Supreme Court nominee.
IJR also faced criticism for a story posted Thursday spreading a conspiracy theory that Barack Obama made a "surprise visit" to Hawaii to sway a judge there to block Trump's revised travel ban executive order. IJR later retracted the article and posted an editor's note apologizing. The publication's congressional reporter resigned Thursday over disagreements with IJR's direction.
IJR was founded in 2012 by Alex Skatell, who previously met Ayers when he worked in Republican politics, and Phil Musser, a former executive director of the Republican Governors Association.
The site has found success in fashioning viral right-leaning web content geared for heartland news consumers, like funny GOP candidate videos (Sen. Ted Cruz fired a gun wrapped in bacon, for instance). IJR has also sought to ramp up its reporting chops, hiring journalists from mainstream outlets and co-sponsoring a GOP debate with ABC.
This week, IJR's reporting push came at the expense other political news outlets. BuzzFeed News first reported that Erin McPike, IJR's White House correspondent, was the sole journalist selected for a spot on Tillerson's trip. "We don't take this opportunity lightly and recognize the controversy surrounding press access for the trip," Skatell said in a statement at the time.
McPike's selection became the subject of a heated State Department press briefing on Wednesday. "Can you explain why, once a seat was identified on that plane that was available, the decision was made rather than to allow the press to send a pooler who would share information and actually allow us to work around not being there personally, the decision instead was made to handpick a conservative outlet to accompany the secretary and not to share that information?" one reporter asked State Department spokesperson Mark Toner, according to a transcript.
"In this specific trip and instance, it was decided to take – to make an outside-the-box, if I could put it that way, decision to bring somebody in who doesn't necessarily cover the State Department, a media outlet that isn't steeped in foreign policy and give it a new, fresh perspective," Toner said.
On Friday, reporters complained on Twitter that McPike had not filed a piece yet, even though Tillerson made newsmaking comments about North Korea and decided cut his trip to South Korea short. "While external advice is noted, I'm working on a longer piece per explicit instructions from my supervisor, and I always have been," McPike tweeted. Skatell tweeted that he is to be blamed for McPike's silence: "View is a series of tweets not best medium to convey a long form piece."
In an email to staff on Saturday obtained by BuzzFeed News, Skatell said that investments from Ayers and other investors amounted to less than 10% of the company. The note did not disclose any other owners:
Team,

I wanted to make sure you had the facts on this story which broke yesterday:

https://www.buzzfeed.com/stevenperlberg/a-top-adviser-to-mike-pence-is-an-investor-in-favored-media

As many of you know, this was something we were very open about internally in the company. Our last fundraise, which was over 2 years ago, was to have the financial resources so that we could expand the newsroom both in Washington DC, but also to build out a vision of writers around the country who could challenge our conventional wisdom and vice versa.

I'm thankful to the investors and all the people along the way who have taken a chance on us and that vision. While we've had our share of mistakes, we are in a position to learn from every single one of them and continue to strengthen and grow.

I want to be very clear about the story from yesterday - Nick Ayers' investment and the investments of all of our investors combined amount to less than 10% of the company. To put this in perspective Carlos Slim owns 16% of the New York Times, Washington Post has majority ownership by Jeff Bezos, and the list goes on and on, and at the end of the day every media business in the world has investors and owners. We should celebrate people willing to invest in journalism and especially our audience that is largely underserved. What is wrong and hurtful is suggesting that we are controlled by any individual or even group that collectively amounts to less than 10% ownership.

I want to again thank Maegan and Emily for their work laying out and enforcing our comprehensive editorial standards. Emily and her team of 6 are now empowered and entrusted with the sole goal and authority to investigate and enforce all policies before stories are ever published or less ideally after the fact when mistakes are made.

We're all human and we will make mistakes, and it falls on me when these processes break down. I'm fully committed to the vision I laid out here http://ijr.com/2017/02/807683-to-ijr-staff-a-look-ahead/ and I'm honored to be working alongside you everyday. Our goal is to get better every single day at presenting the truth and news to a community of Americans that has shown in every way possible they feel overlooked.