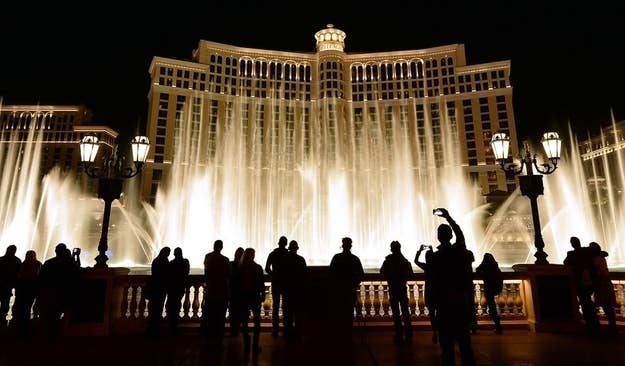 At the mention of hosting a national political convention, Las Vegas leaders used to scoff.
They were way too busy making cash off business-driven mega-conferences to accommodate a bunch of eggheads who probably didn't gamble much, they confided in private.
The weeks-long inconveniences of a convention — traffic, security perimeters, an uncontrollable press corps at a way off-brand event — in an otherwise busy venue were always considered too high a price for too small a payoff.
Well, forget that. Las Vegas is now in the hunt for the Republican National Convention with both feet, its Republican governor, senator, and mega-donors all blessing a campaign that once felt beneath the, uh, dignity of Sin City.
And, in Vegas parlance, they may be an odds-on favorite win.
"The response received four years ago in Vegas was that it wasn't a good business decision," said Lt. Gov. Brian Krolicki, the Republican leading the push, told BuzzFeed last week. "But the thinking has evolved."
The benefits of a Vegas convention for the RNC in 2016 are obvious. Vegas is a logistical dream: There are more than 100,000 hotel rooms within a two-mile radius of either of the likely sites, the Las Vegas Convention Center or a new 20,000-seat arena expected to be built along the Strip near the New York-New York resort. The airport is among the nation's easiest and most convenient to use — and, unlike Tampa, a hurricane is less likely on the Strip than the Jaguars making the 2014 Super Bowl.
The politics end offers a lot too. Nevada is a bona fide swing state worthy of such attention. What's more, the glamor of the Strip might actually add some pizzazz to a crowd described by RNC chairman Reince Priebus in March as a party of "stuffy old men." And, by all accounts, the 2012 breakout mega-donor Sheldon Adelson — net worth: $28.5 billion, per Forbes — is eager to spend seven figures to defray costs typically incurred by local taxpayers.
"These are folks who have been generous to the RNC in the past, so we believe we can present a financial model that will be very appealing," Krolicki said.
But Krolicki's tune is a jarring change from the swaggering Vegas of old, the one that found this to be a bothersome piece of business that would draw a sort of clientele and off-message media coverage the city wasn't looking for. Vegas, after all, doesn't show clips of its many conventions — a core part of the town's economy — in the ads they book during Mad Men.
"We've been invited (to pitch a convention plan) and, solely as a business decision, we haven't," said Billy Vassiliadis, owner of R&R Partners, the firm that handles advertising and marketing for the Las Vegas Convention and Visitors Authority, in the interview with the Las Vegas Sun years ago. "It's just a function of our business model and their needs not intersecting."
Now the RNC is sweetening the pot with a willingness to move its quadrennial show to July — the quietest time in a town when the average high is over 105 degrees — and find ways to shrink the window that the Secret Service traditionally needs to secure the premises for a convention.
"From some of the very preliminary discussions on logistical side, I understand there has been a potential tightening of the time frame for security," Vassiliadis told BuzzFeed. "Vegas is built to move a convention in effectively and move it out again. It isn't the same buildup cost or logistical cost or structural cost" as likely rival Kansas City.
More significant, though, is that Vegas was chastened spectacularly by the Great Recession. Even a half-decade after the national housing and banking collapses began, Nevada still suffers the highest unemployment and foreclosure rates in the nation. Three mega-resorts — Encore, Aria and the Cosmopolitan Las Vegas — have opened since the fiscal crisis started, adding about 10,000 hotel rooms at precisely the moment when recession-battered Americans stopped coming.
Tourism numbers have perked up thanks largely to the broader recovery and significantly discounted room prices. Yet it has been difficult to wash off the stink of failure that comes with such ignominy, especially after the hubris Vegas showed for much of the 1990s and into the aughts.
"The recession really hit really hard and we're not back to where we were before," said former Nevada Republican Party chairwoman Sue Lowden, a candidate for lieutenant governor in 2014. "It would be good for us. We're looking at new ideas."
The national parties have considered Vegas before, given its gargantuan and concentrated room supply, only to have been summarily spurned. But it was usually Democrats — led, of course, by Senate Majority Leader Harry Reid — that seemed most intrigued.
Nevada's strong labor unions and burgeoning Hispanic populations helped President Barack Obama win the state twice, and Democrats are far less discomfited by the overt sexuality of the town. The GOP's two most recent nominees, John McCain and Mitt Romney, were never photographed in casinos on their campaign visits; Obama, Joe Biden and Hillary Clinton both glad-handed in full view of the media at the Bellagio, Caesars and Aria resorts, among others.
But the old stigma about Vegas as a turnoff to religious conservatives will be allayed in their bid, Krolicki said, by emphasizing family-friendly offerings of the Strip and the surrounding environs. The fact that Garth Brooks and Shania Twain have standing Vegas gigs and the Grand Canyon is a few hours east can only help, he said.
"Country Western will be very much part of a presentation we make," Krolicki said. "There's a vast array of entertainment and talent in Las Vegas to appeal to just about anyone, including social conservatives."
More importantly, Lowden said, the city can hardly afford to turn away high-profile business.
"Any time you're on national TV and people having a great time and loving your city, it's good," Lowden said. "I don't know if you can be on TV too much."