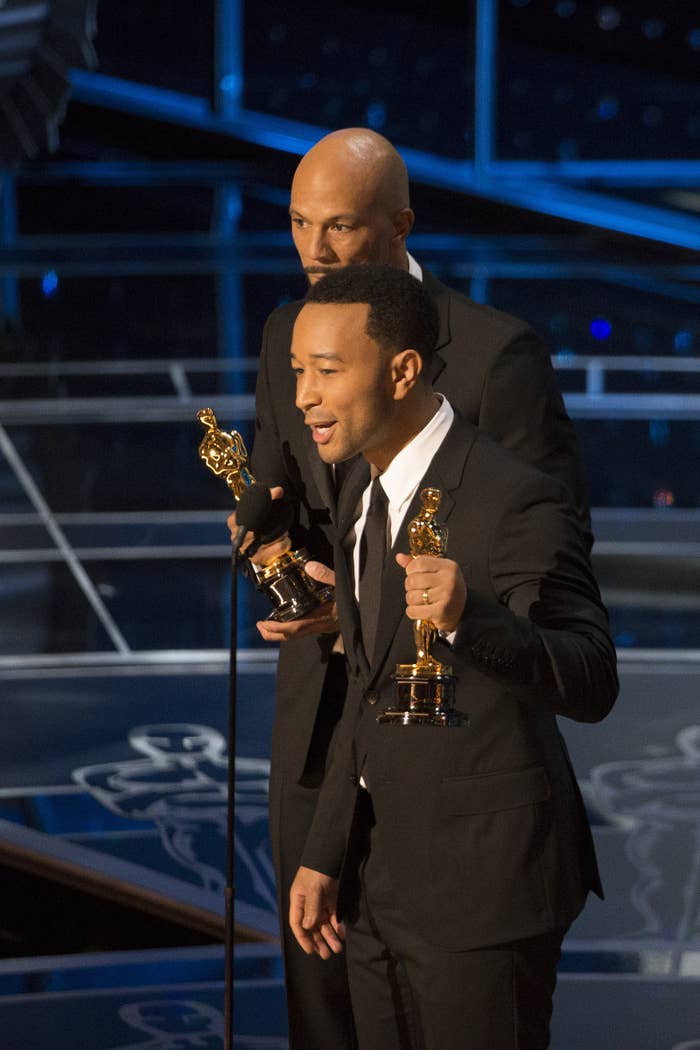 After Common and John Legend won the Oscar for Best Original Song for their hit "Glory" from the civil rights film Selma, both men decided to use their acceptance speech to address injustice in the contemporary world as a parallel to the subject matter of the song and the film. But the way each of these artists addressed these issues — and the audience's response to their words — reveals how Hollywood embraces only change that makes everyone comfortable.
Common spoke about the legacy of the Selma marches and the infamous bridge where marchers in 1965 were assaulted by officers and civilians as they attempted to cross. It was a speech about common struggle, one that attempted to tie together disparate conflicts around the globe. It garnered a wave of applause from the mostly white crowd.
"This bridge was once a landmark of a divided nation but is now a symbol for change," Common said. "The spirit of this bridge transcends race, gender, sexual orientation, and social status. The spirit of this bridge connects a kid from the South Side of Chicago dreaming of a better life to those in France standing up for their freedom of expression to the people in Hong Kong, protesting for democracy. This bridge was built on hope, welded with compassion."
"Selma is now because the struggle for justice is now," Legend said. "We know that the Voting Rights Act that they fought for 50 years ago is being compromised in this country today. We live in the most incarcerated country in the world. There are more black men under correctional control today than were under slavery in 1850."
Legend's words led to awkward silence and some scattered applause, a very telling reaction from the awards show crowd on a night where political and social issues seemed to be mentioned or referenced almost everywhere.
Common's words pulled everyone under the sense of false togetherness that informed slogans like "All Lives Matter," the comfortable-but-disingenuous belief that everyone is fighting for and against the same evils. Sure, there are oppressors — but not you guys, Oscar audience.
Common, the Chicago-born rapper who debuted in the early '90s as the wisecracking wordsmith Common Sense, spent most of that decade releasing music that generated critical acclaim but was almost completely removed from mainstream visibility. An almost underground emcee known for political and social commentary with songs about everything from the exile of Assata Shakur to the abortion debate, Common didn't gain much visibility outside of "conscious" hip-hop circles until he released hits like "The Light" and landed high-profile acting gigs in films like American Gangster in the 2000s. And he's often referenced Marcus Garvey, The Last Poets, and other figures of black empowerment in his music and conversations. On the other hand, Legend's early music was largely apolitical, with huge hits like "Green Light" and "All of Me" and his nine Grammys defining his public persona.
But recently the two seem to have modified their positions, with Common softening his positions on race and politics, and Legend becoming more outspoken with his. In a recent interview with Rolling Out magazine, Common said, "The fight isn't a race thing. The fight is overcoming injustice and letting love prevail and fighting for peace. So music does exist like that. Other artists have a lot to say. That's why I don't focus on one aspect. People are going to be who they are. [Just] present the whole spectrum."
It's likely that Common is as passionate about the struggles of black people as he's ever been, but it also seems that his perspective is becoming more defined by a sense of all people coming together — as opposed to directing his focus at the specific institutions that have hampered the social standing of blacks in America and abroad. Ultimately, that's a safer and less controversial stance for him to take.
Legend, on the other hand, seems to have become much more direct and outspoken about those same institutions. For an artist who initially seemed to limit his advocacy to philanthropic causes like helping impoverished people in Ghana and Somalia and families displaced by Hurricane Katrina, he's become much more politically vocal in recent years — especially over the past year — regarding everything from the controversies surrounding the rash of police killing unarmed black men in 2014 to the conflict in Gaza.
During the wave of protests in Ferguson, Missouri, following the shooting of Mike Brown, Legend made it clear how he felt about the killing and its aftermath. "I believe these cops are intentionally trying to inflame the situation. They want an excuse," Legend tweeted at the time. "Recall the local cop telling those 'animals' to 'bring it' on CNN...He wants a fight."
When followers responded with accusations that Legend was fanning the flames of hostility and that Ferguson wasn't "about race," the singer was swift to correct them. "This is about racism," he tweeted. "I hate to break it to you, my friend."
In December, Legend also wrote an op-ed for Billboard where he addressed the current racial climate in America. "African-American communities are being crushed by a criminal justice system that over-polices us, over-arrests us, over-incarcerates us, and disproportionately takes the lives of our unarmed youth because of the simple fact that our skin, our blackness, conjures the myth of the hyper-violent Negro," he wrote.
Hip-hop has the pedigree of being an almost inherently political art form; even some of the most ballerific emcees have espoused some level of commentary on the state of their communities. Contemporary R&B — especially the sort of romantic fare Legend became famous for — has mostly been viewed as bedroom music or pleasant background for a sophisticated dinner party. In an age of Ferguson and Eric Garner, Legend seems to have a better understanding of why it is important to not allow anyone to lean on paeans of peace and understanding while storms of inequality and oppression are raging. And the singer who seemed to be the 2000s' answer to Lionel Richie has a better grasp on that than the rapper with the Gil-Scott Heron complex.
Pining for togetherness in a world that consistently marginalizes specific groups of people does no one any real good; it absolves those in positions of privilege and obscures those being subjugated. And anyone who is truly focused on moving forward can't be comfortable with that. Just last week, The Hollywood Reporter revealed that an anonymous Academy voter was offended because the cast of Selma wore "We Can't Breathe" T-shirts to the film's premiere in December. With Legend's speech — and the awkward response it received — it became painfully obvious that the idea of Selma is much more palatable to Hollywood than the reality of what it represents, both historically and as a film. As Common eloquently championed the symbolic meaning of that famous bridge, Hollywood reminded all of us that it's still very much afraid of truly crossing it.