Officials Euthanize Grizzly Bear That Killed And Partially Ate Yellowstone Hiker
The female grizzly bear was euthanized Thursday after wildlife officials used DNA tests to confirm it was behind the fatal attack.
Officials at Yellowstone National Park euthanized a grizzly bear after they said DNA tests confirm it had killed and partially ate a hiker days earlier.
On Friday, park officials discovered the body of the hiker — 63-year-old Lance Crosby — near Lake Village in Wyoming.
National park officials said in a statement that they decided to euthanize the grizzly, which had two cubs, based on the "totality of the evidence."
"An important fact in the decision to euthanize the bear was that a significant portion of the body was consumed and cached with the intent to return for further feeding. Normal defensive attacks by female bears defending their young do not involve consumption of the victim's body."
Described as an "experienced hiker," Crosby was a seasonal employee for Medcor, a company that operates urgent care facilities inside the Yellowstone National Park. He was reported missing Friday after he missed work.
Searchers found his body off a trail, and what appeared to be defensive wounds on his arms.
Officials plan to transfer the bear's two cubs to a facility accredited by the Association of Zoos and Aquariums. In parts of the United States, including Wyoming, the grizzly bear is listed as a threatened species.
"As managers of Yellowstone National Park, we balance the preservation of park resources with public safety," park Supt. Dan Wenk said in a statement. "Our decision takes into account the facts of the case, the goals of the bear management program, and the long term viability of the grizzly bear population as a whole, rather than an individual bear."
Area closures put in place after the discovery, including the Elephant Back Loop Trail and Natural Bridge Trail, are scheduled to be lifted Friday.
The mere possibility that the bear could be euthanized prompted a wave of anger on social media.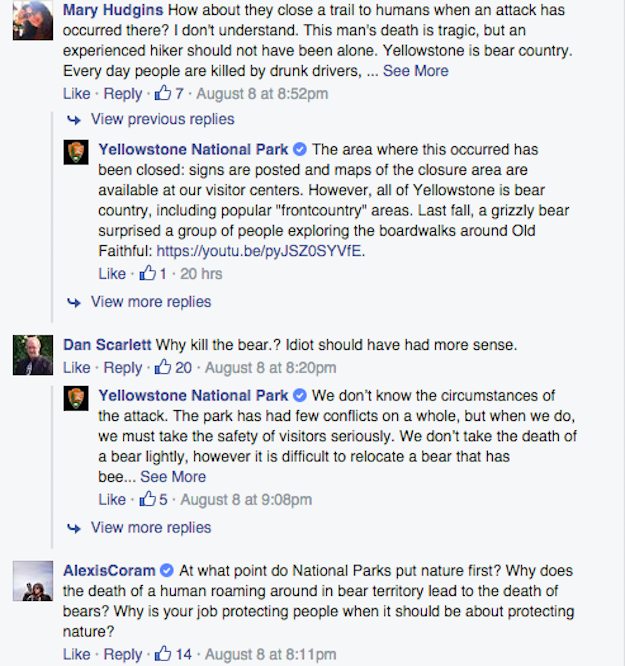 Many people argued it wasn't fair to kill a bear for acting in defense of itself or its cubs.
In multiple Facebook responses, park officials wrote that they understood the concerns, but said they have to make public safety a top priority.
"The park has had few conflicts on a whole, but when we do, we must take the safety of visitors seriously," park officials wrote.
Yellowstone officials added that they would be unable to re-home the bear in a zoo because they don't do well in captivity once they have already lived in the wild.