Chrissy Clarius used to think her engagement ring from Jim, her husband, was perfect: a solitaire on a 14-karat white-gold band.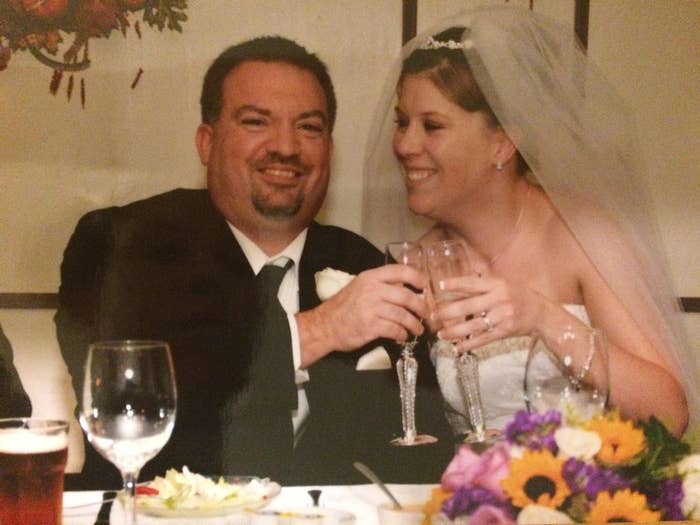 Jim bought the ring in 2010 for $4,299.99 from Kay Jewelers at the White Marsh Mall in Maryland. Included was a certificate of authenticity from Gemological Science International — one of three organizations that Kay uses to certify and grade its diamonds before they are sold — for the 1-carat stone.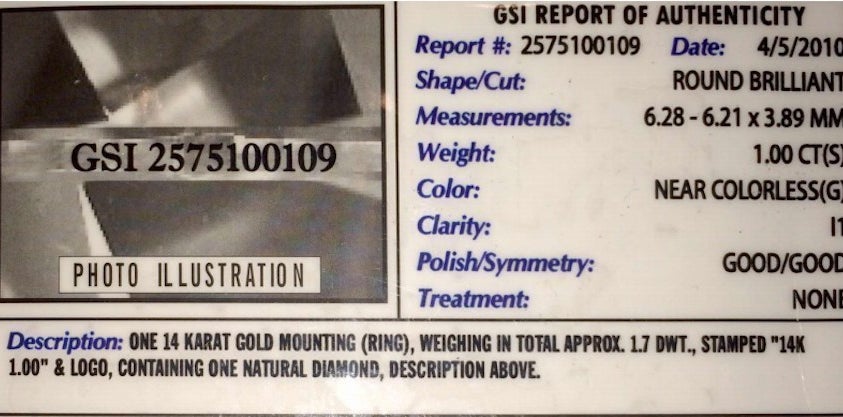 The purchase was covered under Kay's gemstone guarantee, which insures the stone against loss and damage as long as the customer brings the ring in every six months for an inspection.
Clarius told BuzzFeed News she was religious about getting her ring inspected: Over the years, she said, she believes it was sent out three times for various repairs.
In February, Clarius took the ring to the Kay at the Westminster Mall in Maryland for its checkup, and had it sent for repairs because the prongs were loose. But the ring that came back, she said, had a stone in the setting that wasn't a diamond at all.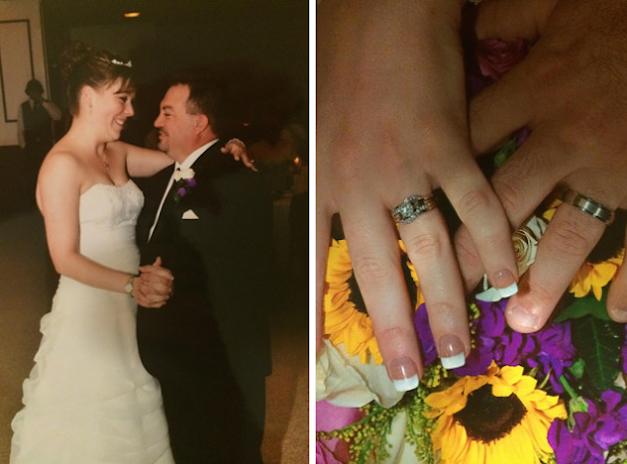 Clarius said she started to fear something was wrong when during the initial checkup, a Kay employee went to check the diamond for its certification number; the number is inscribed on the stone by the GSI.
The Kay employee couldn't find it. Clarius said she never saw the inscription herself, but she trusted Kay. She added that her husband saw it when he bought the ring.
Clarius had the ring sent out for the repair anyway. When she picked it up in March, she asked again if an employee could find the number.
"They did not," she said. "The manager told me the repair shop said the number was simply never put [on] it, but the ring does match every detail on my card…minus the number."
Clarius said something didn't feel right. So she took her ring to another mall jeweler, Littman Jewelers, and asked if they could certify her stone. They tested the ring and delivered gut-punching news: It wasn't a diamond.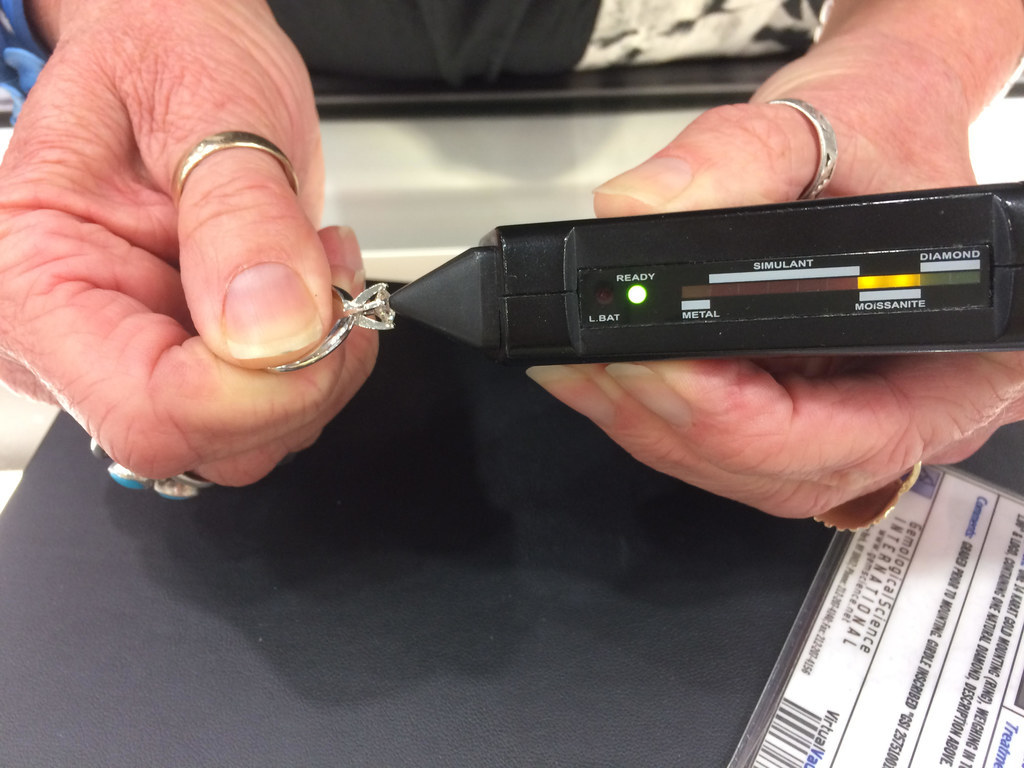 "It was discovered that it was moissanite and not a diamond, and set [in] platinum, not white gold," she said. "I felt sick to my stomach."
Clarius said she believes her original diamond was swapped for the moissanite stone during a Kay repair.
Moissanite is a stone that, like cubic zirconia, looks a lot like a diamond but is much more affordable. (For example, you can buy a 5-carat moissanite stone for about $900 online.)
The couple were devastated. On March 23 they went to another local Baltimore jeweler, Smyth, for a second test — which also showed the stone was moissanite. But when they took the ring to Kay, Clarius said the stone tested as a diamond.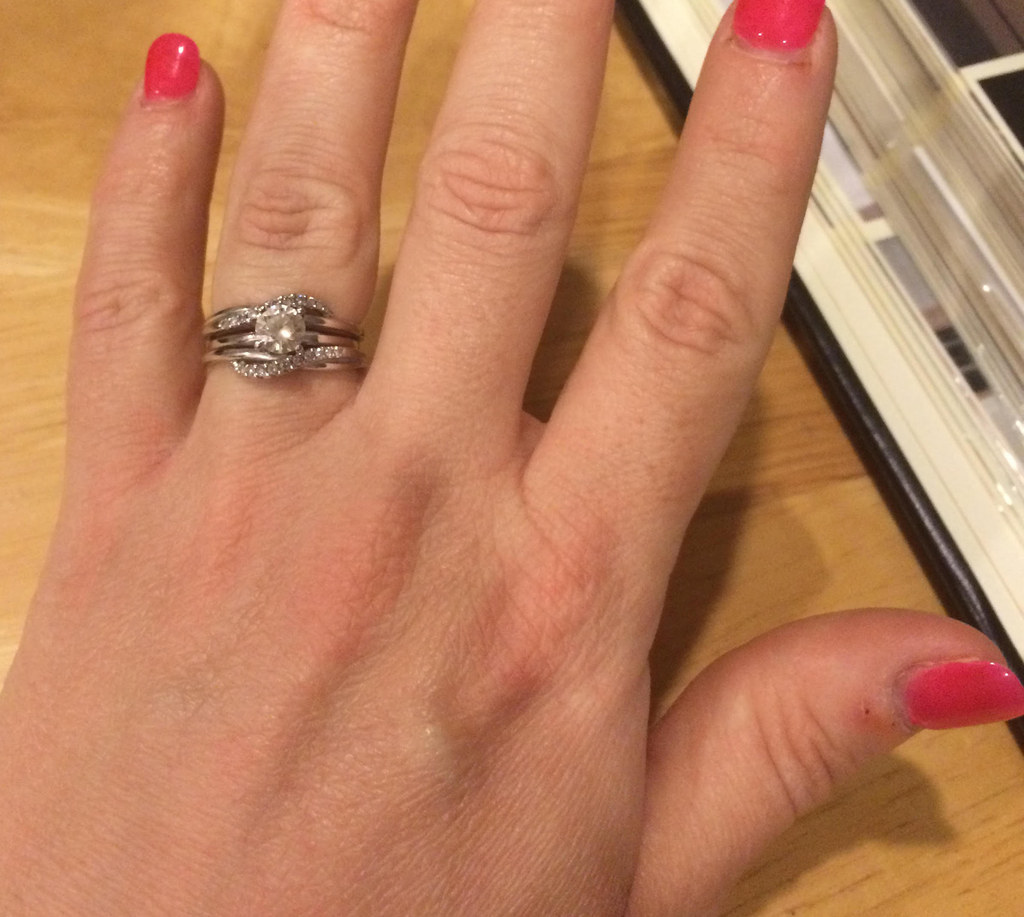 The manager of the Westminster Mall Kay store also had an employee at Zales — which is owned by the same parent company as Kay — test the stone. Clarius said this test showed the stone was a diamond as well.
Clarius said the Kay manager asked if she had taken the ring to the other stores for repairs. (Clarius said she kept a watchful eye over her diamond at Littman and Smyth, bringing it to those two stores for testing only — and did not let the stores keep the ring overnight.)
"I feel heartbroken and disgusted. I feel like it is my word against a big jewelry store and I'm being made to look like a liar," she said. "The fact that the manager had the audacity to imply I took my ring elsewhere is very discouraging."
Clarius said Kay has told her the loss protection team is looking into the issue. She has also filed a police report in Baltimore County and a complaint with the Maryland attorney general's office's consumer protection division, according to documents she showed BuzzFeed News.
Kim Kanary, a Kay spokeswoman, told BuzzFeed News that the company is "continuing to work with Ms. Clarius toward resolution" of her issue.
BuzzFeed News identified at least seven other women on Facebook who claimed their stone had been replaced by Kay.
Since she posted a complaint on Kay's Facebook page, Clarius said she had been contacted by "hundreds" of people with similar stories.
Some of those women reached out after BuzzFeed News reported Kay had lost or damaged multiple engagement rings sent in for repairs.
Many Americans know of Kay, Zales, and Jared from their frequent television advertisements. Those chains are owned by the same parent company, Sterling, which also owns a number of regional chains, including Marks & Morgan Jewelers, Gordon's Jewelers, Shaw's Jewelers, and Weisfield Jewelers.
Sterling itself is also a subsidiary of a company called Signet, which is the "largest specialty retail jeweler in the U.S. and the U.K.," according to Sterling's website.
David Bouffard, the vice president of corporate affairs at Signet, said that the instances BuzzFeed News found were "minimal" in comparison to the many happy customers at Kay.
"Every year we've got millions of transactions and millions of repairs we are processing in our stores," he said, though he added that the company considers even one unhappy customer too many.
He said the store prevents stone swaps from happening by checking each certified diamond for its inscription before and after repairs.
The women who claim their diamonds were swapped say the experience was heartbreaking. That's how Hannah LaFlam, a wife and mother from Vermont, described the situation with her Kay diamond to BuzzFeed News.
LaFlam's husband, Jason, purchased her princess-cut solitaire ring for $4,500 shortly before he proposed in July 2013. She said the ring was more magnificent than she had ever dreamed of.
"It was perfect — a perfect diamond," LaFlam said.
Like Clarius, LaFlam said she took her ring in like clockwork for its inspections.
She said she sent it away for repairs at Kay twice: once when she was pregnant, to get it sized up, and about a month ago to get it sized down, after she'd lost weight.
Last week, LaFlam said she went to Kay to pick up her ring from its sizing. Immediately, she said she noticed something was off. Her once-brilliant Leo diamond, which was certified by the GSI, didn't look right.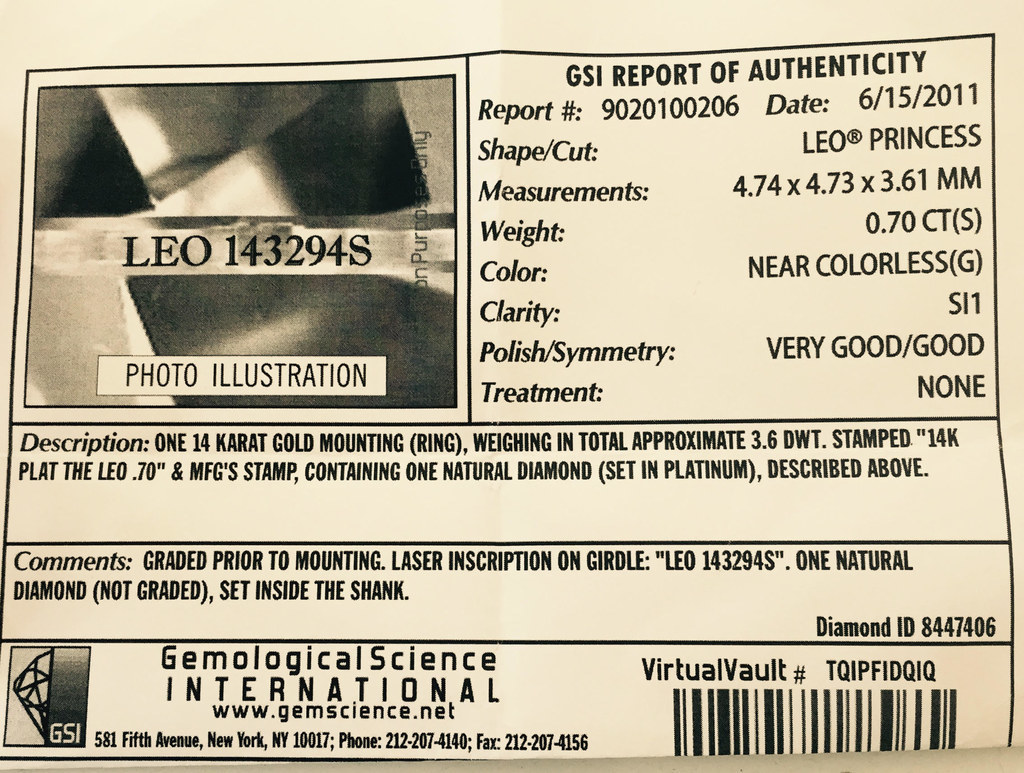 She said she told the Kay employee that she was sure this wasn't her diamond. The sales associate didn't check her certification number, but assured her it was the right ring.
"She said, 'It's just because you haven't seen it for a while,'" LaFlam said.
LaFlam said she left, but still didn't feel right. Once she got outside, she became more and more convinced that her diamond, which she had loved so much, wasn't the diamond now on her finger.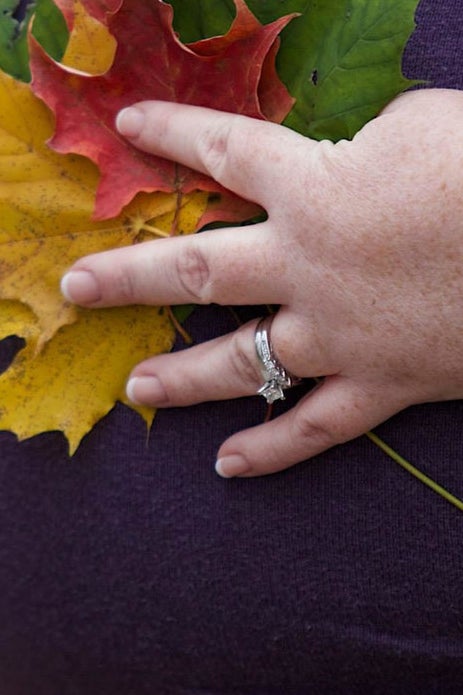 LaFlam's original diamond (left), and the diamond she got back from Kay.
The new diamond seemed bigger, she said, and lacked the brilliance of the original.
"There was no sparkle, it was flat … Mine used to have a rainbow of colors," she said.
Acting on her gut, LaFlam said she called Kay and asked for her certification number. She then took the ring to another mall jeweler, and asked the store to match the number to the diamond she was holding.
She was right: The diamond's number didn't match her ring. She took the ring back to Kay, and when the employee finally checked the number, she said the store admitted a mistake had been made.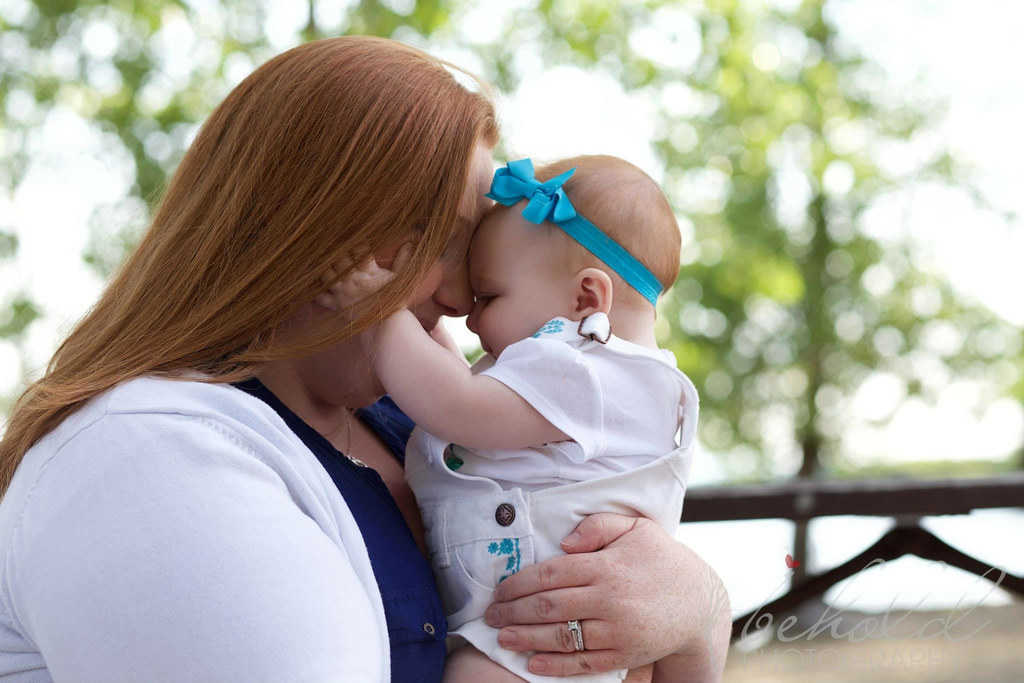 LaFlam said the Kay employees took the new ring away and located her diamond in New Hampshire. On Monday, the ring with her diamond was returned to her. Kanary, the Kay spokeswoman, said that the company also offered LaFlam a gift card for her troubles.
LaFlam said she is happy to have her diamond back, but she doesn't think she will ever use her warranty at Kay again — even though it is already paid for. She said being without her ring was extremely stressful.
"It is a ring, it is a material possession, but it's so much more than that," she said.
Another unhappy customer, Heidi Stier-Rivera, told BuzzFeed News she was so traumatized by her experience with Kay that she no longer wears her engagement ring.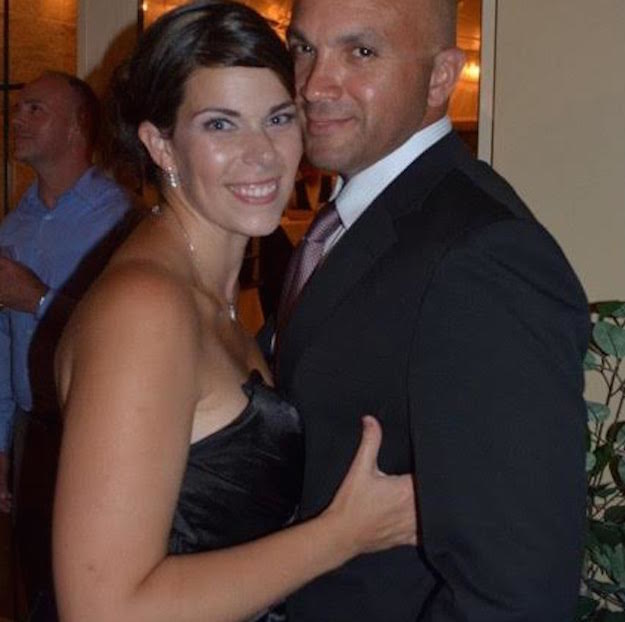 "It was flat-out theft," she said of her experience.
Stier-Rivera, a mom of two and stepmom to two, from Rochester, New York, got married to her husband Orlando in 2007. He spent a lot of time picking out the diamond for her engagement ring before purchasing it for $3,000.
"You purchase it and it lasts beyond your lifetime," Stier-Rivera said of the sentimental value of her ring.
Orlando bought an SI1 diamond. That classification refers to the clarity of the stone — and SI1 diamonds have flaws that are usually invisible to the naked eye.
Stier-Rivera said her diamond did have a small inclusion, or flaw, that she couldn't see and that never bothered her.
Orlando originally purchased the ring in 2005 from J.B. Robinson, which is owned by the same parent company as Kay. However, a few years later, the couple's local J.B. Robinson closed and became a Kay. They were then told to bring the ring to Kay for inspections and repairs.
In 2011, Stier-Rivera said she took her ring to Kay because the setting had worn thin. She said she was told it would be better for her to get an entirely new setting. She agreed, and Kay sent the ring out, but when it came back she noticed something was very wrong with her diamond.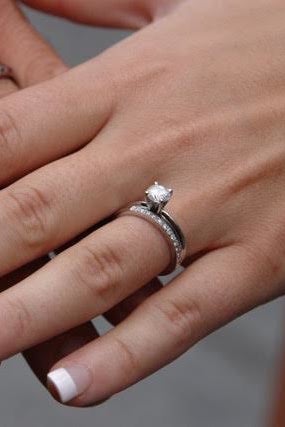 Stier-Rivera's original ring (left), and the ring she said she got back from Kay.
"I could instantly tell just from looking at it … It was so obvious that it was not my diamond," she said.
The new diamond, according to Stier-Rivera, had a very large flaw noticeable to the naked eye. In the above-right photo, Stier-Rivera says the flaw is off-center, to the right.
She said she was positive it wasn't her stone, and took it to a new jeweler to get it checked out.
The new jeweler told Stier-Rivera that the diamond was not an SI1, but rather an I, the next level down on the diamond clarity chart.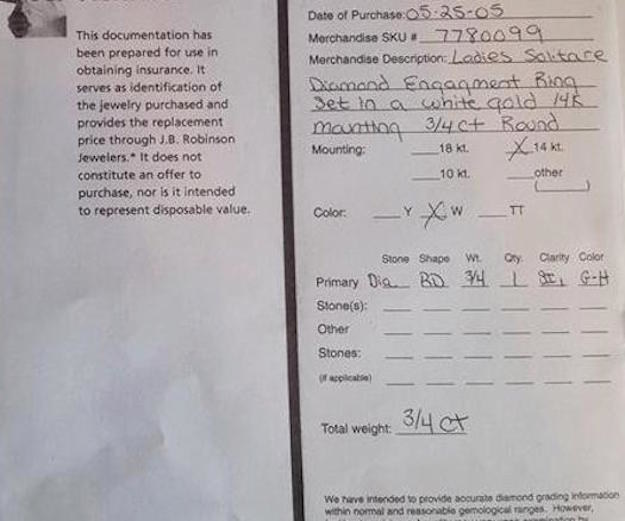 "The jeweler said, 'Look, this is definitely an imperfect diamond,'" she said.
When she confronted Kay, Stier-Rivera said store employees initially said the inclusion just looked bigger in the new setting. Eventually, she said, they told her the diamond was an I, not an SI1.
"They pretty much gave me every single excuse in the book," she said.
After complaining, Stier-Rivera said she got nowhere with Kay.
She gave up, but now has no desire to wear her ring because looking at it makes her angry.
"It's not the diamond my husband got for me — it has no sentimental value for me anymore," she said, adding, "I don't want to have an engagement ring that brings bad memories."
Kanary told BuzzFeed News the company had contacted Stier-Rivera about her issue.
But Kay says it has stringent policies in place to prevent diamonds from being swapped. Richard Cavello, the general manager of the Kay location in Midtown Manhattan, demonstrated to BuzzFeed News how store employees check for the certification number, and said most employees show the customers themselves where the number is.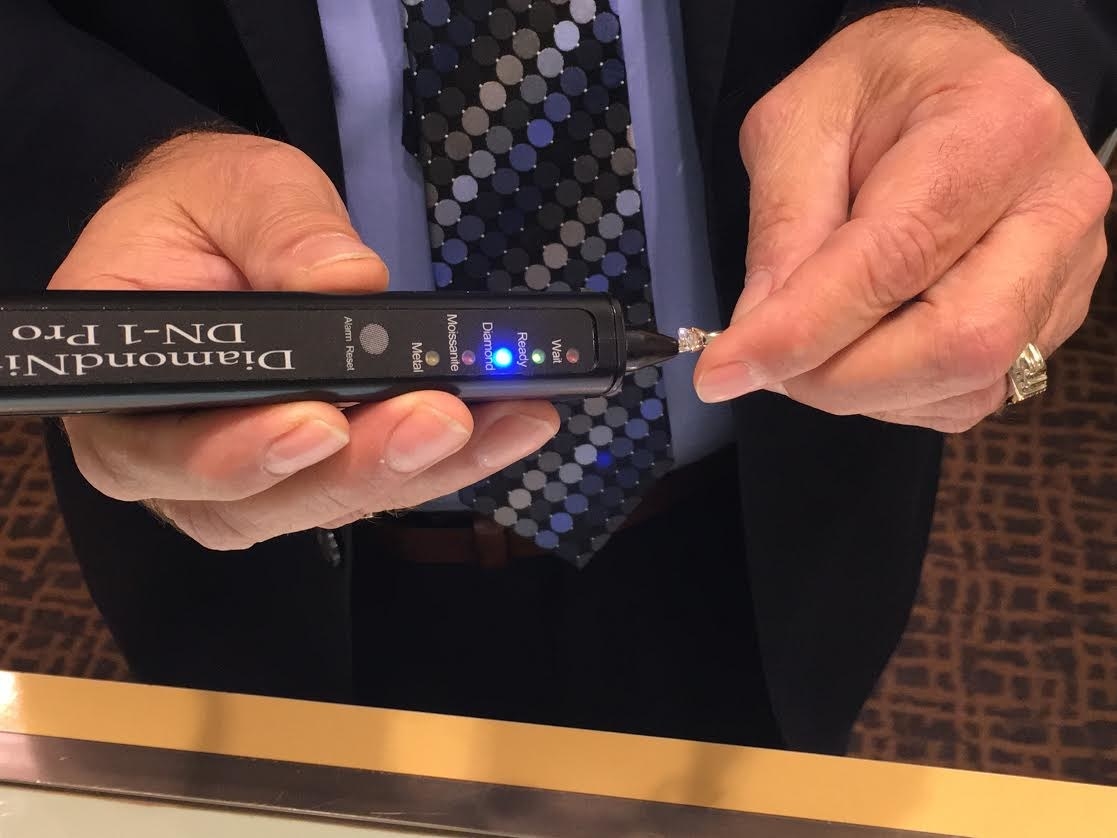 The employees also mark whether the stone is chipped or cracked, and inform the customer before taking the ring away.
The repair workers also check for the certification number during the repair process, he said. Once the repair is completed, store employees check for the number again before handing it back to the customer.
In addition, Bouffard said, many store employees are certified diamontologists who can easily spot discrepancies in stones. These protocols, he said, ensure that every customer leaves with the diamond they dropped off.
"Our store personnel are trained to detect that, and if it was not the diamond that was received, they would know that," he said.
Bouffard said that if someone were to claim they received the wrong diamond, it is possible "they weren't provided enough info when they drop the ring off."
The women who spoke to BuzzFeed News said they are heartbroken not only because of the bad experience they each had, but because they have lost something of such sentimental importance.
Clarius said she is very sentimental and dreamed of one day passing her ring down to her son.
"Kay Jewelers took that from me, they stole it," she said. "Even if this gets settled, I do not believe I will ever get my ring back, the ring my husband proposed to me with back. That makes me feel robbed and so disappointed."
LaFlam agreed, saying her ring is so much more to her than a piece of jewelry.
"I feel like there are so many memories that [my ring] was there for," she said. "Things like this, it's just taking those memories away."