People Are Furious After Trump Suggested Vets With PTSD Aren't "Strong"
"Dear @realDonaldTrump, here's a picture of my 'weak' father who served his country proudly and struggles with depression."
Donald Trump pissed a lot of people off on Monday when he suggested veterans with PTSD weren't "strong" and couldn't "handle" the horrors of war.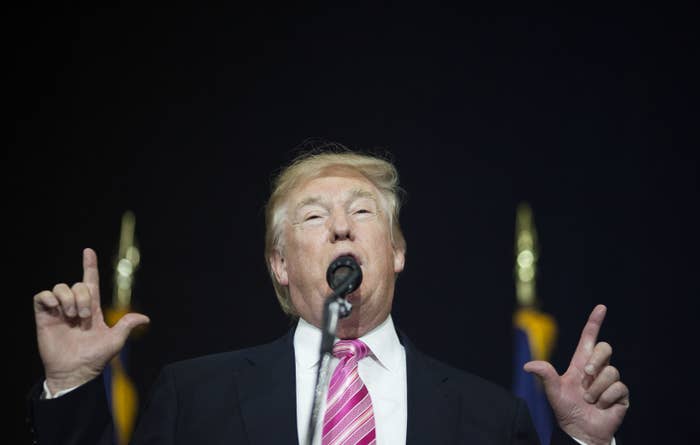 The GOP presidential candidate made the remarks at an event at the Retired American Warriors PAC.
After he was asked about what the VA should be doing to combat the rate of veteran suicides, Trump offered an explanation for PTSD.
"When you talk about the mental heath problems when people come back from war and combat and they see things that maybe a lot of folks in this room have seen many times over, and you're strong and you can handle it, but a lot of people can't handle it and they see horror stories they see events that you couldn't see in a movie nobody would believe it," he said.
The comments soon went viral, and many veterans took to Twitter to tell Trump he was way wrong.
Many vets said that their fight against PTSD only makes them stronger, not weaker.
They also said they have known friends from their combat days who killed themselves after their struggle with PTSD.
Others said they don't think Trump has any idea what he is talking about.
Camp Hope, a Texas foundation that helps vets and families dealing with PTSD, tweeted out a personal story of a veteran who struggled with the illness.
"Some of the strongest people you will ever meet are #veterans facing #PTSD head on," the foundation wrote.
"Hey @realDonaldTrump, I've been to war. Seven deployments. Two theaters. Combat arms. WIA. I've suffered PTSD. I am far stronger than you," one veteran wrote.
Those who have supported family members who dealt with PTSD after military service also spoke out.
They said they admired their relatives dealing with such a hard return from combat.
And even shared photos of their family members serving their country proudly.
"My dad is a veteran and deals with PTSD every single day," one person wrote. "How dare this man disrespect vets who suffer from this. I am disgusted."