A Texas Republican Tweeted A "Reap What You Sow" Bible Verse After The Nightclub Shooting
A spokesman for Lt. Gov. Dan Patrick says the tweet, which has since been deleted, was scheduled before the massacre.
The lieutenant governor of Texas sparked an outcry on Sunday by tweeting a Bible verse that some saw as contentious shortly after the nightclub shooting in Florida.
The tweet — which a spokesman for Patrick told local media was scheduled before the shooting — went out around 8 a.m. ET and cited Galatians 6:7.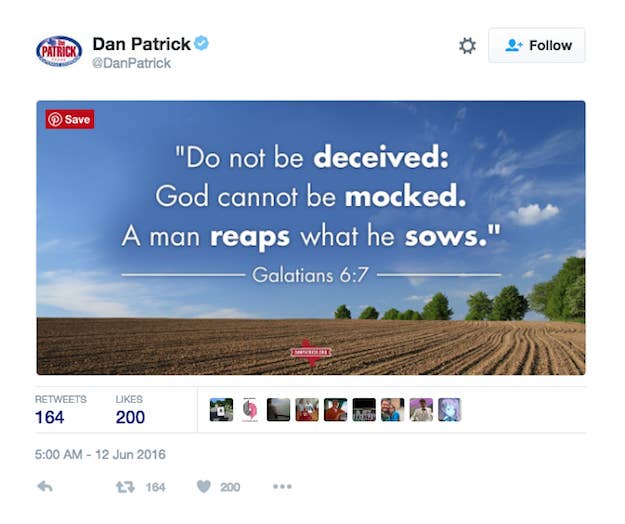 Patrick's account also tweeted another Bible verse about 30 minutes later with the caption "Have a blessed Sunday."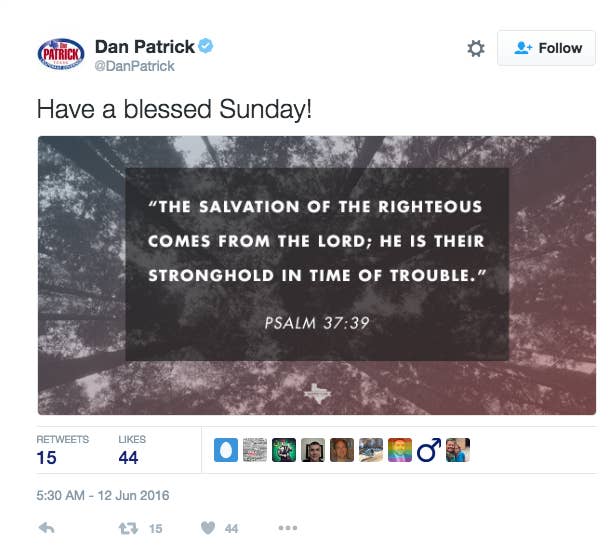 The lieutenant governor usually tweets one apparently pre-scheduled Bible verse every Sunday, most with the same caption, "Have a blessed Sunday."
A spokesman for Patrick told the Dallas Morning News that the offending tweet was scheduled and had nothing to do with the attack.
"This was certainly not done with any fore knowledge of the events of the day," Allen Blakemore told the newspaper, adding that Patrick is out of the country.
The Galatians tweet was deleted around noon, but in the four hours it was live it upset many people.
Some people said they hoped the tweet was scheduled, and wasn't Patrick's response to the tragedy.
While others said Patrick and his staff should be ashamed of themselves.
The chairman of the Texas Democratic Party called on Patrick to apologize for the tweet, saying "we are better than this."
Even Mia Farrow chimed in.
The tweet's timing particularly enraged people because Patrick has been an outspoken opponent of the White House's directive ordering public schools to allow transgender kids to use the bathroom corresponding with their gender identity.
After Patrick characterized the directive as "blackmail" last month, the White House strongly condemned him, Politico reported.
"Well, I think this does underscore the risk of electing a right-wing radio host to elected statewide office," press secretary Josh Earnest said.
Patrick's office didn't immediately return a request for comment from BuzzFeed News.