People Are Pissed After A Female Senator Was Just Called A "Woman" In A Pic With Male Senators
"This is why we march."
On Friday, Getty Images published this photo of Sen. Amy Klobuchar taking a selfie at the inauguration with Sens. John McCain and Bernie Sanders.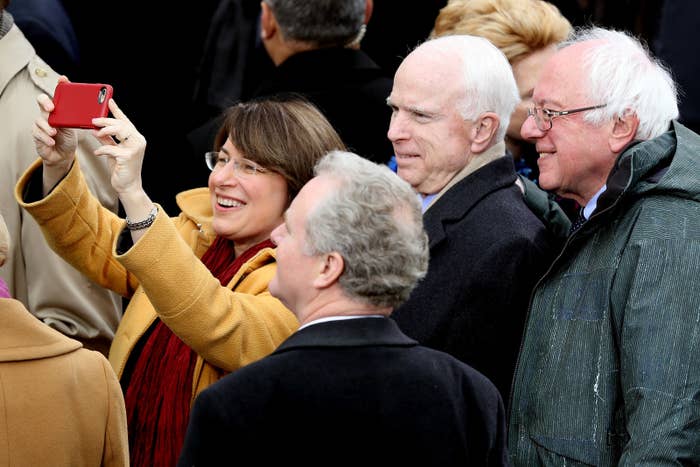 Here's the selfie she snapped...
And while the Getty photo looks innocent, take a closer look at the original caption, which originally referred to Klobuchar as "a woman," but identified the two male senators she was with.
The photo and caption were then distributed to media outlets nationwide, where people soon picked up on the caption. One woman spotted it in SF Gate and tweeted her displeasure.
A lot of people thought the caption was messed up.
Many more said it proved why the world needed the Women's March over the weekend.
"If a single caption could demonstrate why today's #WomensMarchOnWashington was necessary," one person wrote.
As the outrage grew, SF Gate responded to the viral tweet and blamed it on Getty Images.
The caption has since been fixed on Getty Images. A spokeswoman for the company, Kelly Goucher, told BuzzFeed News the caption was a mistake that occurred during the fast-moving process of the inauguration:
Unfortunately, we were unable to identify Senator Amy Klobuchar at the time of the image upload, however the caption was immediately updated to reflect accuracy as soon as we were alerted. Our apologies go out to Sen. Klobuchar and we will continue to work to refine our content ingestion process to limit these errors.
Klobuchar, who tweeted the selfie from the photo, told the Star-Tribune the reaction to the gaffe online has been "amusing" and "endearing."
"Since only senators were seated in that section (with many layers of security) it did seem a bit odd that they didn't try to pin down who the random 'woman' was sitting next to Sens. McCain and Sanders," she said. "Next time I will wear a big name tag or better yet a Vikings jersey with my name on the back."