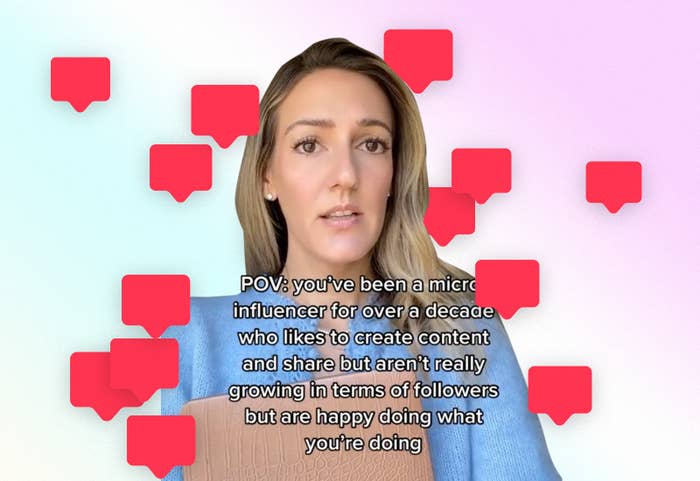 This is an excerpt from BuzzFeed News' culture newsletter, Cleanse the Timeline! You can subscribe here.
Hi, and welcome to Like and Subscribe, Stephanie McNeal's column about the accounts and trends she just can't stop following on social media.
Anna Jane Wisniewski is by any estimation a successful content creator. She has been blogging since 2010, made it her full-time career in 2018, and started her own jacket company, One/Third, in 2019.
But Wisniewski doesn't have millions of followers hanging on her every word, like, say, rising TikTok star Alix Earle (who currently has 3.7 million followers on the platform). She has about 110,000, and she's OK with that.
Wisniewski is one of the many longtime content creators embracing their smaller but engaged audience — despite an industry that, she says, can place pressure on them to grow, grow, grow.
"Brands are quick to put me into their 'micro-influencer' bucket, which is fine, but I truly think that's where the buying power is in this industry," she told me.
Wisniewski sparked a conversation on Instagram this week with a Reel about the assumption that high follower counts are better, using the popular "Don't be ridiculous, Andrea" sound from The Devil Wears Prada.
"Do I WANT a million followers? I honestly don't think so," she wrote in the caption.
Her Reel struck a chord among many Instagram influencers who seem happy with their relatively small followings.
"I feel this deeply!" commented Mackenzie Horan, a blogger with 130,000 followers on Instagram. "I LOVE THIS, YES," wrote Liz Adams, who has 182,000.
Wisniewski's focus on what she called "quality over quantity" first occurred due to necessity, she told me, because she had to manage her influencer workload while still holding her full-time job. Once she became an influencer full time, she realized maintaining her "smaller, like-minded" community was the path she wanted to pursue.
"I've always had a very engaged community and I can tell that by the messages I receive from people, what they're buying from me, and how my campaigns perform that I'm on the right track for me. I have pretty high engagement on my social channels so brands can pay me accordingly," she wrote.
Wisniewski noted that the industry has been moving toward paying creators using metrics like engagement rate rather than follower count. Industry professionals have also recently been singing the praises of influencers with "small but mighty" audiences, calling them marketing's "not-so-secret weapon."
"A few years ago, I might've wanted to grow faster but brands seem to be catching on," Wisniewski said. "Anyone can buy followers or bots, but not everyone can tap into real people."
She's been pleased by the response to her Reel, both from her followers and fellow influencers.
"I hope fellow bloggers/creators/instagrammers feel encouraged that success can come in ANY follower amounts — just because you don't boast a million followers doesn't mean you aren't succeeding," she said. —Stephanie McNeal ●