Barack Obama wrote a thank-you letter to the American people on the final day of his presidency.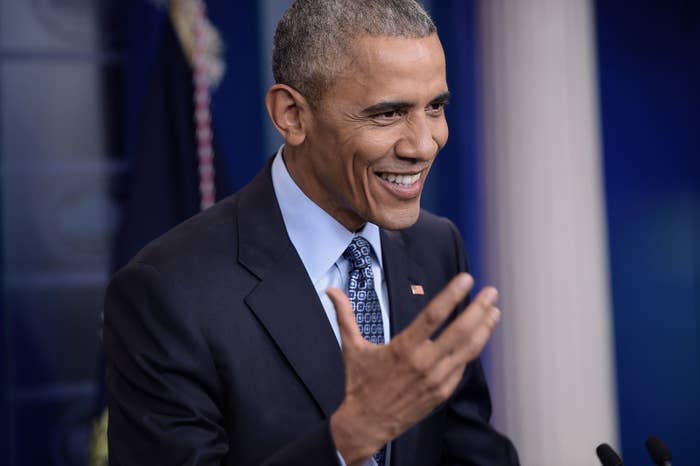 The 44th president wrote that it is tradition for the outgoing president, as one of the final acts of their presidency, to write the incoming one a letter.
"It's a letter meant to share what we know, what we've learned, and what small wisdom may help our successor bear the great responsibility that comes with the highest office in our land, and the leadership of the free world," he wrote.
However, Obama said before he wrote his note to President-elect Trump, he wanted to pen a note to all Americans to thank them for teaching him so many things.
"You made me a better President, and you made me a better man," he wrote.
The letter discusses all of the people Obama has been inspired by over the past eight years, from young graduates, to military officers, to scientists.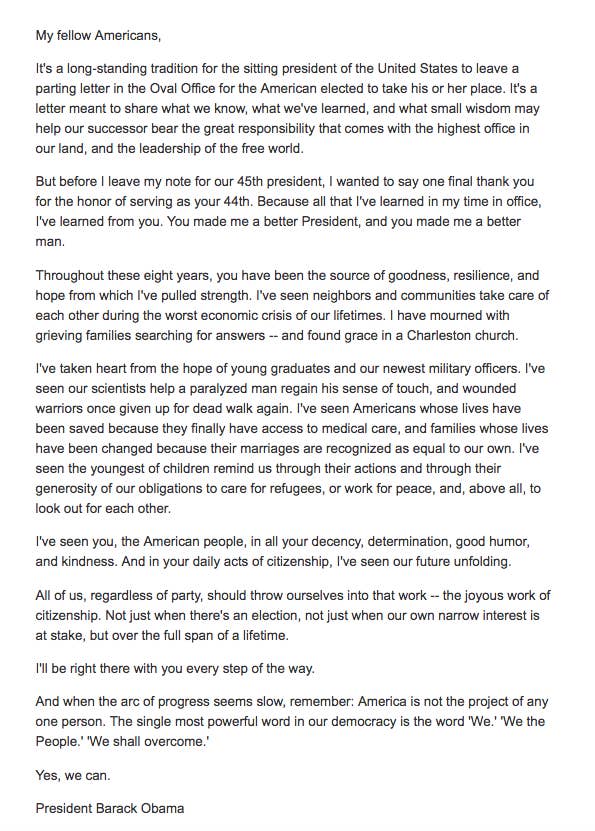 "I've seen you, the American people, in all your decency, determination, good humor, and kindness. And in your daily acts of citizenship, I've seen our future unfolding," he wrote.
The president then urged Americans to have optimism for the incoming administration:
All of us, regardless of party, should throw ourselves into that work -- the joyous work of citizenship. Not just when there's an election, not just when our own narrow interest is at stake, but over the full span of a lifetime.

I'll be right there with you every step of the way.

And when the arc of progress seems slow, remember: America is not the project of any one person. The single most powerful word in our democracy is the word 'We.' 'We the People.' 'We shall overcome.'
He ended his note with his campaign slogan, "Yes we can." Many people wrote online the letter was a fitting tribute to the end of Obama's presidency.
And for some, it brought out the emotions.
"Thanks for sharing President Obama's letter with us," one man wrote to a BBC reporter on Twitter. "On a personal level I will miss him."