People have been complaining online that Old Spice deodorant has been leaving them with painful rashes and "chemical burns" — and now a class-action lawsuit has been filed over the claims.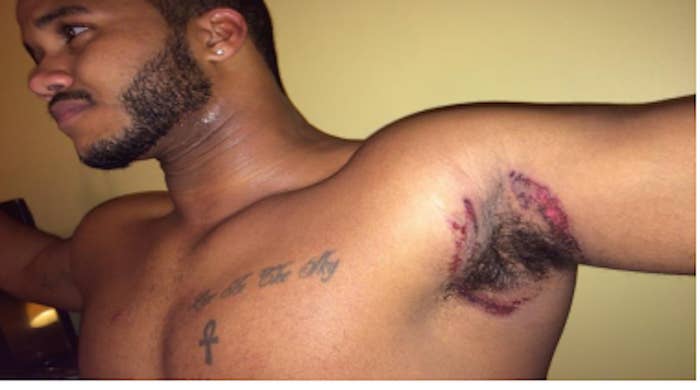 Rodney Colley, of Virginia, is the lead plaintiff on a class-action lawsuit filed in U.S. District Court in Ohio, against Procter & Gamble, the manufacturer of the product.
Colley claims that he decided to buy Old Spice deodorant after seeing the company's ads, which encourage customers to "smell like a man" by purchasing the products.
He said that he never has experienced any ill effects from any other deodorant product, according to court documents. However, he said when he switched to Old Spice he had immediate side effects.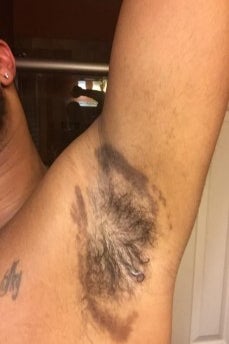 "After only a few uses of the Old Spice product, [Colley] suffered severe rashes,
burning and discomfort requiring [Colley] to immediately cease using the product," the lawsuit states.
The lawsuit claims that Procter & Gamble has a "pattern and practice of placing into the stream of commerce dangerous products," and names 13 different deodorants.
The suit says there are many people online who have complained of similar injuries to Colley's, but the company has done nothing.
"Indeed, the problem is rampant, and rather than acknowledge the serious issue, [Procter & Gamble} is concealing it in order to continue selling the product and reaping windfall profits," the lawsuit states.
A spokesman for Procter & Gamble told BuzzFeed News that while it's true some customers have experienced irritation and rashes from the deodorant, they are a very small fraction of overall users of the product.
"First and foremost, we're 100% confident Old Spice is safe to use," Damon Jones said. "Tens of millions of guys use our products safely and without incident every year."
Jones said that if people do experience a rash or a burning sensation, it is because they are likely experiencing alcohol sensitivity, a problem not unique to Old Spice.
"We believe its 0.01% of consumers will have any type of reaction and that's not unusual to what we see in any type of product," he said.
He added the "chemical burns" some customers have described are not burns.
"They are essentially skin reactions some people have that can be caused by a broad variety of factors or ingredients," he said.
Many people, however, have posted photos to Facebook and Consumer Affairs with what they describe as painful, severe rashes they have suffered after using the deodorant.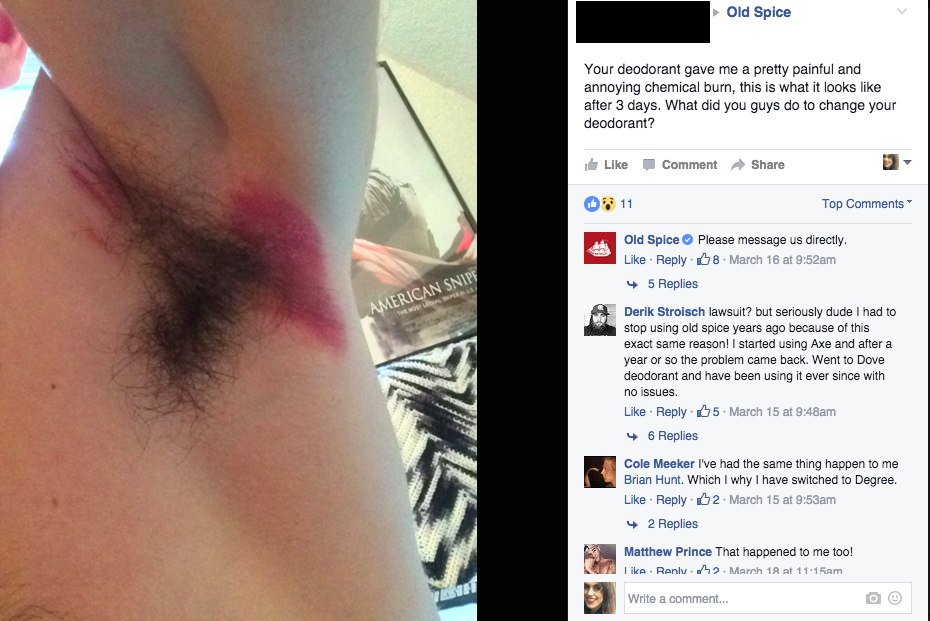 Multiple customers described the reaction as a "chemical burn," including this mom's claim about her 12-year-old son.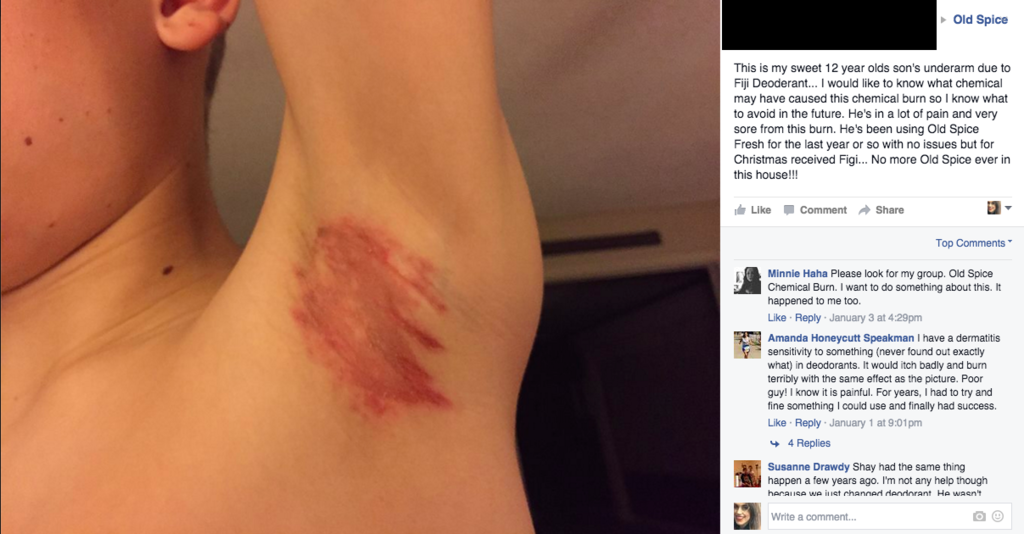 One woman claimed she even went to the emergency room, where doctors confirmed she had a chemical burn.

"I need to put burn cream on it to help ease the pain," one woman wrote on Consumer Affairs. "And it hurts to put my arm down or wear sleeved shirts. It's seriously unbearable and it seems like it's only getting worse."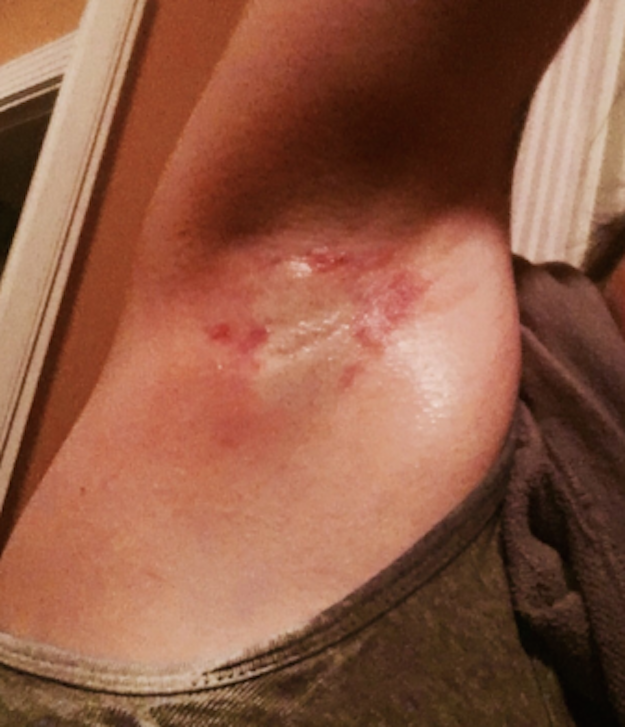 Some of the cases date back to 2014, with some saying the deodorant should be banned.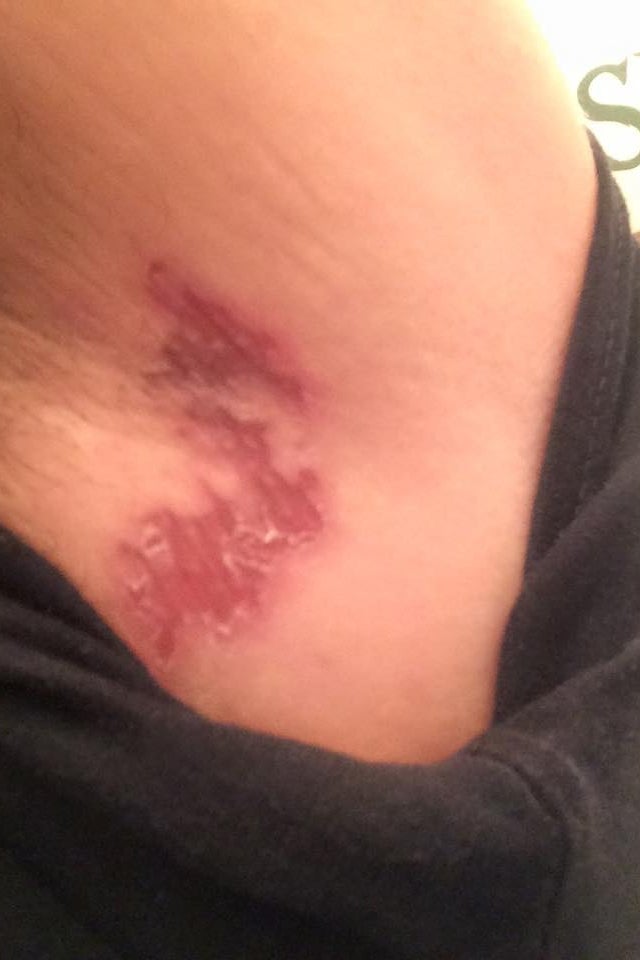 " I can barely move my arm up or down and the mark is now raw, oozy and bright red," one person wrote on Consumer Affairs. "I don't know how this product is still sold."
Jones said that while he couldn't speak on the specific claims made in the lawsuit, the products state on the label that if people experience a reaction to the deodorant, they should discontinue use. He said the company suggests those customers try an antiperspirant, which is formulated differently.
"The safety of the men who use Old Spice is the foundation of everything we do," he said. "We go to great lengths to ensure our products are safe to use, and tens of millions of men use this product with confidence and without incident every year."
As for the class-action lawsuit, Colley's attorney Tom Connick said he believes the problem is widespread and others are welcome to join the suit.
"A substantial amount of other people have contacted us suffering from the same problems," he said.