This is Ines, a Swedish woman who splits her time between Lund and London. She has built an impressive follower count on Twitter, which she told BuzzFeed News happened organically.
So this week Ines decided to respond to one of Trump's tweets she said she found "funny." Trump wrote, "With all of the illegal acts that took place in the Clinton campaign & Obama Administration, there was never a special counsel appointed!" She responded: "Then you must be really bad."
As people tend to do in response to Trump, a few people jumped on Ines' tweet with some "well...actuallys."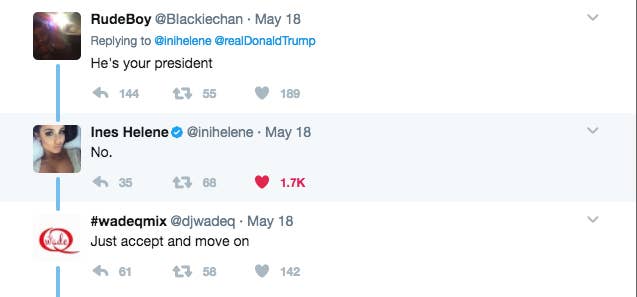 Ines came up with a pretty simple but kind of hilarious response.
Her tweet was soon picked up by other people on Twitter, who really appreciated her humor this week.
They were big fans of the thread.
Yes. This.
"The replies to Trump tweets make it all worth it."