On Thursday, President Obama and his successor, Donald Trump, met at the White House for the first time.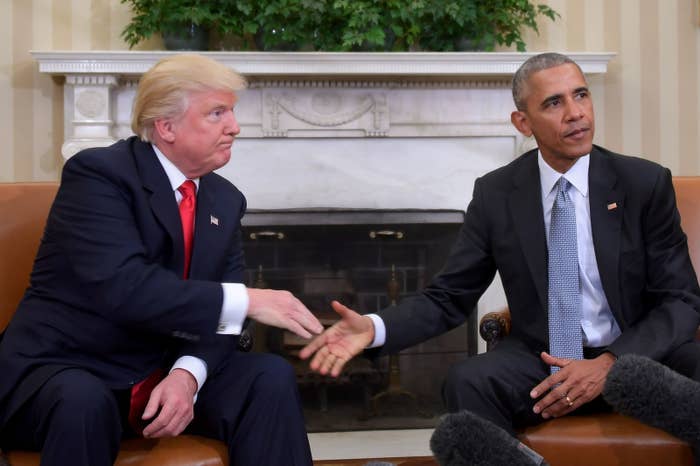 Obama told reporters after the meeting, with Trump by his side, that they had an "excellent" conversation that lasted more than an hour.
"My number-one priority in the coming two months is to try to facilitate a transition that ensures our president-elect is successful," he said. "And I have been very encouraged by the, I think, interest in President-elect Trump's wanting to work with my team around many of the issues that this great country face."
A meeting between Michelle Obama and Melania Trump also went well, the president said.
However, people on the internet said the meeting seemed like it had to have been awk AF, considering the two have been insulting each other for over a year.
Many wondered what Obama was thinking.
Especially once they found some of the photos.
Awkward.
"Obama and Trump both looked like they were two kids who's [sic] mothers forced them to apologize to each other," one person wrote.
"Trump and Obama look like step-siblings who are meeting for the first time and already hate each other," said another.
Other people just couldn't believe this was all real.
"Name a more existential crisis inducing duo. I'll wait."
And then of course, plenty of people imagined how Michelle and Melania's chat was going.
Especially considering the whole plagiarism scandal.
Some hoped Obama gave Trump a taste of his own medicine.
However, some people were really encouraged by the positive tone of the meeting, considering all the negative rhetoric surrounding the election.
"If Obama and Trump can talk civilly and peacefully, I'm pretty sure Twitter should be able to as well," one person concluded.