One of Donald Trump's top campaign aides has been accused of grabbing a female reporter during an event and nearly throwing her to the ground.
Michelle Fields, a reporter for Breitbart News and a regular fixture on Fox News and Fox Business, was left with multiple bruises after the incident.
In an article published Thursday on Breitbart, Fields said she was covering a campaign event at the Trump National Golf Club in Jupiter, Florida, when the incident occurred.
She said Trump seemed to be in a good mood at the event, as he had just won multiple primaries, and was walking around answering questions from reporters.
So, when Trump approached her, Fields said she asked him a question about affirmative action. Before he could respond, she said she was "jolted backwards."
"Someone had grabbed me tightly by the arm and yanked me down," she wrote. "I almost fell to the ground, but was able to maintain my balance. Nonetheless, I was shaken."
An anonymous witness to the incident told the Daily Beast that Fields was grabbed from behind and was yanked "down toward the ground like a ragdoll."
Jupiter's police department didn't immediately return a request for comment about the incident. However, the Daily Beast reported that the department had no record of a probe in Lewandowski.
Fields wrote that the Washington Post's Ben Terris told her it was Corey Lewandowski, Trump's campaign manager, who had grabbed her.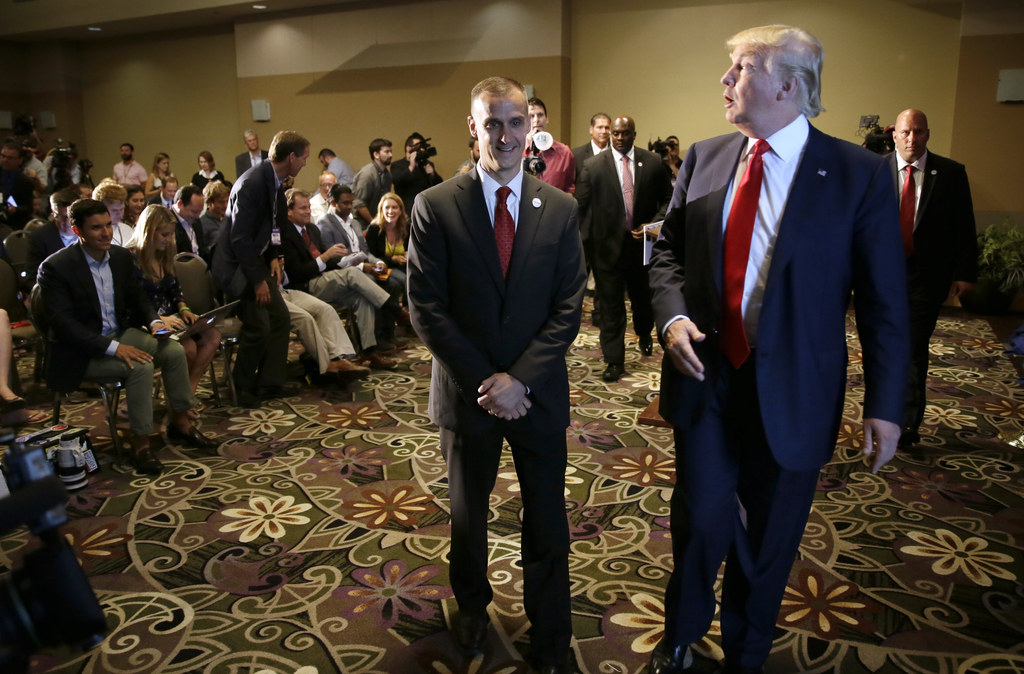 Fields wrote that after the incident she looked around and saw Lewandowski and Trump leaving. She said she never got an apology or an explanation for what happened.
"Even if Trump was done taking questions, Lewandowski would be out of line," she said. "Campaign managers aren't supposed to try to forcefully throw reporters to the ground, no matter the circumstance."
She said the incident was especially "jarring" because there was no warning before she was grabbed.
"No one was pushing [Trump] to get away," she said. "He seemed to have been happily answering queries from my fellow reporters just a moment before."
In an interview Thursday with World News Tonight, Fields added that the incident has "been really hurtful because obviously no one wants to be touched and violated like that."
"I would just ask him to just put himself in my shoes and imagine if I was his daughter," Fields also said on the show.
Terris wrote a full account of the incident on Thursday afternoon:
As security parted the masses to give him passage out of the chandelier-lit ballroom, Michelle Fields, a young reporter for Trump-friendly Breitbart News, pressed forward to ask the GOP front-runner a question. I watched as a man with short-cropped hair and a suit grabbed her arm and yanked her out of the way. He was Corey Lewandowski, Trump's 41-year-old campaign manager.

Fields stumbled. Finger-shaped bruises formed on her arm.

"I'm just a little spooked," she said, a tear streaming down her face. "No one has grabbed me like that before."

She took my arm and squeezed it hard. "I don't even want to do it as hard as he did," she said, "because it would hurt."
An audio recording of the incident, obtained by Politico, also seems to back up the two reporters' claims of what happened.
The recording reportedly captures Fields' question, and the voice of allegedly Lewandowski saying "excuse me." Then a sound is heard and Terris asks Fields if she is OK.
"I can't believe he just did that that was so hard. Was that Corey?" Fields reportedly asked Terris. Terris replied yes, and asked, "what threat were you?"
"He literally went like this and was grabbing me down," Fields said, according to Politico. "I don't even what to do [about] what he just did to me. Oh my God, that really spooked me that someone would do that."
Terris said that he would write about the incident in his story, and asked if Ledwandowski knew where Fields worked.
"Yeah, I don't understand," Fields reportedly said. "That looks horrible. You're going after a Breitbart reporter, the people who are nicest to you?"
The Trump campaign didn't return a request for comment from BuzzFeed News, but said in a statement to ABC News that the incident never happened.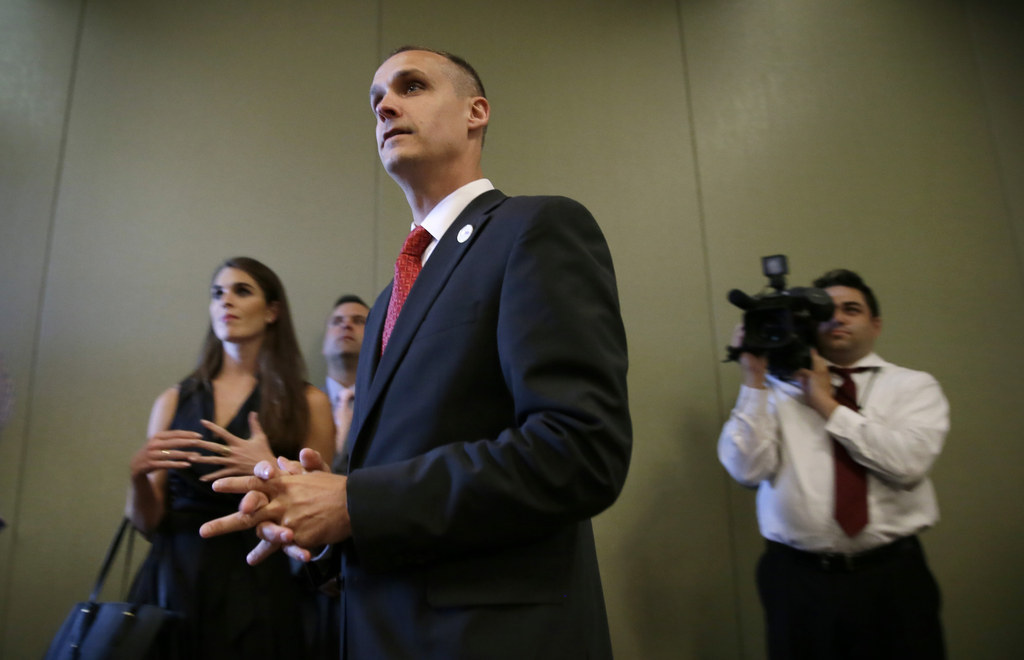 Trump spokeswoman Hope Hicks called the accusations "entirely false," and said none of the Trump staffers witnessed the altercation. She then blasted Fields for taking the issue to Twitter instead of directly to the campaign and insinuated she was a liar.
"We leave to others whether this [is] part of a larger pattern of exaggerating incidents," Hicks said of Fields.
The statement contradicted an earlier Daily Beast report, which said that Lewandowski had admitted the incident and told Breitbart he didn't realize where Fields worked. Instead, he thought she was from the mainstream media.
Lewandowski weighed in on Twitter, writing about an incident with the reporter allegedly getting assaulted by the New York Police Department and saying, "professional reporting or attention seeking?"
He also tweeted, "Michelle Fields is an attention seeker who once claimed Allen West groped her but later went silent," linking to a 2015 story from GOT News:
Early Friday morning, Lewandowski tweeted directly at Fields, calling her "totally delusional" and saying they had never met.
In a statement to BuzzFeed News on Friday, Breitbart's CEO and President Larry Solov defended Fields against Trump's accusations about the legitimacy of her claims.
"Even Donald Trump campaign spokesperson Katrina Pierson said Thursday that 'someone probably did grab her,'" said Solov. "Though she claimed it could not have been Trump campaign manager Corey Lewandowski. Trump's suggestion that Fields made up the incident Tuesday evening contradicts the evidence, including her own injuries, an account from Washington Post reporter Ben Terris, and audio recorded at the scene."
Fields also tweeted a picture of what she said were the bruises on her arm from the incident.
"I guess these just magically appeared on me @CLewandowski_ @realDonaldTrump. So weird," she wrote.
Fury began to build in the media about the incident after Fields' boyfriend, Daily Caller reporter Jamie Weinstein, tweeted about what had happened on Tuesday night.
"Say what you will about Bush or even Obama," he wrote. "They would never tolerate this type of thuggery toward women."
Others have also criticized Breitbart for being what they said was too passive in response to the incident and not standing up enough for Fields.
Breitbart has a reputation for being a pro-Trump news outlet. BuzzFeed News reported last year that some at the website believe Trump may have paid Breitbart in exchange for good coverage of his campaign.
The website's editor-at-large, Ben Shapiro, tweeted that he believes Breitbart should call on Trump to fire Lewandowski over the incident.
"Lewandowski should be fired," he wrote on Twitter. "This is not about Michelle being 'part of the story.' It's about bad people tolerating thuggery."
Breitbart came under more criticism on Thursday, when Politico's Hadas Gold reported one of the website's reporters had tweeted a series of now-deleted tweets that seem to question Fields' account.
Howley didn't return a request for comment from BuzzFeed News, but has been suspended by Breitbart for the comments, the Daily Beast reported.
"Patrick Howley was speaking for himself and not for Breitbart News," a spokesman said. "Senior Management at Breitbart News believes his comments were inappropriate and has decided to suspended [sic] him indefinitely effective immediately."