Donald Trump and his supporters have made a lot of enemies over the past year, but now they are turning their attention to another target: cookies.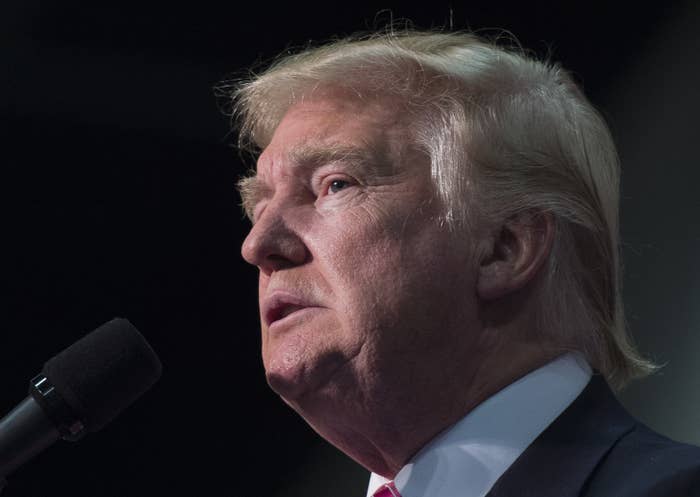 People are flooding Oreo and other cookie Facebook pages with hateful comments because Trump keeps slamming Oreo parent company Nabisco in his speeches.
Trump has had it out for the cookie company since last year after it moved operations in a Chicago plant to Mexico, the Daily Beast reported.
About 600 jobs were affected, according a 2015 report in the Daily Beast, but Trump alleged the figure is 2,000. He swore off Oreos in a speech, according to the report, saying the jobs were stolen from Americans
In November, USA Today called Trump's Oreo crusade a "frequent campaign staple." Trump recently mentioned Oreo-gate at a rally in May, asking New Jersey Gov. Chris Christie if he had managed to swear off the cookies.
"No more Oreos for either of us, Chris. Don't feel bad," he said according to CNN.
A spokeswoman for Oreo told BuzzFeed News that the Chicago plant is still operating, and Oreos are still made in many other plants in the U.S. The Chicago plant makes other Nabisco products, just not Oreos anymore, according to USA Today.
"Oreo is a truly 'global' brand for us, beloved by consumers in the U.S. and around the world," Laurie Guzzinati said.
After listening to the rhetoric, people have taken to Facebook to fight against the cookies and all they stand for.

They were really mad.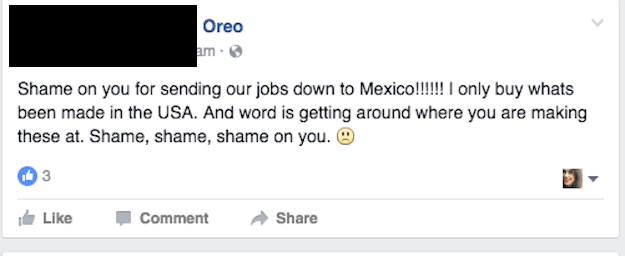 And said their Oreo days are over.

"How do you expect other fellow Americans to enjoy dipping your socially unjust cookies in milk as a favorite snack with what you have done?"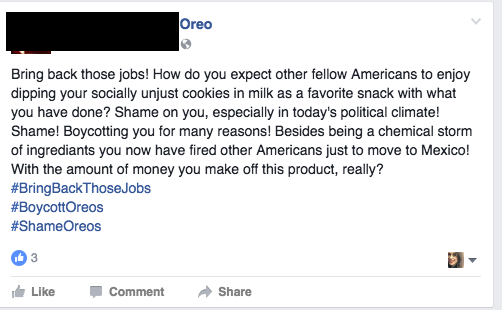 They accuse Oreo of being greedy.

"Shame on you all."

It's gotten so intense that Keebler (not owned by Nabisco) has been caught in the crossfire.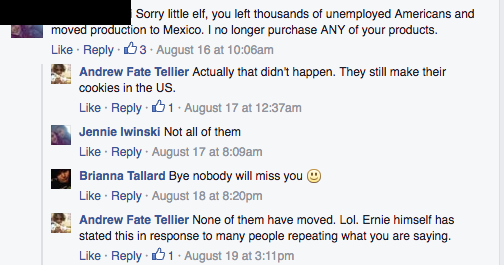 But the Keebler elf has a pretty good sense of humor about the whole thing.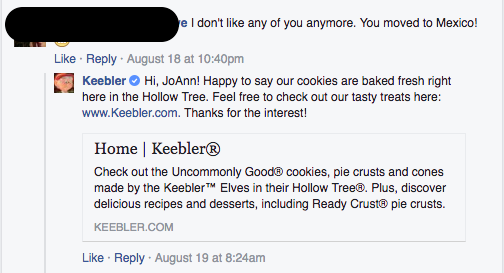 Ernie the elf has been very patient.

You're doing God's work, Ernie.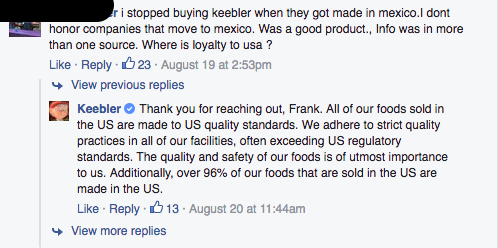 In response to the comments, Guzzinati said that the company has a strong social media presence and many dedicated fans around the globe.
"Oreo continues to have many loyal consumers who are excited about our product innovation," she said.