Embattled leggings retailer LuLaRoe is getting a deluge of criticism on social media by women who say the company's much-hyped "Noir" launch hurt their businesses.
The complaints come as several class-action lawsuits have been filed against LuLaRoe in recent months — with one alleging their leggings "rip like wet toilet paper" and another accusing the company of bringing their sellers into a "pyramid scheme."
One recurring complaint from LuLaRoe direct retail sellers, called "consultants," is that their small markets have become saturated with competitors who also signed up to sell LuLaRoe — which hurt everyone's bottom line.
Many LuLaRoe fans have said online they have been wanting to find solid or black colored staple leggings, which they say have become increasingly rare as the company expanded into colorful prints.
The consultants are unable to pick what patterns or colors of clothing they receive from the company, leaving many to complain they have been sent undesirable patterns they have been unable to sell.
So LuLaRoe announced last week it was introducing a Noir collection, which would feature many of their classic pieces in all black.
The announcement was met with excitement — since the Noir collection promised to be all black, consultants will then be able to order it and know exactly what color product they were getting.
Many eagerly hyped the sale for the week before the launch on their Facebook pages — and on Tuesday, consultants across the country waited online for their chance to place an order.
One consultant, Patricia Rigsbee of North Carolina, told BuzzFeed News she was given a number, and told that when her number came up in an online queue she would be able to order.
But Rigsbee, and several other consultants, said they were left enraged when they were unable to place the order after hours of waiting.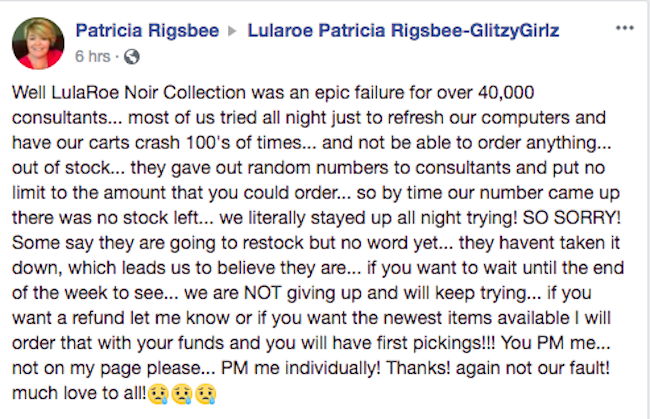 "We tried all night and got nothing," Rigsbee told BuzzFeed News. (LulaRoe said in a statement that it took an "equitable approach" to distributing the collection.)

Rigsbee is not alone. Hundreds of consultants are blowing up LuLaRoe's social media saying they were told to hype a launch that very few retailers actually got their hands on.
"I'm one of the little gals who desperately needed this capsule to boost my business, pay my mortgage, and support the holidays. I quit my five-year job at 30 some weeks pregnant to start this business and I feel pooped on today," said Stephanie Cappiello.

They say they waited hours for nothing.
Many said the move showed the company did not care what happened to the retailers' "small businesses."
Both customers and consultants accused the company of letting only a small number get the new items.
"Lularoe shame on you," one woman, Erica Vernon, wrote. "You are pulling the rug out from under many small family businesses. I don't buy from your mega consultants. I buy from the lady with a son with Down's syndrome. I buy from the single mom. These ladies work their butts off to provide for their families and you gave them nothing. You are so mean."
Some LuLaRoe fans and consultants have even started a petition demanding the company "redo" the launch. As of this writing, more than 5,500 people have signed.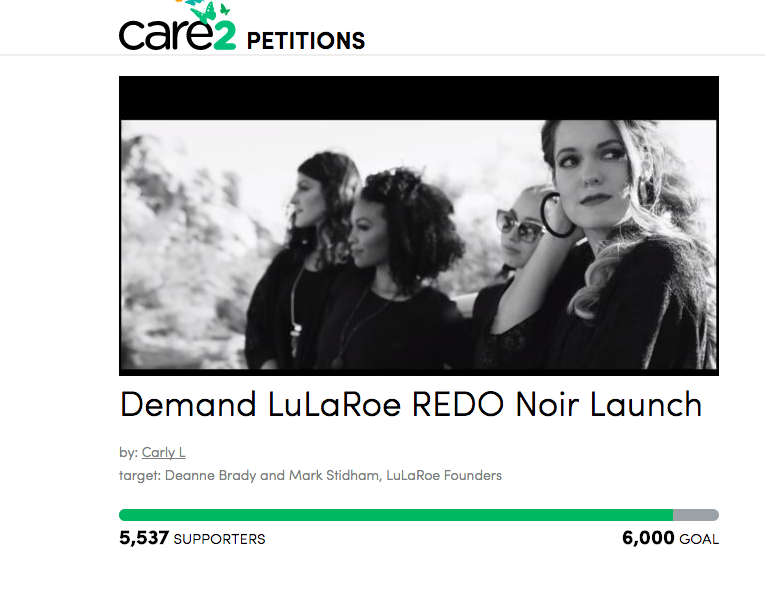 In response to the criticism, LuLaRoe said that "several thousands" consultants were able to purchase the items, at an average of 100 items each.
"LuLaRoe celebrates every Independent Fashion Retailer's business model and our purchasing system provides an equitable approach to launch all our collections," the company said. "It has been in place for several of our most recent capsule launches."
The company added, "Specifically, our inventory purchasing system features a randomized selection tool that ensures that Independent Fashion Retailers with businesses of all sizes are represented in the queue and anyone can be among the first to purchase new collections. We are eager to hear how Retailer Pop-Up Boutiques and online sales of the collection perform with their consumers."
In a letter sent to consultants, which was obtained by BuzzFeed News, the company's CEOs DeAnne and Mark Stidham said allegations of favoritism were "not true."
"We recognize that no system is perfect and we will continue to look for ways to launch products in a way that responds to each of your needs," they wrote. "In the meantime, we invite you to face the challenges and opportunities that every small business owner encounters with enthusiasm, humor, grace and determination."

On Wednesday, though, it appeared as if "Noir" was back. For about 20 minutes, consultants were able to buy the collection online. However, LuLaRoe later said in an email to consultants that the orders were "not real" and cancelled them.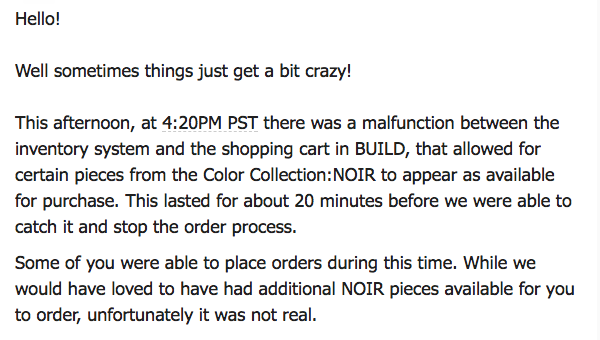 They blamed a glitch in the online system.
"Some of you were able to place orders during this time. While we would have loved to have had additional Noir pieces available for you to order, unfortunately it was not real," they said.
Rigsbee said she has only been with the company for six months, but is not sure if she is going to keep adding to her inventory.
"I think this is why many are selling out," she said.