Meet Louie and Luna, a pair of 6-month-old kitties living with their humans in Ocala, Florida.
Their owner, James, told BuzzFeed News he and his girlfriend Lauren adopted the pair when they were 10 weeks old.
"They've been inseparable since they were adopted and they always do everything together," he said. "They sleep, eat, and tear apart my Christmas tree as a unit."
Ever since the kittens came home, James has been sharing photos on his Twitter account of them. Many people have fallen in love with them because, I mean, come on.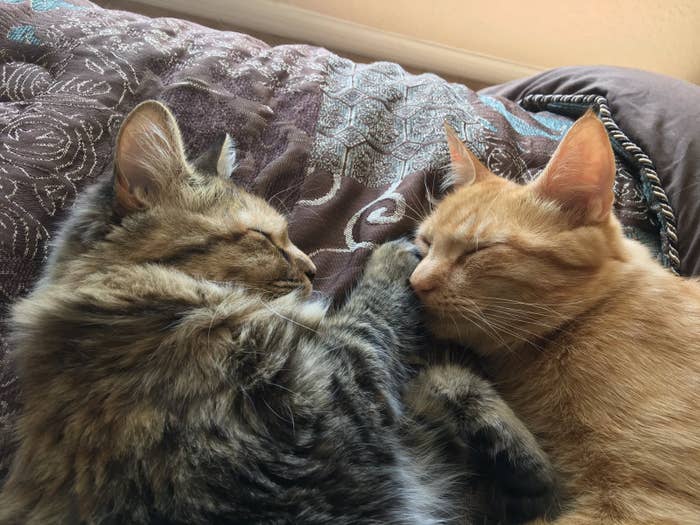 Too much cute.
However, two recent pictures of the cats have people online going totally wild. James captured the two kitties kissing by the Christmas tree and captioned it "Love is in the air." Tens of thousands of people have since retweeted the photos.
People just couldn't handle all the cuteness.
They called the cats "perfect."
"Look at those two love birds. So sweet," one person said.
Someone even made the cats their iPhone background.
And another made them into a meme.
Basically...cat goals.
James said that his cats have handled their new fame in stride, and he thinks it's "awesome."
"I've seen a lot of people saying things like, 'This has made my day' or 'I'm crying at how beautiful this is,' or something along those lines," he said. "I like seeing people happy, and I'm glad they can confide in cat photos for that."