A Woman Wrote An Emotional Letter To Whoever Abandoned The Puppy She Rescued
"He stayed close to the last place he saw his favorite person in the world. He thought you were coming back."
An animal shelter in California is getting a ton of attention after a worker wrote a powerful letter to the person they think abandoned a puppy by a road.
Workers from the Kings SPCA shelter picked up Banjo, who they estimate is about 8 months old, after receiving multiple calls from citizens who spotted him.
Darlene Labock, the shelter's manager, told BuzzFeed News that Banjo had been sitting in the same part of the road for days and couldn't be coaxed away.
She said his behavior led shelter workers to believe he had been abandoned there by his owner. Stray dogs and lost dogs would typically wander around, Labock said.
"An abandoned dog don't know where to go, so they will stay in that spot," she said.
One of the shelter's employees, Brooke, wrote online that even after Banjo was brought into their van, he desperately tried to get back to the road.
"He didn't panic until it was time to leave," she wrote. "He wanted to wait for you. He refused to walk to the van...He howled the whole car ride to our shelter. He howled the most painful howl I have ever heard. It was the sound of his heart breaking. He desperately tried to get back to the spot that you left him."
Labock said that the experience stayed with Brooke, and she felt furious. So she decided to write an "open letter" on Facebook, saying in part:
He waited for you.
He hadn't left the place you made him stay. He was being a good dog. He stayed close to the last place he saw his favorite person in the world. He thought you were coming back. He was watching every car that would come down the road hoping it was you coming back for him. Your dog has been freezing, hungry, and scared for days because you are a heartless piece of crap.
He waited for you.
He was so hungry that he was eating sticks. Nice people had stopped to drop off food but he was still so hungry and confused. But even with food sitting in front of him he knew he had to wait for you to come back.
He waited for you.
He isn't a bad dog. He is a very good dog. You were a bad friend. You abandoned someone that would give his life for you. Someone who doesn't care how long you stayed away at work. Someone who is just as happy to see you if u just go outside to check the mail or if you leave for days. Someone who would lick the tears off your cheeks and the leftover food from your plate when u were done eating.
He won't be waiting for you anymore.
Her letter resonated with many people, and an accompanying video of Banjo has since been viewed more than a million times.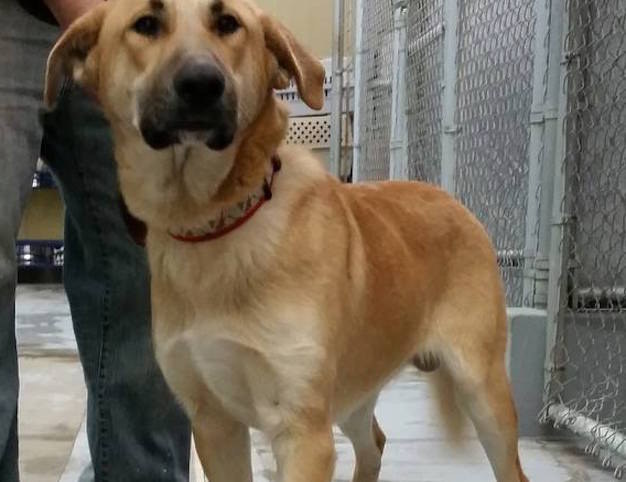 Labock said the reach of the letter has been incredible, and it has been gratifying for her team to get support for the work they do.
"It's been really positive and really neat talking to everyone all over the world," she said.
She said that the shelter is currently reviewing applications for a home for Banjo, so he can be treated the way he deserves.